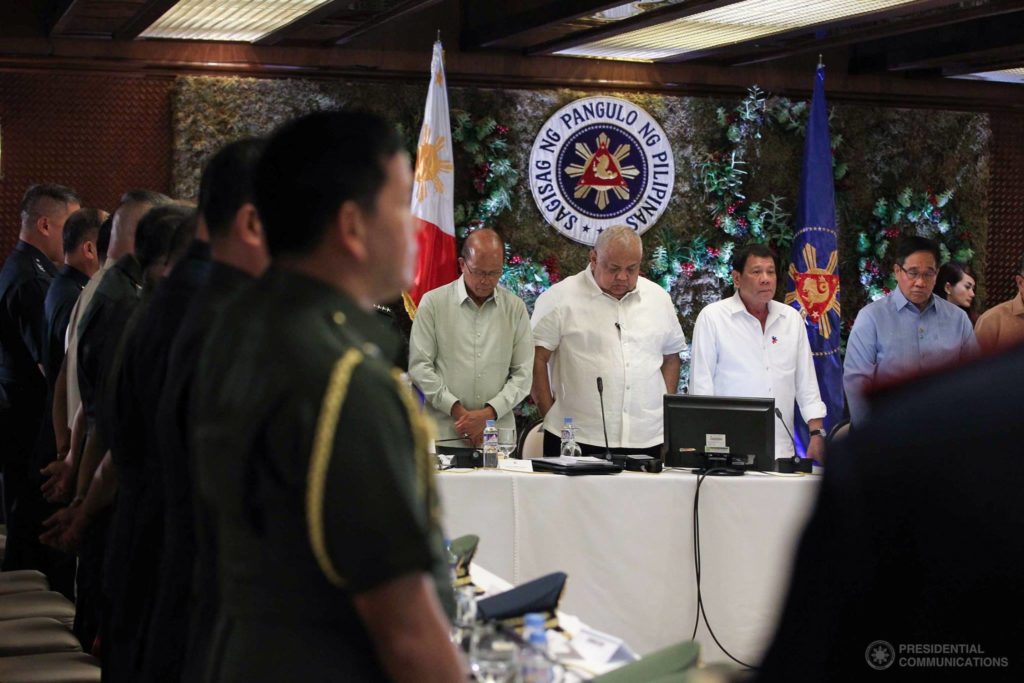 President Duterte presides over his administration's first AFP-PNP joint command conference held in Malacañang.

AFTER numerous flip-flops on how he would handle the Abu Sayyaf Group, President Rodrigo Duterte has backpedaled once again, this time announcing it through his spokesperson, Undersecretary Ernesto Abella.
STATEMENT
In a Radyo ng Bayan interview, Abella said the president reiterated his vow to end the terrorist group during the annual joint command conference with the Armed Forces of the Philippines (AFP) and the Philippine National Police (PNP) on Friday in Malacañang.
"Idiniin din ng Presidente na 'yung kanyang (The President reiterated his) commitment to end the ASG, 'yung Abu Sayyaf Group."

(Source: President Duterte vows to end Abu Sayyaf, News Release by the Presidential Communications Operations Office )
FLIP-FLOP
On two occasions in November, however, Duterte said he was willing to include the Abu Sayyaf in the peace talks.
"If I could get a peace agreement with the communists, and hammer out something for the MN/MI (Moro National Liberation Front/Moro Islamic Liberation Front) and to all the Moro groupings and even the Abu Sayyaf. If I could just extend my hand to them in friendship, and just tell them that it is time to just really have a country which is normal and peaceful, and for our children to grow in peace, then I would have succeeded."


(Source: RTVM – Signing of the Executive Order on the Bangsamoro Transition Commission, Malacañang. Nov. 7, 2016, watch 14:05 to 14:41)
"Pero if you can really stop it for a while, we talk. Pati Abu Sayyaf, I'm ready to talk to them. I'm ready to open the borders."

(Source: RTVM Press Conference – Camp Navarro General Hospital, Zamboanga City. Nov. 25, 2016, watch 19:29 to 21:09)
Since assuming office, the president has had no consistent position on the AFP's fight against the terrorist group. (See VERA FILES FACT CHECK: Duterte on a 'not-so-all-out' war against Abu Sayyaf and VERA FILES FACT CHECK: Duterte shifts policy on Abu Sayyaf yet again).
To date, VERA Files has noted the president has said he was open to holding peace talks with the Abu Sayyaf at least seven times. He has condemned them at least five times, even saying he "would rather fight with them, as a matter of principle," and as long as he is president, "there will be no peace talks that will include the Abu Sayyaf."