A Facebook (FB) video maliciously used old photos of Chinese people drinking champagne to illustrate that China celebrated the death of Shinzo Abe, former prime minister of Japan. 
Posted on July 10, the video by Filipino FB pageTerong Explained bore this title: "BINASTOS! China NAGCELEBRATE Sa Pagkamatay Ni Former Prime Minister Shinzo Abe (Disrespected! China celebrated the death of former [Japan] prime minister Shinzo Abe)!"
A reverse image search using the Chinese search engine Baidu revealed that three photos in the eight-minute video show wine enthusiasts at three different events. The images were taken and uploaded on the Web years before the Abe assassination on July 8.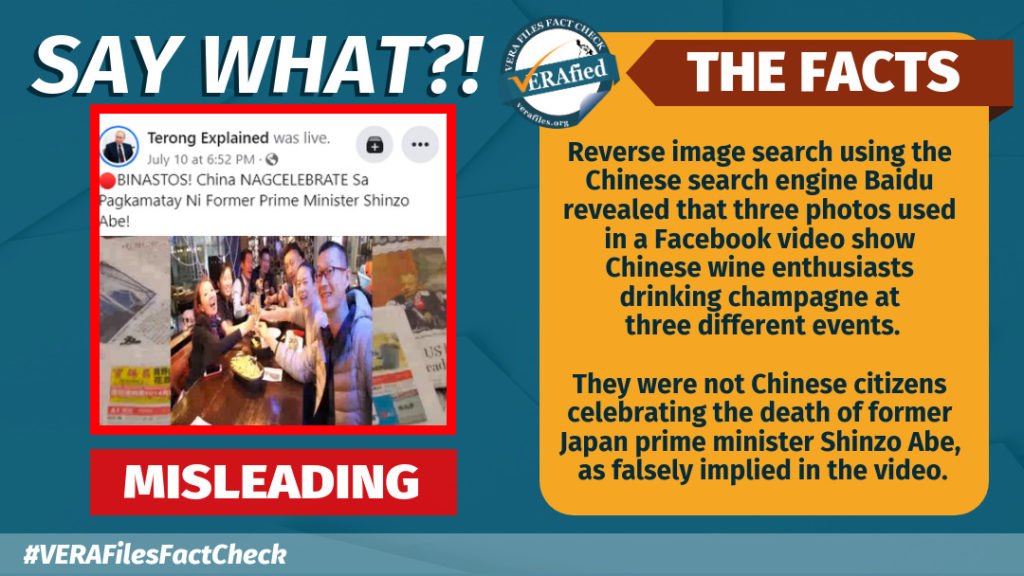 The first photo shows a group of Chinese people raising their glasses during a champagne and cheese tasting event in Beijing on Global Champagne Day in 2016. 
Another photo, captured during the 5th Helan Mountain Wine International Expo held in September 2016, showed a woman holding a bottle of champagne. The image accompanied an article by English-language Chinese news website Chinadaily.com.cn, which attributed the picture to Xinhua news agency.
A third photo of a woman pouring champagne into a man's wine glass was originally part of a gallery of events during the 2018 Wine Show & G100 Tour event in China. Copies of the image first made the rounds online in October 2018, multiple sites show.
To add content to his video, the vlogger behind FB page Terong Explained translated in Filipino and narrated parts of a July 8 Newsweek article about China supposedly celebrating Abe's death, as well as a Wikipedia article about anti-Japanese sentiment in China.
The misleading video appeared after multiple news organizations reported on Chinese nationalists using social media to express their happiness over the death of Abe.
The misleading video got 13,000 reactions, 1,000 comments, and 569,000 views.
Have you seen any dubious claims, photos, memes, or online posts that you want us to verify? Fill out this reader request form or send it to 'VERA, the truth bot' on Viber.
(Editor's Note: VERA Files has partnered with Facebook to fight the spread of disinformation. Find out more about this partnership and our methodology.)