After the University of the Philippines (UP) Diliman released a bulletin saying its health service had recorded 118 COVID-19 cases as of July 28, Facebook (FB) page Timek ti Cagayan published a baseless post claiming COVID-19 cases in the university "increased" due to the SONAgkaisa rally held there on July 27.
This is unsubstantiated.
That the rallyists immediately got tested for SARS-CoV-2 and were confirmed to be positive of the disease is not supported by any official report, news article, or even the UP bulletin. A similar claim was debunked just days ago.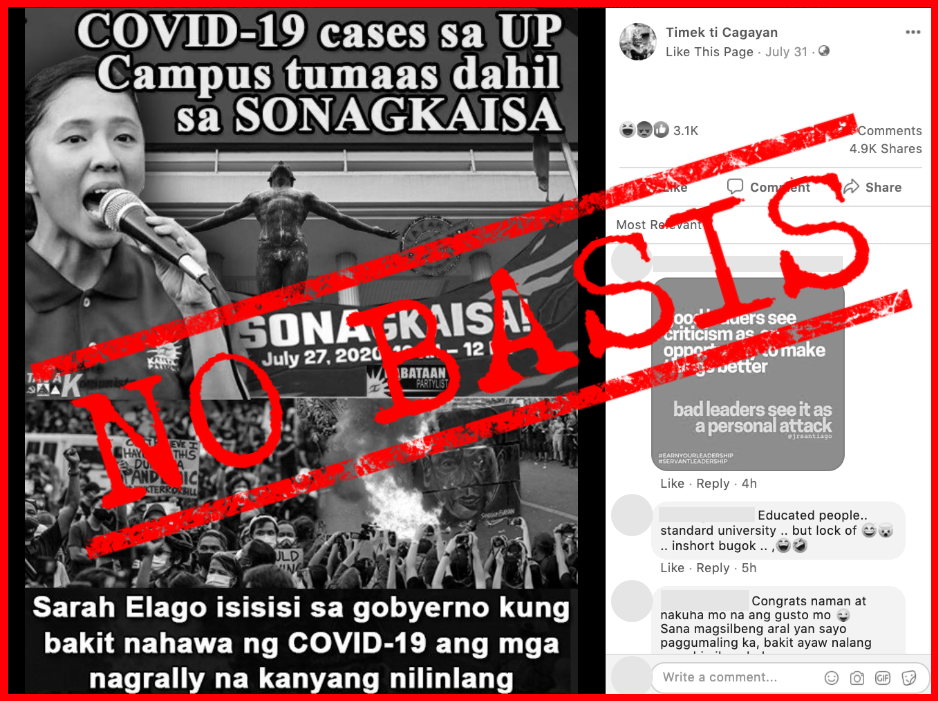 Timek ti Cagayan's July 31 post surfaced shortly after UP issued its July 29 advisory, which reported 118 positive COVID-19 cases of UP and non-UP constituents from inside and outside Barangay UP Campus. The data recorded, however, was only as of July 28, merely a day after the protest that was held hours ahead of President Rodrigo Duterte's fifth State of the Nation Address (SONA).
COVID-19's incubation period — or the time it takes for symptoms to manifest after a person has acquired a disease — ranges from one to 12.5 days, according to the Department of Health (DOH) citing the World Health Organization (WHO). The global body further recommends the monitoring of symptoms for up to 14 days.
A day before Timek ti Cagayan shared its unproven post, site Filipiknow Times published a related claim saying activist Renato Reyes Jr. and other protesters during SONAgkaisa contracted COVID-19. This was debunked by VERA Files Fact Check. (See VERA FILES FACT CHECK: Story claiming activist Renato Reyes, protesters in UP got COVID-19 NOT TRUE)
Apart from the unfounded claim, Timek ti Cagayan, which publishes posts mostly critical of leftist groups, made a baseless assumption in its graphic that Kabataan Party-list Rep. Sarah Elago "will blame the government for how the protesters whom she fooled got COVID-19."
The post also put together eight different images lifted from various sources, and bore stamps that red-tagged Elago and protesters in the photos, such as "Tatak CPP-NPA-NDF (Signature Communist Party of the Philippines – New People's Army – National Democratic Front)" and "Tatak Terorista Komunista (Signature Terrorist Communist)."
The unproven post came a day after the DOH reported over 38,000 recovered COVID-19 patients in its July 30 case bulletin. This sudden spike in recoveries drew flak from unbelieving netizens and a few government officials. The number of COVID-19 cases in the country reached over 139,500 on Aug. 11.
Timek ti Cagayan's baseless post already got over 3,300 reactions, 1,400 comments, and 5,300 shares from FB users. Social media monitoring tool Crowdtangle shows there are at least 37 posts by pages and in public groups carrying the viral photo, collectively accumulating over 16,000 interactions from netizens.
Timek ti Cagayan was created in June 2018.
(Editor's Note: VERA Files has partnered with Facebook to fight the spread of disinformation. Find out more about this partnership and our methodology.)