The website PRRD News Tambayan (dds-tambayan.info) carried a misleading story on May 4 about the United States' role in the diplomatic rift between the Philippines and Kuwait.
The story's content, a re-uploaded video of a May 3 CNN Philippines newscast, makes a false claim in its thumbnail saying "Amerika nakisawsaw sa gusot laban sa Kuwait (America meddles in rift with Kuwait)," calling the US a meddler. In the video, US Ambassador Sung Kim only expressed his country's willingness to help resolve the conflict but clarified that nobody has approached them about it.
The exaggerated thumbnail is in contrast to the story's headline, "ITO NAH! AMERIKA HANDANG PUMAGITNA SA PINAS AT KUWAIT KUNG KINAKAILANGAN PANOORIN (Here it comes! America ready to mediate between Philippines and Kuwait if needed)".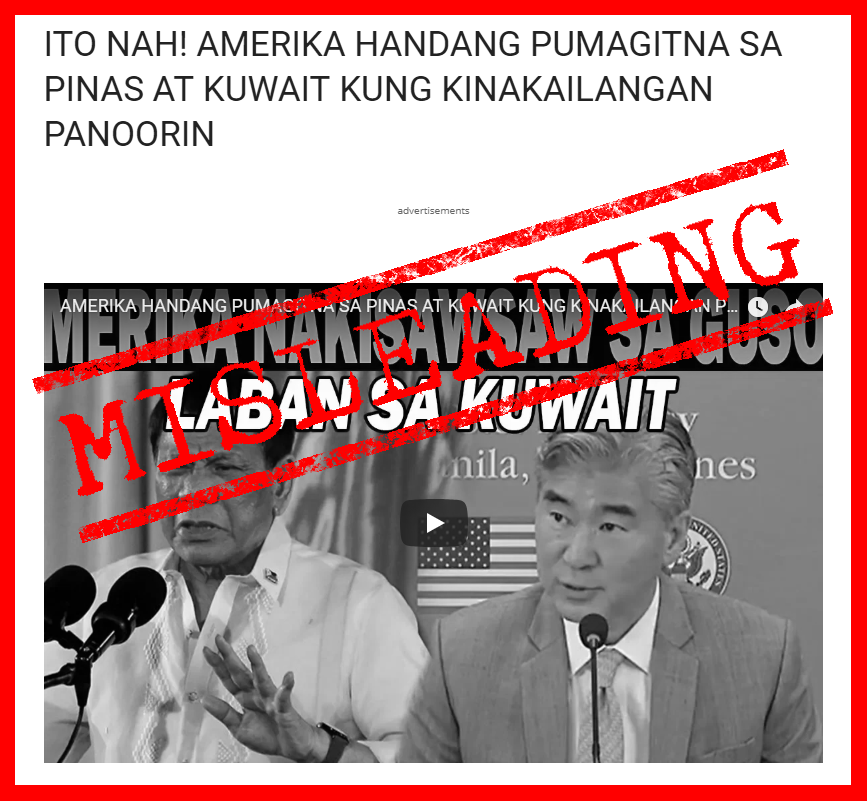 The story was published a day after Kim made the statement in a forum at the US Embassy in Manila. Tensions between the Philippines and Kuwait escalated with the latter's expulsion of Philippine Ambassador Renato Villa from its country, following illicit "rescue" missions of Filipino domestic workers reportedly being abused by Kuwaiti employers.
PRRD News Tambayan was created in May 2017; the video's uploader, Youtube channel Philippines Duterte Social Media on April 2. The story could have reached more than 323,000 people, its biggest traffic generator on social media being Alan Peter Cayetano Supporters International.
(Editor's Note: VERA Files has partnered with Facebook to fight the spread of disinformation. Find out more about this partnership and our methodology.)