An old military exercise video is being passed off as a clip showing the United States (U.S.) Armed Forces recently "positioning" themselves in Pag-asa Island, Palawan. This is not true.
The video was posted on March 2 by a YouTube channel that has a history of spreading false information. Its headline read: 
"24 ORAS EXPRESS AMERICA AT PILIPINAS BUMANAT NASA WEST PHILIPPINE SEA (AMERICA AND THE PHILIPPINES LAUNCH ATTACKS IN THE WEST PHILIPPINE SEA)! VINES BREAKING NEWS VIRAL."
The two-minute and 14-second video showed military troops and vehicles landing on a beach, while text within the video stated that U.S. forces arrived in Pag-asa Island to "rescue the Philippines" and "drive away China" from the West Philippine Sea.
No such deployment has been reported by the U.S. and Philippine Armed Forces, nor by the media. 
The video actually shows the U.S. Marines and Australian forces conducting an amphibious assault landing in 2017 at Freshwater Beach in Sydney.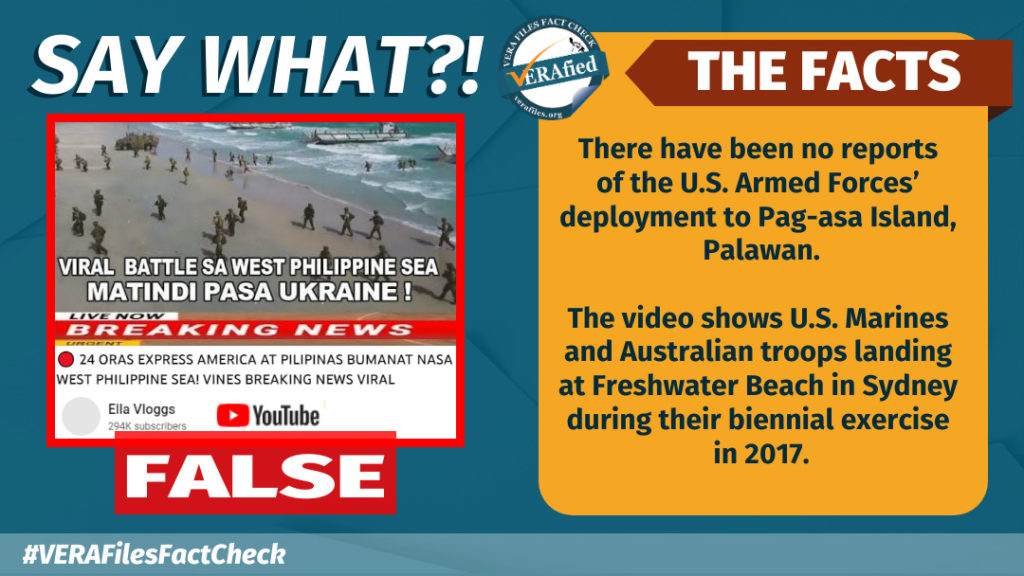 The original clips were uploaded by YouTube channel AirSource Military on July 15, 2017, and were mirrored in the false video. The U.S. Army's YouTube channel also posted clips of the same event, called Talisman Saber – a biennial military exercise between Australia and the U.S.
An inset photo of American model Noelle Best in a military uniform was also featured.
The false video continues to make the rounds as the Philippine Coast Guard reported on March 4 the presence of over 40 suspected Chinese maritime militia near Pag-asa Island.
In February, the Philippines and the U.S. agreed to designate four additional sites for U.S. troop operations in the country under the Enhanced Defense Cooperation Agreement. Lawmakers later proposed to add Pag-asa Island to the list.
YouTube channel Ella Vloggs' (created on Feb. 15, 2019) video has 87,323 views as of writing. This is the fourth time that VERA Files Fact Check has flagged the channel. (Read Video does NOT show Australian warships in West Philippine Sea)
Have you seen any dubious claims, photos, memes, or online posts that you want us to verify? Fill out this reader request form or send it to 'VERA, the truth bot' on Viber.
(Editor's Note: VERA Files has partnered with Facebook to fight the spread of disinformation. Find out more about this partnership and our methodology.)