A doctor on TikTok claims it is wrong to drink warm water to soothe a sore throat and advised the public to eat ice chips or drink cold water instead. This advice is misleading.
Both approaches may work to provide relief to sore throats, based on peer-reviewed studies and local and international health institutions.
In the video, published on June 24 and which continues to circulate this week, the doctor (@timyongmd) responded to a TikTok user's query on relieving sore throat. He said warm water increases blood flow and further aggravates the throat, while cold water constricts blood flow and decreases the swelling of the throat.
Dr. Maria Angela Dealino, the chief resident of the Philippine General Hospital's Department of Otolaryngology-Head and Neck Surgery, said in a July 4 email to VERA Files Fact Check that warm water or ice chips both help alleviate sore throat.
She said both are listed as common remedies for sore throat by the United States' National Institutes of Health.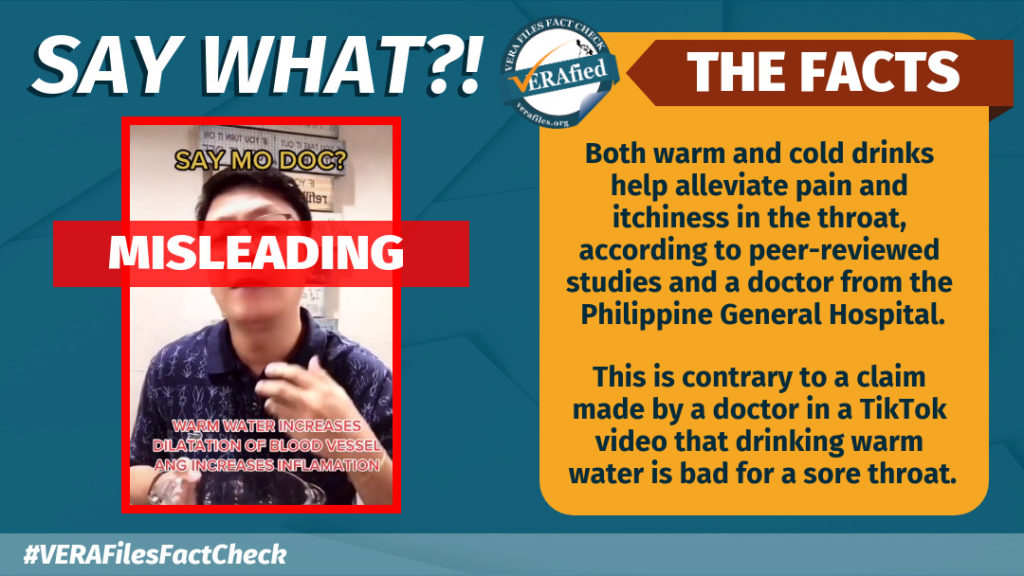 Dealino also cited a 2008 study published in the journal Rhinology which saw that hot drinks provided immediate and sustained relief from symptoms of a sore throat among patients with the cold or flu.
On the other hand, the "pain sensation of inflammation" in sore throats have been observed to be lessened by cooling, she said, based on a study published in 2013 in The Journal of Laryngology & Otology.
"For specific health advice we recommend that patients seek further information from their health providers," Dealino further said.
In 2020, the Department of Health (DOH) recommended drinking salabat (ginger tea) or any other tea to alleviate the itchiness or pain caused by sore throat and coughs.
Non-profit medical organization Mayo Clinic also said patients can drink "comforting foods and beverage" like any warm drinks and ice pops as a home remedy to soothe a sore throat.
The video continues to spread this month as the DOH announced that the weekly positivity rate for local COVID-19 infection has risen to 6.8%, higher than the World Health Organization's threshold of 5%. There are currently more than 11,000 active COVID-19 cases this week.
TikTok user timyongmd published the video, which received more than 636,000 views and 29,500 interactions. The clip was reuploaded on Facebook by a netizen, and it garnered more than 16,100 reactions, 850 comments and 6,200 shares.
Have you seen any dubious claims, photos, memes, or online posts that you want us to verify? Fill out this reader request form or send it to 'VERA, the truth bot' on Viber.
(Editor's Note: VERA Files has partnered with Facebook to fight the spread of disinformation. Find out more about this partnership and our methodology.)