Text and photos by ELIZABETH LOLARGA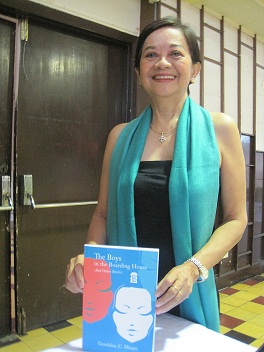 "COULD I tell Loretta about all of them? Those myriad involvements and entanglements which concededly would run the scale from major to minor, elegant to prosaic, satisfactory to not so very, every single one of them, nevertheless, having helped me grow as a person, as a woman? None of which left any reason for me to have any kind of regret whatsoever, even if not a single one of them led to the permanence of marriage? That intimacy and security could be had even without that signed piece of legal document?…

"And I thought: there will always be people dear to me, people I love. Because I love, I will always be loved. How sure are you, my dear Loretta, that marriage will bring about children, and if children come, that they might not turn out later to be too busy managing their own lives to bother with their parents' lives? "
The above lines are from "And All That Stuff," a short story by Geraldine C. Maayo.
The excerpt is a telling scene constructed by Maayo in her latest collection of short fiction The Boys From the Boarding House that comes 26 years after her last one. Those words may very well be her thoughts on her own decidedly single state and her set of values.
Although an AB English graduate of the University of the Philippines, much of her life has been spent teaching at the School of Labor and Industrial Relations in Diliman until her retirement.
At age 29, while working  for the Infrastructure Operations Center, a monitoring arm of the Marcos administration, where she had hoped to make a difference, she felt "absolute discontent" when she noticed military bosses around her taking their MBA.
Maayo recalled, "The reason I was in government was I couldn't get a college teaching job. Either I looked so young or I should have a masters degree in English. I couldn't afford it so I stayed in government doing a non-exciting, non-writing job till 1974 when I reacted to the unease in my soul."
She earned a masters in public administration and a doctorate in the same field. She said this "non-literary environment" still enabled her to write.
She said, "So lucky was I to be under the wings of F. Sionil Jose. A friend and I, fresh from the Silliman Writers' Summer Workshop, went to Solidaridad to hang around with the books. Frankie Jose overheard our conversation alluding to the workshop. He invited us to attend the PEN meetings."
When she asked Jose how she could have her stories published as a book, he asked, "Ilan na ba naisulat mo, hija (How many have you written) ?"
She answered, "Nine."
"Sige, bigay mo sa akin(Give it to me.)"
He was a reader for New Day Publishers. Maayo's first book, The Photographs and Other Stories, was published in 1981 followed six years later by A Quality of Sadness.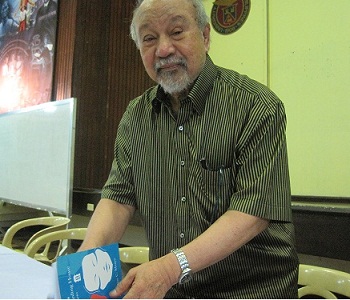 In the new book, critic Elmer A. Ordoñez wrote in his introduction, "People's lives are the author's preoccupation, their joys and frustrations, disappointments and misfortunes, their sorrows and successes… The human condition is Geraldine's metier."
Her practice of observation began on her 16th year when she started keeping a diary. She said, "Journaling honed the habit of jotting down thoughts, feelings, observations on everything, particularly the anguish of everyday life, specifically major relationships."
She added, "The creative mind simply takes over and naturally, casually identifies what the innermost psyche wants to probe, analyze, understand. I write because something about other people's lives as well as my life needs to be understood, organized, be given order. The act of doing it has a cathartic, liberating effect."
On observing people's habits, she said, "It would seem second nature to people who write. We see and observe in greater detail, with greater keenness, greater sensibility than most. That's what makes us different, that enables us to write."
Asked if her keen capacity to observe makes people wary of her, she answered, "Occasionally, but rarely. I never had anyone coming up to me to say he or she suspected that he or she was the character in my book. It is inevitable that I write about my milieu. All writers do that. We write of things we know about. Even if a fiction character was based on an actual person, it is still difficult to claim that it was the story of that person. Something in the process of writing makes the account completely original, based on perception that is so unique to the person writing, born of many environmental as well as intellectual circumstances of the author."
Those who know her weren't surprised when writer Alex Dacanay sang "My Cup Runneth Over" to celebrate Maayo's relaunch as writer.

(Copies of "The Boys from the Boarding House and Other Stories" are available at Solidaridad Bookshop, Padre Faura, Ermita, Manila; Buklat Bookstore, stall no.2 UP Diliman Shopping Center; and UP SOLAIR Office of the Secretary.)