"It's too early to tell" whether the issues that plagued the midterm elections would affect the integrity of the results, Maribel Buenaobra, executive director of citizen poll watchdog Parish for Pastoral Council for Responsible Voting (PPCRV), said May 14.

"We cannot jump to conclusions on whether the malfunctioning of the VCMs (vote counting machines) and other VCM-related incidents have an effect on the integrity of the elections–whether [they] influenced the results of the elections or not," she said.
Buenaobra said the PPCRV is still collating, sorting and verifying reports from their volunteers nationwide "to find out if [the incidents] are true," after which they would provide a summary of their findings to the Commission on Elections (Comelec) for the latter's appropriate action.
"Until we find out what the results are, we need to make an analysis on the number of voters [who were] disenfranchised, we don't know that yet; number of election-related violence, we don't have that yet; number of voters who chose not to vote because the VCM malfunctioned… We have to get that number before we can make a conclusion," she said.
The poll body, for its part, has maintained that the elections were successful and the results credible despite the glitches that slowed the conduct of elections and the transmission of results from polling places.
There was no failure of elections, Comelec Commissioner Marlon Casquejo declared on Tuesday. "And for us, that is a beautiful milestone."
According to Comelec, a total of 961 or 1.1% of 85,769 VCMs malfunctioned, while 1,665 or 1.9% of the total number of SD cards were found to be defective. Both figures suffered increases from the last elections in 2016, where only 801 VCMs malfunctioned and 120 SD cards were defective.
As of today, Buenaobra said they have received about 50 incident reports from their volunteers on-ground; 28 of which were related to malfunctioning VCMs.
Earlier, the poll watchdog issued a joint statement with the Kapisanan ng mga Brodkaster ng Pilipinas "expressing concern" on the issues with Comelec's transparency server.
"We hope that they can have a thorough explanation on the status of the VCMs, status of the SD cards…and the reason why there was a delay in the transmission of the results from the server," Buenaobra said.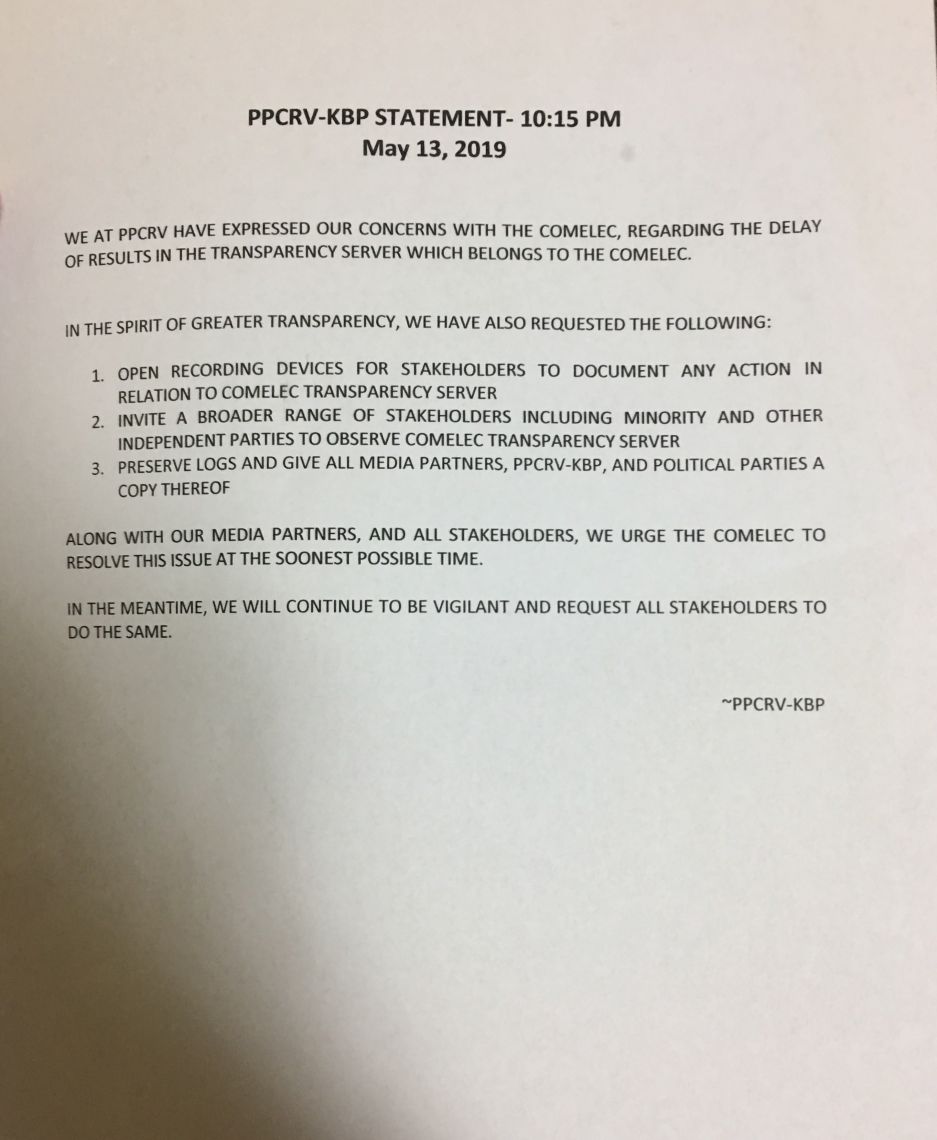 The PPCRV and the KBP's joint statement following delays of results in Comelec's transparency server.
Only then, she added, can they make a proper assessment on the conduct of the country's fourth automated elections.

The PPCRV has officially launched its validation of election results May 14. Validation is done to ensure that the electronically transmitted returns are the same as the printed copies prior to transmission. (See PPCRV begins validation of election returns)
Beginning today, the printed pre-transmission election returns from the areas outside Metro Manila are expected to arrive in the command center.
— with VJ Bacungan