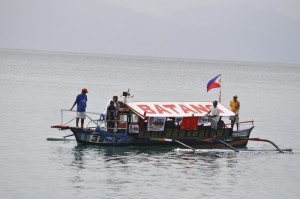 BY VANESSA L. ALMEDA
SURIGAO CITY—The village was still asleep when the group of candidates arrived by boat in Nonoc Island, one of this city's barangays, around 7 a.m. one day in the first week of April.
Only a handful of people were waiting at the port of Nonoc, dubbed the "Nickel Capital" of the country in the early 70s and 80s.
Inside the barangay hall, the team's hawker spoke into a microphone blaring at full volume. He asked Nonoc residents to come and listen to the program they had prepared.
When enough people were gathered, candidates were each given four minutes to speak, with the team's mayoral candidate acting as their emcee. There were no intermission numbers, and before long, the team was done and hopping off to the next barangay.