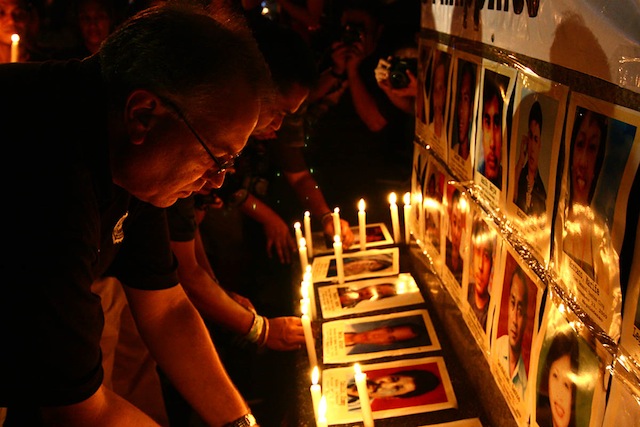 By JAKE SORIANO
CITING the persistence of media and other extrajudicial killings, torture and enforced disappearances, an international watchdog scored the Aquino administration for its poor human rights record in 2014 and its lack of political will in addressing abuses committed by government security forces.
"With less than two years left in office, the administration of President Benigno Aquino III continues to send mixed signals about its commitment to improve human rights in the Philippines," noted Human Rights Watch in its World Report 2015 released this week.
"While human rights was a key agenda for Aquino when he took office in 2010, he has failed to make good on many of his commitments, chiefly his expressed intent to end killings of activists and journalists and bring those responsible to justice."
The latest World Report of the global non-government organization reviewed human rights conditions in more than 90 countries and territories in 2014.
The section on the Philippines highlighted the cases of 64-year-old anti-mining activist and tribal group leader Fausto Orasan who was shot by unidentified gunmen in Cagayan de Oro last September, and human rights lawyer Rodolfo Felicio who was killed last August in Taytay, Rizal.
The latter, the report pointed out, was the fifth member of the activist group National Union of People's Lawyers to have been killed during the past 10 years.
Human Rights Watch said a government super-body created in 2012 and tasked to speed up investigations into extra-judicial killings and other rights abuses "had only processed four cases at the time of writing, resulting in the conviction of five people."
"The alleged masterminds who planned and financed these killings remained at large," the report said.
Phelim Kine, Human Rights Watch deputy Asia director, said in a statement: "The crucial missing ingredient in addressing the Philippines' human rights problems is a lack of political will."
"The Aquino administration needs to bring security force personnel implicated in rights violations to justice to send the message that official tolerance for such abuses is at an end," he added.
The Center for Media Freedom and Responsibility (CMFR) counts 25 work-related killings of journalists during Aquino's four years in office, the latest being the killing of radio personality Nilo Baculo Sr. in Calapan City, Oriental Mindoro last June.
When asked about the continuing murders of journalists, Aquino says some of the media killings are in fact not work-related.
"For instance, in the media killings, some who used to work in media died. Did they die because they were investigative journalists? Were they exercising their profession in a responsible manner, living up to journalistic ethics? Or did they perish because of other reasons?" he said in one speech during an overseas trip.
At another speech at the annual Presidential Forum of the Foreign Correspondents Association of the Philippines (FOCAP) in October, he noted the drop in cases of extrajudicial killings during his term compared to the previous Arroyo administration.
"There has been a significant reduction of recorded or validated extralegal killings, from a total of 168 during the decade my predecessor was in power, to 42 in the four years of our administration," the president told FOCAP.
"Indeed, one could consider this as progress, but make no mistake: Our administration will not be content until this number reaches zero."
Human Rights Watch agreed that numbers have indeed decreased but said it was no cause for celebration.
"While the number of cases of extrajudicial killings, torture, and enforced disappearances by state security forces declined since the previous administration, their regular occurrence is no basis for complacency," it said.
But it acknowledged some progress against impunity in the previous year, notably the arrest last August of army general Jovito Palparan.
The retired general is charged with the 2006 kidnapping and torture of University of the Philippines students Sherlyn Cadapan and Karen Empeno, and is implicated in other cases of extrajudicial killings, torture and enforced disappearances committed by forces under his command.
Another positive development was the launching of the Philippine Supreme Court of its "justice zone" program, which aims to expedite prosecution and trial through electronic issuances of warrants and subpoenas.
The rights watchdog, however, said these developments were "overshadowed by failures to address other longstanding problems."
One of them is rampant police corruption, which it said seriously undermines the country's criminal justice system and exacerbates the problem of impunity.
It also pointed to the problem of urban death squads and "riding in tandem" killings, as well as the systematic use of police torture.
"Ending the culture of impunity for police torture should be a top priority for Aquino in his final two years in office," said HRW's Kine.
The World Report 2015 is the 25th annual review of HRW summarizing key human rights issues across the globe.
Link to full report: http://www.hrw.org/sites/default/files/wr2015_web.pdf
Philippines chapter: http://www.hrw.org/world-report/2015/country-chapters/philippines