Human Rights Watch (HRW) Asia Deputy Director Phil Robertson called on the international community to press the Philippine government to address the "deteriorating" human rights situation in the country as rights abuses continue even during the coronavirus lockdowns.
Robertson made the appeal during a Jan. 13 virtual press conference launching HRW's 31st annual world report on the human rights situation in 2020 of nearly 100 countries and territories worldwide. The report devotes six pages on the human rights situation in the Philippines.
HRW emphasized in its 171-page report the role the United States, under the administration of President-elect Joe Biden, would play with a "coalition" of governments in pushing forward human rights — both in terms of domestic and foreign policy — and addressing violations perpetrated by abusive regimes.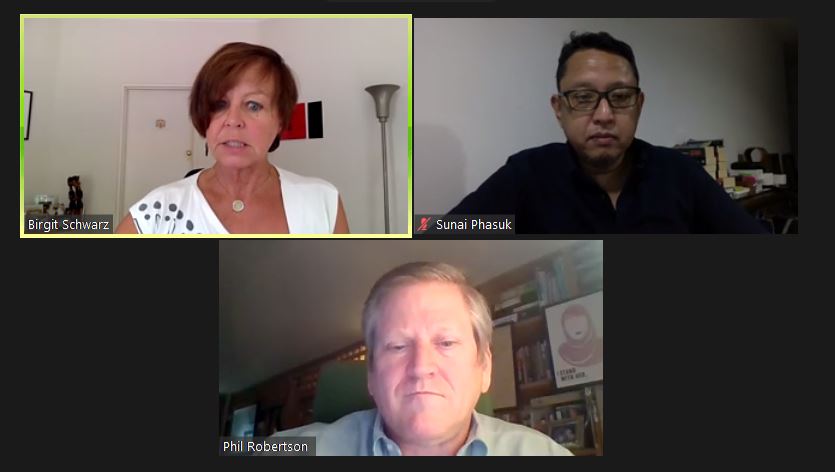 (From top left to bottom) HRW Communication Manager Africa Birgit Schwarz, Asia Deputy Director Phil Robertson, and Senior Researcher Sunai Phasuk at the virtual press conference launching the rights group's annual report on human rights in 2020.



"As respect for human rights in the Philippines spirals downwards, concerned governments and
UN agencies will need to press the Duterte government harder to halt its atrocities and hold those responsible to account," Robertson said.
The report noted that while the UN Human Rights Council passed a resolution in October for continuing scrutiny of the situation in the country for another two years, it did not create an international investigation on it.
HRW emphasized in the report that threats and attacks, including killings, against suspected drug users and pushers, left-wing political activists, human rights defenders, indigenous peoples leaders and lawyers, among others, continue to persist even during the coronavirus disease 2019 (COVID-19) pandemic.
"The Duterte administration appeared to take advantage of COVID-19 curfews in 2020 to expand its gruesome and bloody 'war on drugs' … At the same time, government 'red-baiting' of leftist activists, rights defenders, and others have put them at greater risk of deadly attack," Robertson said.
The report said the Duterte administration's response to the COVID-19 pandemic, which has been led by former military officers, using police supported by the military, "has resulted in serious human rights abuses."
In the early months of the COVID-19 lockdowns, which began in March 2020, the rights monitor said that drug-related killings, with "almost total impunity," rose by more than 50% from April to July with a monthly average of 39 deaths, compared to 26 in the previous four months, as President Rodrigo Duterte continued to encourage killings of people involved in illegal drugs. (See No let up in 'Tokhang' even during lockdown – Vera Files)
It said the children left behind by victims of drug-related killings are among those suffering severely from poverty, psychological distress, school drop out, and bullying in their schools and communities.
As of November 2020, the government reported that 5,980 people died during anti-drug operations since July 2016. But local and international groups believe the actual number could be triple the reported count of the police. The official data, however, does not include those killed by unidentified gunmen in which many families are still awaiting justice.
"The vast majority of 'drug war' killings have not been seriously investigated by the authorities," the report said, adding that "only a handful of cases are in varying stages of investigation by prosecutors." It cited that "only one case — the video recorded murder of 17-year-old Kian Delos Santos in August 2017— has resulted in the 2018 conviction of several police officers."
The government has instituted an inter-agency task force led by the Department of Justice to review 5,565 drug-related deaths involving law enforcers. The task force, criticized by HRW for being "deeply flawed," was supposed to have completed its initial report last November, but submitted it to Duterte only earlier this January. (See HR groups question credibility of PH review panel for 'war on drug' killings – Vera Files)
However, HRW said the task force "is of doubtful utility" owing to the prominent role of key agencies responsible for killings in the committee's leadership.
HRW, moreover, said that some journalists and media organizations, such as ABS-CBN and Rappler's Maria Ressa, were attacked with threats and harassment due to their critical reporting on the government's anti-drug campaign. (See Court clears Rappler but convicts Ressa, ex-researcher of cyber libel)
It noted how the ABS-CBN, erstwhile the country's largest television network, stopped its operations on free television after the Philippine Congress, dominated by allies of Duterte, junked its application for a 25-year franchise renewal. Earlier, Duterte publicly threatened the network that its franchise, which expired in May last year, would never be renewed under his term. (See VERA FILES FACT SHEET: What's next for ABS-CBN after losing franchise bid?) ABS-CBN, however, has managed to keep its presence on social media platforms not covered by legislative franchise but with a drastically reduced workforce.
The Duterte administration's legislative agenda to reinstate the death penalty did not escape HRW scrutiny. It said the move "would violate the Second Optional Protocol to the International Covenant on Civil and Political Rights (ICCPR), which the Philippines ratified in 2007."
Further, the report cited an increase in the attacks by state forces and unidentified perpetrators against indigenous leaders, leftists activists, and human rights defenders. Robertson said more than 160 political activists, some of them initially red-baited, were killed since Duterte became president in 2016 and following the intensified anti-communist campaign of the government after the enactment of the the Anti-Terrorism Law of 2020.
"The military, national security agencies, and the police have actively used social media to convey threats that have resulted in tens of red-tagged people being killed in the past year," HRW said.
Last year, the United Nations (UN) High Commissioner for Human Rights Michelle Bachelet said in her report that there has been a "widespread and systematic" killings, with near impunity, by state and non-state actors against alleged drug suspects in the Philippines. (See UN body seeks impartial probe of killings, scrapping of 'Oplan Tokhang')
Eleven UN rights experts have earlier called on the International Criminal Court (ICC) to expedite the preliminary examination into alleged crimes against humanity committed under Duterte's drug war. (See UN rights experts call on ICC to complete probe of Duterte's drug war – Vera Files)
In her annual report released mid-December last year, ICC Prosecutor Fatou Bensouda said there is sufficient basis to believe that crimes against humanity were committed under Duterte's anti-drug campaign. Bensouda has yet to finalize the preliminary examination and änticipates'arriving at a decision "in the first half of 2021" on whether to seek authority to proceed with a full investigation. (See VERA FILES FACT SHEET: Understanding the updates on the ICC's preliminary examination into Duterte's drug war)
Should Bensouda find a basis to proceed with the investigation proper, Filipino officials leading Duterte's drug war will be summoned or arrested to appear before the Netherlands-based ICC.
Read the report of HRW here.