By ELIZABETH  LOLARGA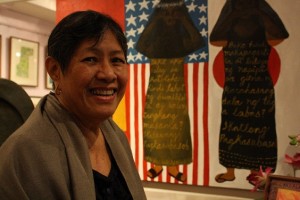 HER story of literal heartbreak deserves its own teleserye with the end lesson of how art can be one's salvation. But that is getting ahead of foremost feminist visual artist Brenda Fajardo's true-life tale.
At 14, she was diagnosed with rheumatic fever which might have affected her heart. She put aside her dreams of dancing professionally. Her mother, Libertad Villanueva Fajardo, whom she calls "the artistic guide in the family," encouraged her to take art lessons under Araceli Dans.
Her undergraduate course, a practical major like agriculture which she dutifully finished at the University of the Philippines Los Baños, didn't trigger the flow of her creative juices. She heard about art education at the Thomas Jefferson Library in Manila and applied for a Fulbright scholarship for her masters in that field.
When she came back from the United States, she taught at Ateneo's grade and high school departments where school officials wanted to introduce students to the humanities. It was the early 1960s when art education was a novelty. All classes were held at the gym with much pushing and pulling of tables to fit the students.
Some of the students went to make names for themselves in the arts: playwright Paul Dumol, actor Bembol Roco, theater directors Anton Juan, Nonon Padilla and Carlitos Siguion Reyna. She'd overhear them discussing philosophy along the corridors.
She went about organizing the Philippine Art Educators Association  (PAEA), patterned after the National Art Educators Association in the U.S. With help from Dans and her husband who was active in the civic clubs circuit, they contacted different schools and campaigned to include art in their curricula.
They trained teachers, but their initial exercises were based on American books. Fajardo said: "Let's Filipinize it."
Dans went a step further by getting the Ateneo's support to air Filipino culture lessons on educational TV.
Even conceptual artist Roberto Chabet, then Cultural Center of the Philippines curator, invited the PAEA to exhibit children's art at the Main Gallery, a first in that institution.
Fajardo also became a pioneer of the Philippine Educational Theater Association (PETA) in the 1970s at about the time she was going steady with a sweetheart. That relationship lasted 14 years when her beau broke it off right when they had planned a wedding, the special paper from Europe for the invitations chosen and the cloth of beautiful Thai silk for the bridal trousseau ready.
Fajardo said: "I see it as part of my karma. I wasn't meant to be married. That removed my innocence and naivete. That's why my favorite Tarot symbol is ang gaga (foolish woman). It was a wake-up call. There's more to life than being a wife and raising a family. I had imagined myself as a suburban housewife living a fairy tale."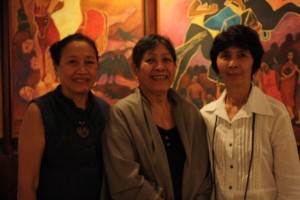 Her parents and friends used to take her window shopping until the pain lifted. She realized that the breakup planted "the seed of feminism" in her.
She said: "I guess it was a step to learning that the artistic and personal lives have a connection. That turning point led me to where I wanted to go."
The  PETA years led to lifelong ties with fellow art educator Peanuts Pañares and theater stalwarts Lutgardo Labad, CB Garrucho, Soxy Topacio and Cecile Alvarez. She still gives integrated arts seminars for PETA, her "second family." She also holds art classes at the UP Diliman where she is a professor emeritus (a recognition of her 35 years of teaching there).
The PETA outreach enabled her to meet people in their communities and see the nation's pulse. Her activities stimulated her mind and alleviated the loneliness from heartbreak. She turned into a social activist.
In the 1980s, she and fellow artist Imelda Cajipe Endaya thought of organizing women. Together with Ana Fer, Ida Bugayong and Julie Lluch, they formed Kasibulan (acronym for Kababaihan sa Sining at Bagong Sibol na Kamalayan), sharing artworks with others apart from meeting with professionals like women doctors and lawyers.
A few years ago, another wake-up call occurred. She couldn't walk a block and was short of breath while visiting Japan as PETA representative. At her Quezon City home, she was rushed to the hospital where she was told she just had a mild heart attack.
Fajardo has recovered since then. The art community pitched in to cover the costs of her surgery and hospitalization.
While recovering from her heart bypass during Lent 2010, she felt afraid. But she was buoyed by the  support and affection given her. She said,"There was this overwhelming fundraising from all sides. I saw that Christ is present in other people. When he promised his precious blood, I received donated blood from the Marines, two truckloads of donors!"
The doctors told her how her heart bears a scar. Fajardo rues about past heartbreak, smiles and moves on with renewed vigor.