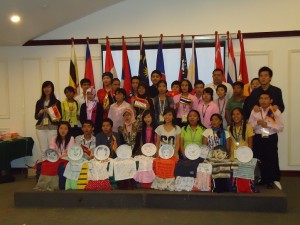 ASEAN kids call on governments to uphold child's rights
By ARIEL C. SEBELLINO
ALL that gloom and rain for days at  Fontana Leisure Park in Clark, Pampanga did not dampen the enthusiasm of child representatives from 10 countries who participated at the recent first Association of Southeast Asian Nations (ASEAN) Children's Forum.
Young delegates from Thailand, Burma, Malaysia, Cambodia, Laos, Indonesia, Brunei, Singapore, Vietnam and the Philippines vowed to be more involved on issues affecting children and called on their leaders  to protect children  from  exploitation and abuse.
"I will promote and fight for child's rights in my country," said Ann Fajar Lestari, 18, of Jakarta, Indonesia.
Other delegates said that children should be treated with utmost care so that, like adults, they too will realize their importance in society.
The forum allowed delegates to express themselves through group chants, cheers, workshops, field visits and other fun activities.
Donned in their national costumes, the kids raised their country's flag, and proudly paraded at the opening of the event.  As each country was introduced, the kids chanted and cheered to be recognized.  Some of the chants were made unique by the use of their native language. "In diversity, there is unity," said facilitator Ross Padua from the Philippines.
Jaylord Langbayan, child leader from the World Vision Development Foundation and a representative from the Philippines, said in his inspirational message: "I am happy and blessed to be sharing the same centerstage with young leaders from the other nine nations. This is such a milestone event for us ASEAN children."
The delegates learned from their interaction with local children's organizations during field visits different initiatives of various groups that address issues on children, like child labor,  poverty,  and HIV/AIDS.
Host country Philippines shared best practices on how children's issues and problems are being reported and addressed, which can be replicated in other ASEAN countries.
In an interview with Denia Gamboa from the Council of the Welfare of Children (CWC), she said that other countries look up to the Philippines for some exemplary models on covering children's issues.  She cited her organization as one that gives holistic approach to various concerns of children.
"We don't give up until we find better solutions to address growing issues on children," she said.  "It is important to partner with other groups and institutions to strengthen advocacies and make a greater impact."
Children's participation is very important in the advocacy of children's rights, according to delegates from Laos, Indonesia, Singapore and the Philippines.
When asked what issues they want to address when they go back to their respective countries, the delegates easily came up with the following:  the internet, the environment, children's participation, children with disabilities, HIV/AIDS, and poverty and child labor.
"There should be laws against those who make malicious sites and programs in the internet," the delegates from Cambodia, Indonesia and Vietnam said.
They added that there should be guidelines to ensure the protection of children in the net and that the website will be a good venue for advocating children's issues.
The delegates from Brunei, Cambodia and Myanmar called on their governments to have programs for children with disabilities, who they believe can still be very productive.
Child-like excitement filled the air as the forum website (www.aseanchildrenforum.org) was presented and launched.  The delegates were very eager to browse the website, which features a multimedia section where participants can post audios, videos and other messages done in creative ways.  It also provides a forum for them to interact on certain issues.
"This is unique," Social Welfare Secretary Dinky Soliman said in her keynote speech.  "For the first time, ASEAN children will have something they can truly call their own."
She said that the website will allow children to be in constant communication and the exchange of ideas will be participatory and a lot easier.
Entertainer and UNICEF Ambassador Gary Valenciano, who performed at the closing and send-off ritual, said that people need to go out and spread the rights of the child.
He said: "It starts with one vision and one dream to get things going.  There is a snowball effect."
At the close of the forum, the child delegates called for action and a statement to be delivered at the next ASEAN Minister's Meeting for Social Welfare and Development in Brunei.  The heads of states meet every three years.
The children proposed that the ASEAN Children's Forum be held annually and that members should take turns hosting it.
The forum was capped by cultural presentations from the representatives of the 10-member countries.
The ASEAN Children's Forum was the offshoot of the meeting of the Senior Officials of the Social Welfare and Development in 2008.  It was also the result of the recommendation by children from the 10-member states, who attended the First South East Asian Children's Conference in 2006 with the Philippines as host.