By  ARIEL C. SEBELLINO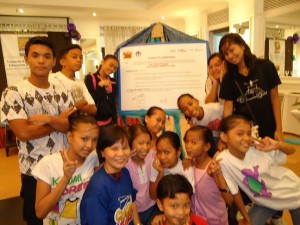 THERE was one scene in the recently concluded television soap  opera Momay that belittled children studying in public schools: Character actress Glydel Mercado, playing the role of a mother, told her nephew, "O ikaw Jay-jay, sa public school ka nalang mag-aral kasi bobo ka naman (You, Jay-jay, will go to public school because you're dumb)."
That was one of the scenes discussed in a media dialogue organized by the National Council for Children Television (NCCT) with scriptwriters and program producers of the three major television networks. Teacher participants said the infamous line disparaged public schools and the children who study in them.
Television director and NCCT executive director Frank Rivera told writers of  the popular Momay, Magkaribal, Panday Kids and other primetime shows to "look into the welfare and protection" of children.
Veteran television and stage director Mario O'Hara agreed, saying that while writers are entitled to their creative license, they have a responsibility to their audience, especially children who watch similar programs unattended by parents and which are most likely not suitable for viewing by young audiences.
Rivera encouraged writers, directors and producers to pitch to their bosses value-laden statements and lines such as child rights that can be injected into their scripts.  "I know that this is not easy to do but there's got to be a way to put these things in the stream of consciousness," he said.
Some writers said they would discuss the matter with their superiors.
The NCCT said the many complaints that it  receives from concerned individuals make it more determined to continue its advocacy for responsible viewership and quality television shows.
Escalating violence
In another forum on Violence Against Children, a study was presented showing alarming statistics of violence inflicted on schoolchildren.
"A Baseline Study on Violence Against Children in Public Schools" conducted by the Philippine Women's University showed at least four out of 10 children in Grades 1 to 3 have experienced some kind of violence in school.  In the higher grades and up to high school, the numbers rise to seven out of 10.
The study also showed that verbal abuse– being shouted at and being cursed, ridiculed, teased or humiliated–is the most prevalent form of violence in all school levels. The degree of gravity as well as the incidence of abuse increase as the child graduates from one level to another.
Social Welfare and Development Secretary Corazon "Dinky" Soliman, who was the keynote speaker, said  the study should be a wake-up call to parents, teachers and other stakeholders in the community. "There should be a mechanism in place in schools to document cases of abuse and violence against children," she said.
United Nations Children's Fund (Unicef) country representative Vanessa Tobin said learning is not only sharpening the mind but also about nurturing the heart.  "When boys and girls are able to express that they feel safe inside their schools, only then we can justifiably say we have met our goal of making our education system truly child-focused and respectful of child rights," she said.
The baseline report, the first Philippine contribution to the "World Report on Violence Against Children" launched in 2006, was commissioned by Unicef, Council for the Welfare of Children and Plan International.
A total of 6,931 children from 173 public schools from across the country participated in the surveys.