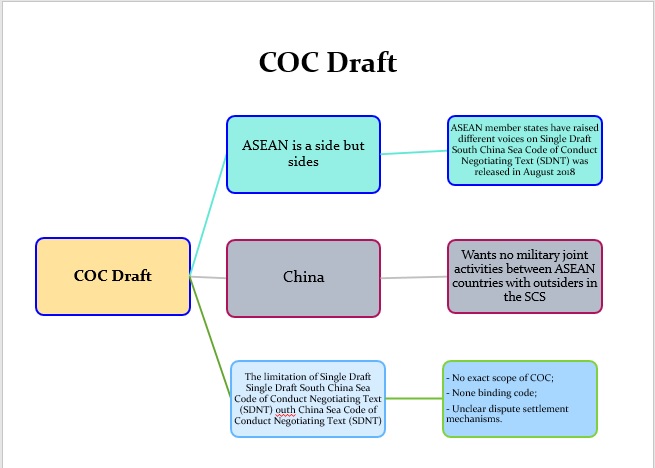 A slide from the presentation by Dr. Vo Xuan Vinh in a New Delhi conference on South China Sea.
A Vietnamese academic pierced whatever illusion about theCode of Conduct in the South China Sea being worked out between ASEAN (Association of Southeast Asian Nations) and China and being coordinated by the Philippines.
Speaking in aconference on South China Sea in New Delhi, India November 29, 2019, Dr. Vo Xuan Vinh of the Institute for Southeast Asian Studies at the Vietnam Academy of Social Sciences said, "It is unlikely that ASEAN and China could conclude a COC as scheduled (2021)."
"If they do, " Vo said, "the COC is not meaningful."
President Duterte has said he wants a COC in the South China Sea to be accomplished during the country's role as coordinator of the ASEAN-China dialogue which started in November 2018 and will end in November 2021.
In 2018, ASEAN and China decided on a Single Draft South China Sea Code of Conduct Negotiating Text (SDNT). As expected, the 10-member grouping has different "voices" on a number of issues while China is focused on what it wants.
Vo said China wants to include in the COC this provision: "No military joint activities between ASEAN countries with outsiders in the SCS."
Duterte has been echoing this idea in his speeches.
The provision would put an end to the joint military exercises that the Philippines conducts regularly with the United States andAustralia. In recent months, the joint military exercise with the U.S. were held in the South China Sea near the disputed areas occupied by China.
Of the 10 ASEAN members, four- Brunei, Malaysia, Philippines, Vietnam – have claims in the South China Sea. Not all the four take a common stand against China's aggression. Brunei and the Philippines, under Duterte, take a conciliatory attitude while Vietnam takes a hardline stand to the regional superpower's activities in disputed areas.
Indonesia is not a claimant of any part of the disputed Spratly islands in the South China Sea but has an issue with China with the inclusion of Natuna Islands in Indonesia's Riau Islands province in China's nine-dash line.
Before 2019 ended, Jakarta filed a diplomatic protest over the incursion of Chinese fishing vessels in its Exclusive Economic Zone (EEZ) around the Natuna island.
But Vo took note of the reality that "Economic development of most ASEAN member states depends on their trade with and investments from China."
He said: "Due to China's increasing influence in South East Asia, ASEAN member states have separated in dealing with the dispute. It is unlikely to conclude a 'meaningful' COC."
Vo urged "powers having interests in the region should maintain and increase their presence to create a 'balance of power' for the security and stability of the region."