A video on Facebook (FB) is claiming that China conducted a military drill on the South China Sea in an alleged attempt to "taunt" the Philippines. This is misleading as the live-fire exercises were part of a routine drill conducted last May, not after the incident near the Ayungin shoal early this month.
On Aug. 11, an FB page uploaded the video that bore the headline: 
"China, Naghahamon na nga ba talaga? [N]agpakita ng pwersa at Nagpaputok Ng Ibat (sic) Ibang Mga Missiles Sa South China Sea… (Is China really looking for trouble? China's forces appeared on the South China Sea (SCS) and fired missiles)"
Its thumbnail likewise claimed that the incident occurred on the West Philippine Sea:  "Nagpaputok sa WPS (Fired on the West Philippine Sea)!"
The 14-minute video featured a person reacting to several clips which showed Chinese ships firing missiles and guns. But the video is not related to the Aug 5 water cannon attack by Chinese Coast Guard vessels against a Philippine resupply mission to the Ayungin Shoal in the WPS.
The video the person was reacting to showed a Chinese military exercise last May in the SCS. The West Philippine Sea and South China Sea are two different bodies of water.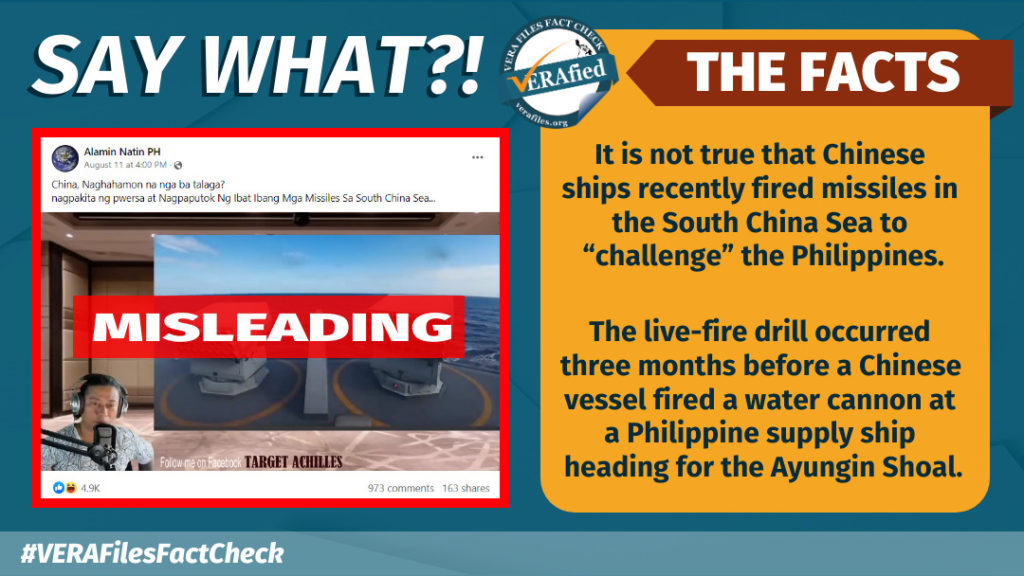 The short clips shown in the misleading video was published by Chinese news media CCTV Video News Agency in May this year, showing a naval fleet of the Chinese People's Liberation Army Navy participating in a military drill on the South China Sea.
According to CCTV Video News Agency, the live-fire exercise lasted for four days and three nights, and carried out several exercises on air and naval operations to "test new results of the use of tactics and training methods."
This misleading video appeared several days after a Chinese vessel fired a water cannon at a Philippine ship yet again, this time aimed at a supply ship heading to Ayungin Shoal which is part of the country's continental shelf and exclusive economic zone.
FB page Alamin Natin PH (created on April 23, 2023) published the misleading video, garnering over 4,900 reactions, 970 comments, 160 shares and 137,000 views.
Have you seen any dubious claims, photos, memes, or online posts that you want us to verify? Fill out this reader request form or send it to VERA, the truth bot on Viber.
(Editor's Note: VERA Files has partnered with Facebook to fight the spread of disinformation. Find out more about this partnership and our methodology.)