All images courtesy of R.C.Ladrido, Ateneo Art Gallery, and College Editors Guild of the Philippines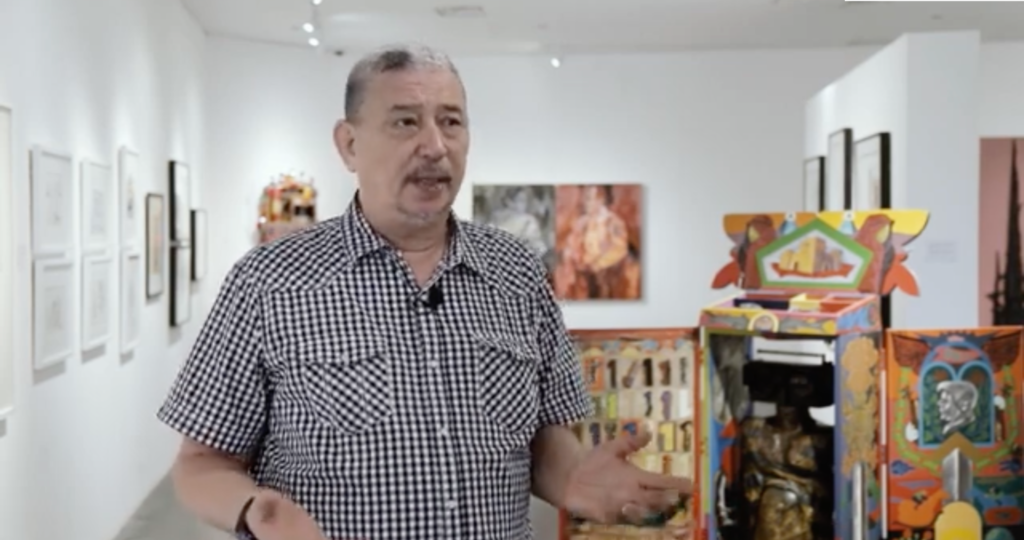 An exhibit titled Litanya: 1972-1922 shows the works of Jose Tence Ruiz at the Ateneo Art Gallery until September 2, 2023. It marks the artists's 50 years "from inception and attraction" to art at age 16.
It complements the launch of Ruiz's self-published book with the same title as the exhibit as "an anxious inventory" of his practice as an independent visual artist.
The title Litanya captures Juaniyo Arcellana's description of Ruiz's "continual search of the substance and grit of daily realities." As the artist has noted, time and again, his art practice reflects his values on what is important.
The exhibit consists of 11 paintings, four mixed-media installations, and over 50 works of editorial illustrations from the Manila Chronicle, InterPress Asia-Pacific, and WHO Magazine.
A critical voice
Ruiz's visual ruminations are somber and foreboding using darker hues of greys, greens, and yellows, with splashes of black and red. Touches of baroque and religious imagery are present, with an adornment of details. Densely-layered, the works present an intricacy of symbolisms and meanings. Allusions and metaphors pepper his work. Always challenging viewers, Ruiz seems to whisper: Unravel-me-in-your-mind.
Installations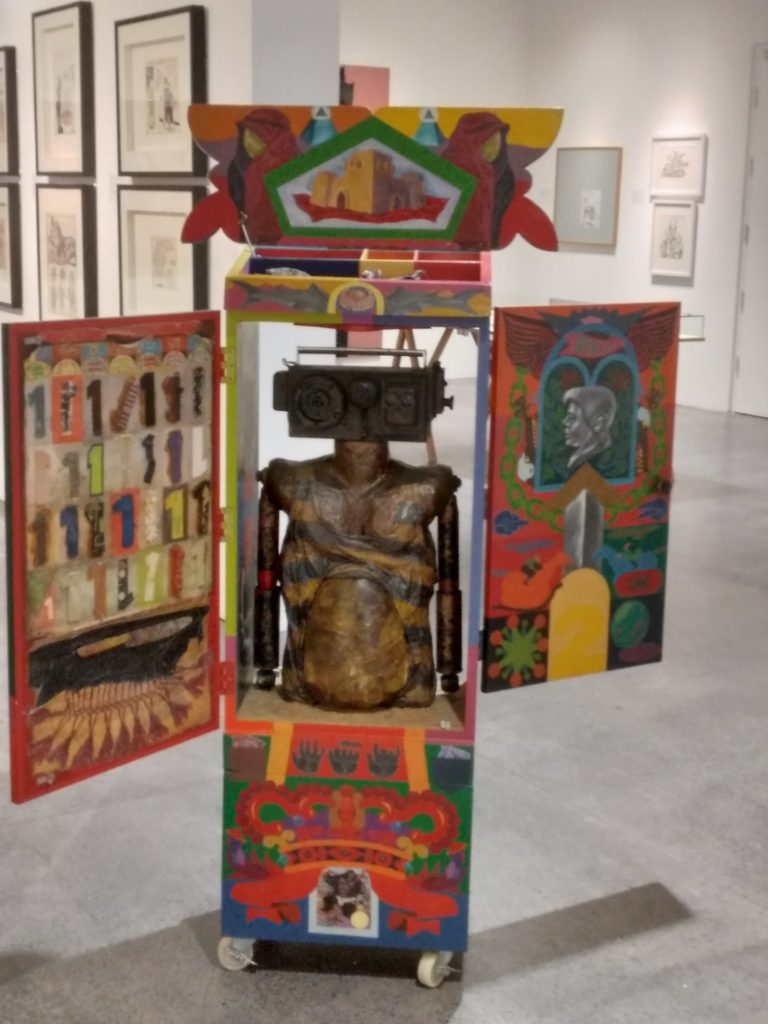 Erding Erdrayb at ang Kanyang Palasyong Agaw-Tanaw (1980): A three-dimensional cabinet of curiosity that captures the loud colors and folk elements embodied by the ubiquitous jeepney. Through Erding, a jeepney driver's psyche is laid bare, with amulets and talismans to guide him in uncertain times; a knife represents kapit sa patalim, a survivor's instinct to daily violence and danger along his route; a door of a calendar in which every day is the first day of the month—only today, the present, is important amidst food prices and rising diesel cost. Existing only from day-to-day is luxury enough.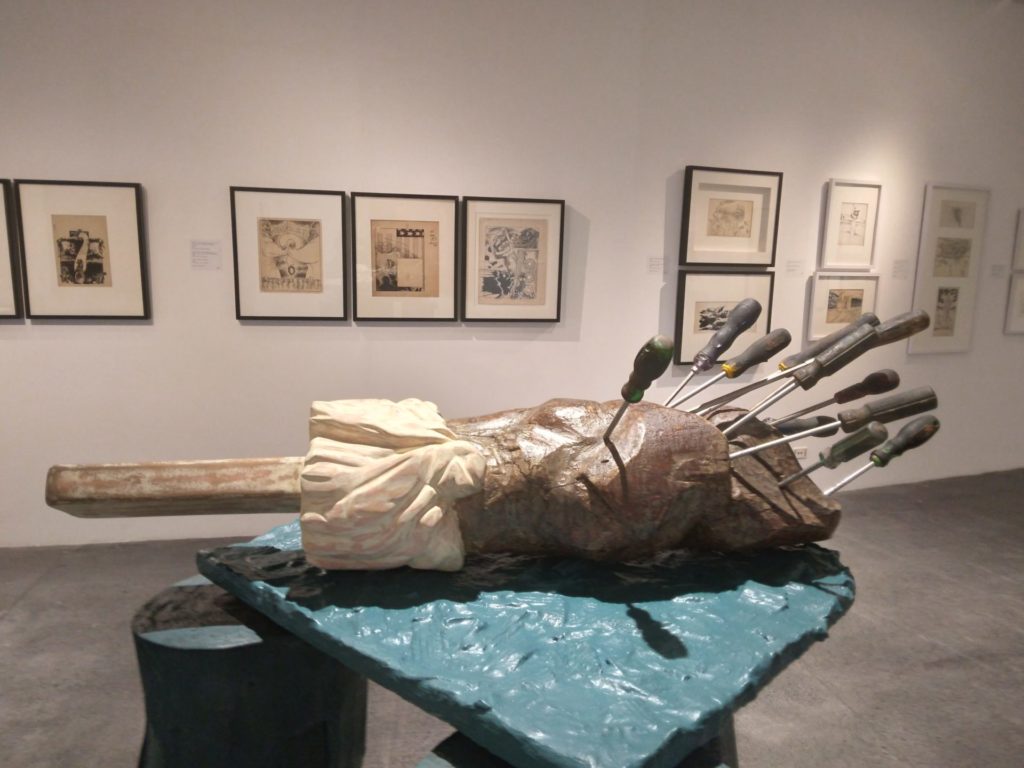 Screwpulous (2017): A sculpture made of a chunky piece of camachile and acacia wood, with a whitish loincloth wrapped at one end, it lies on blue paint. From a different angle, a cluster of screwdrivers are pierced through the wood where it evokes the ultimate sacrifice of the crucified Christ, an allusion to EJK (extrajudicial killings) victims covered in blue plastic tarpaulin.
Minibus (1981-1987): Inspired by the jeepney, with a dead cat in its front bumper, "the idealists among us, frozen in the headlights," says Ruiz.
Paintings
The Tree of the Knowledge of Good and Evil PALMERA (2018): Part of a series of tree allegories, with an exuberant use of curves and counter-curves in the form of a rising tree made of grey coils interlocked with each other, with slithering snakes. Amidst the somber grey of metals, daubs of reds are scattered around.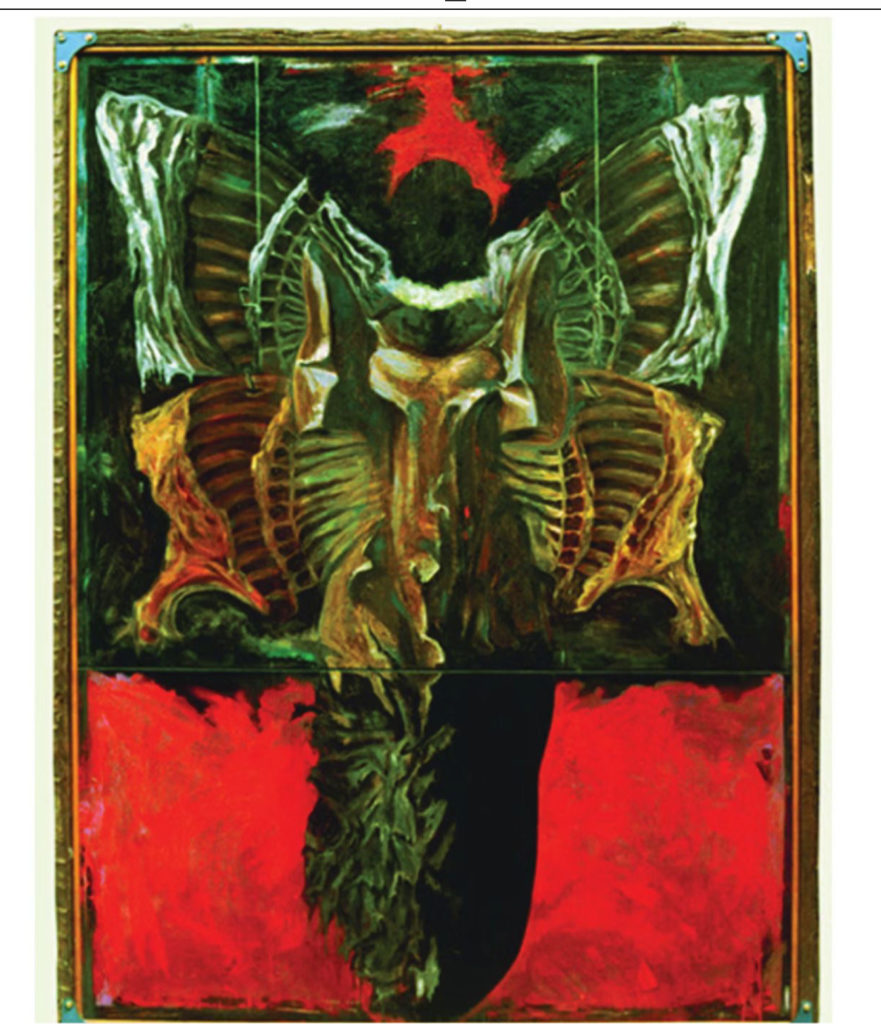 Alibangbang (1984-1985): A diptych in oil and enamel on canvas, the title means " butterfly" in Visayan. Its coco lumber frame is called Madera Imelda, held together by butterfly nuts. Dedicated in disgust to a certain Imelda, and described by Ruiz: "With the shiny neck, and the wings made of carcasses, coming out of the cocoon of violence… " Nasty, nasty butterfly.
Editorial cartoons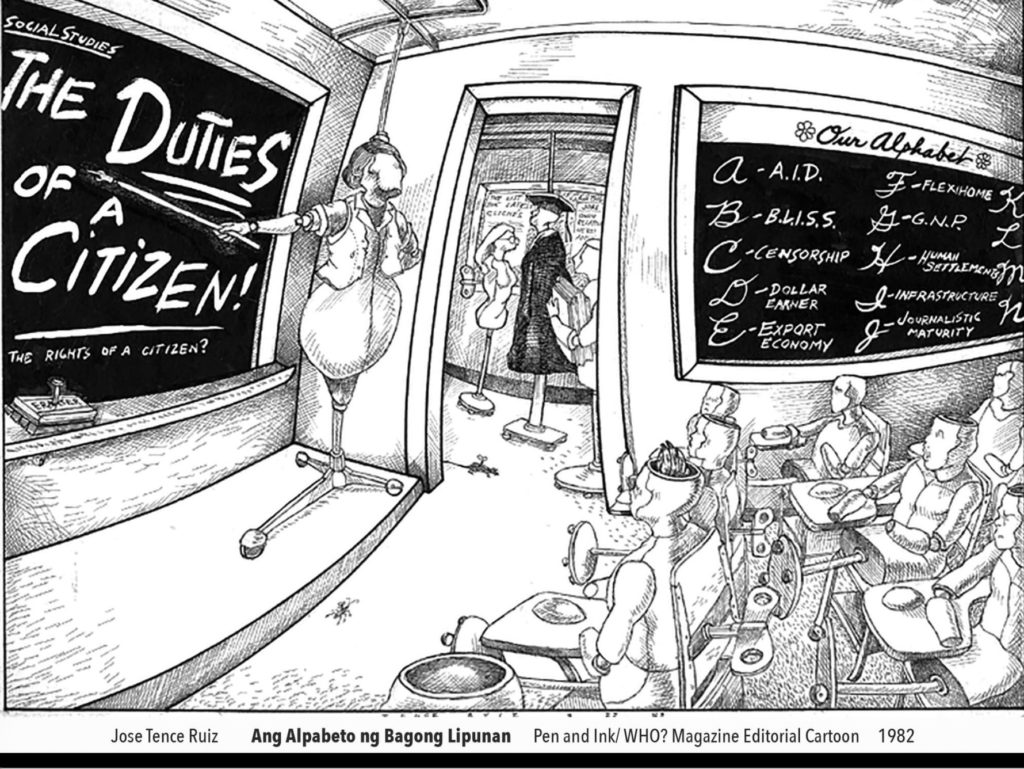 Ruiz's editorial cartoons offer a critical voice in tackling issues of the day: press freedom, abuse of power, government corruption, inutile politicians, election fraud, illegal arrests and "disappearances," among the many ills that plague Philippine society. Year-in and year-out, issues remain almost the same, in new forms and shapes, with only names, personalities, and places that change.
Bogie: The artist
A quite prolific artist of many interests, Jose Tence Ruiz (b. 1956), known as Bogie to his friends, is a painter, sculptor, editorial illustrator, graphic designer, performance artist, and writer.
A BFA Major in Painting from the University of Santo Tomas, he has had more than 30 solo shows and over 200 exhibitions in the country, Italy, China, Germany, Hungary, Cuba, and Australia.
Early struggles
Bogie's first group show with five other artists was in 1976, at Hidalgo Gallery, Makati. His series of painting was titled Hidden Lines, and only one small piece got sold. His first one-man show in 1985, titled Kalahating Dekada with 27 large, major works, was held at the well-known Pinaglabanan Galleries, San Juan. Nothing was sold. His wife told him to find a proper job.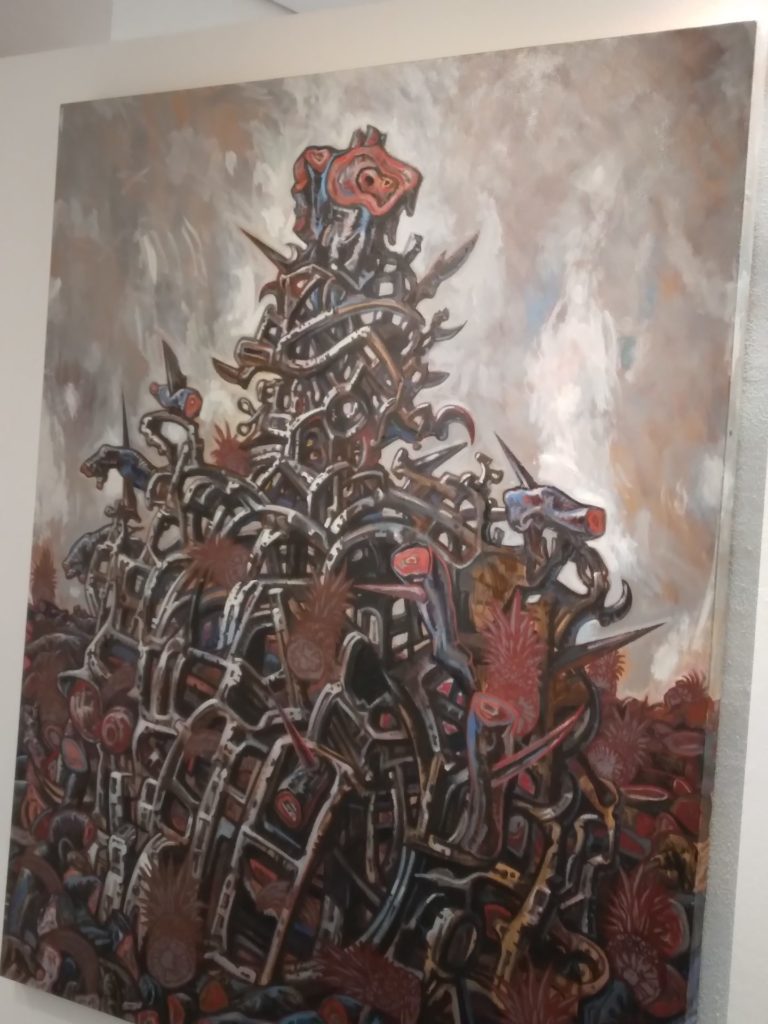 So, he turned to newspapers doing editorial illustrations in Manila. Later, he worked as an editorial illustrator for The Straits Times in Singapore for seven years, with weekends devoted to his artmaking.
Shoal: Venice Biennale
One of the highlights of his career was being selected as the Philippine main artist at the 2015 Venice Biennale, after the country's 51 years of absence in the international event. He presented Shoal, a large-scale installation of a decrepit ship shrouded in fiery red-maroon velvet.
Shoal was inspired by the BRP Sierra Madre deliberately grounded in Ayungin Shoal, West Philippine Sea and used as a crucial military outpost, as the Philippine's attempt to hold on its own against China's increasing aggression. The Hague has ruled in 2016 in favor of the Philippines, stating that China's claim in South China Sea has no legal basis at all.