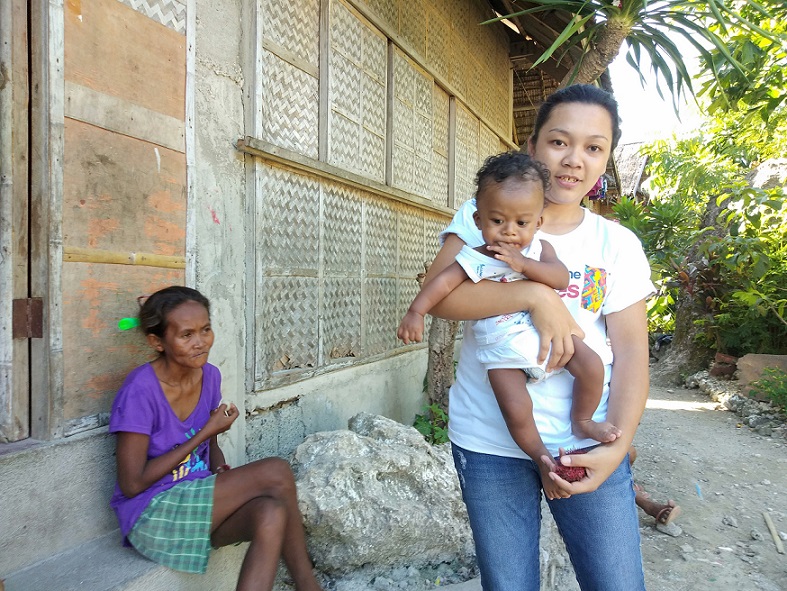 Boracay Atis, beneficiaries of small portion of land their ancestors used to call their own. Photo by Cooper Resabal.
Two weeks after it reopened a cleaner Boracay to tourists, the government fulfilled another promise it made to the original inhabitants of the resort island: it handed them certificates of land ownership.
President Rodrigo Duterte distributed a total of 623 land titles covering 274 hectares of land on the island and other towns of Aklan during a ceremony on Nov. 8.
Six Certificates of Land Ownership Award (CLOAs) covering 3.2 hectares were given to the indigenous Atis, whose ancestors considered the island their home, but who found themselves pushed to the margins after the world renowned tourist destination began to attract settlers more than two decades ago.
Ati chieftain Delsa Justo received the land award on behalf of the members of the Boracay Ati Tribal Organization (BATO), which has been struggling to assert the community's ancestral rights over their land.
"Don't let go of the land. Make it productive," Duterte told the Atis, who were given collective certificates of ownership.
He told them the land could not be immediately sold, but said that by the time a sale is allowed, their children or grandchildren could earn millions from it.
The Atis are not inclined to sell the land, which to them is as precious as life itself. "For the Atis, land is life. It is where we get our food. Without land, there would be no Atis," Justo explained in Filipino during an interview with Vera Files last month.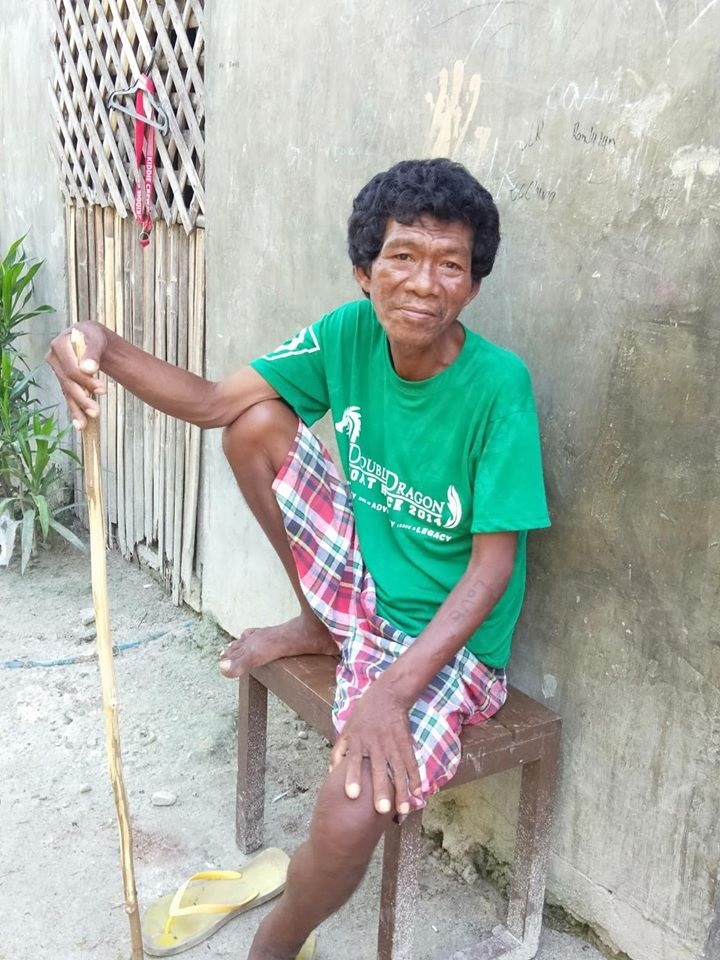 An Ati elder. Photo by Cooper Resabal.
"Money cannot match the value of land," echoed Ati leader Evangeline Tamboon, who said that their ancestral land is sacred.
Reading a message on behalf of the Atis, she thanked Duterte for making good on his promise to provide them land in Boracay, while also expressing apprehension that the land award might lead to trouble, according to Panay News Agency.
Land as point of conflict
"We hope that with the land distribution, no trouble will come to us," Tamboon said in Filipino, alluding to the harassment they were subjected to by parties contesting the award of the Certificate of Ancestral Domain Title (CADT) to the Atis in 2011.
The Ati community occupies only a portion of the 2.1-hectare ancestral property on the holiday island because of land ownership disputes with families and businesses in the area. The disagreements have led to threats and harassment.
In 2013, Dexter Condez, the 26-year-old spokesman of BATO, was shot to death by a lone gunman. His murder remains unresolved, although a security guard of a hotel in the area was arrested in 2014 in connection with the killing.
Tamboon also related that during the six months that the island paradise was off-limits to tourists, they were made aware of the need for the place to recover from too much environmental abuse, and to seek unity with everyone to achieve peace.
Agrarian Reform Secretary John Castriciones, during the distribution ceremony, assured the Ati beneficiaries of the security of their land ownership. "There is no need to worry," the Panay News Agency quoted him as saying. "Boracay is a government property."
A total of 44 families will benefit from the 3.20-hectare land set aside for the Atis in Boracay, he said, while explaining that it was not just land that is being given, but training on how to make the land productive will also be provided.
The 3.2 hectares of land in Barangay Manoc-manoc were part of the 7.9 hectares of land originally turned over by the Department of Environment and Natural Resources (DENR) to the Department of Agrarian Reform (DAR), shared Castriciones.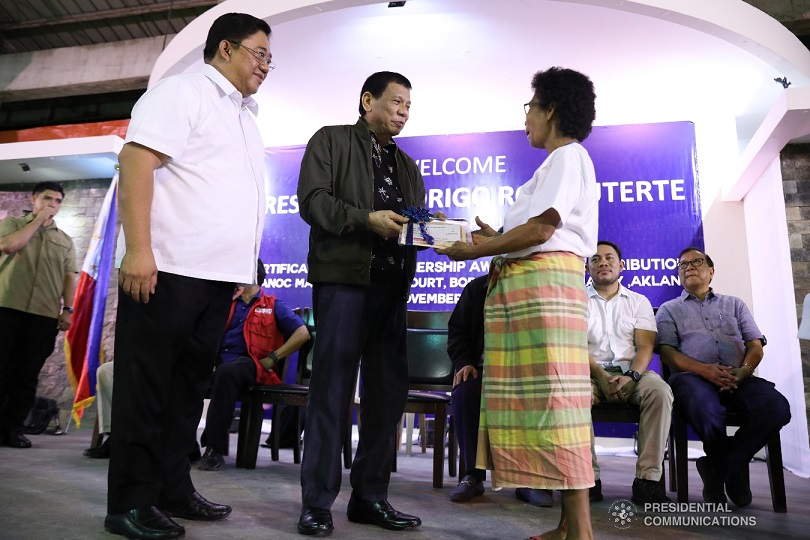 Pres. Duterte distributes Certificates of Land Ownership Award to the Agrarian Reform Beneficiaries who included the Atis at Barangay Manoc-Manoc in
Malay, Aklan on Nov. 8. Malacañang photo by Robinson Niñal, Jr.
The bulk of CLOAs, totalling 534, was distributed to 484 beneficiaries in Barangay Tagas, Tangalan, while 50 land awards for 56.32 hectares were given to 50 beneficiaries in four barangays in Buruanga town, and 33 CLOAs for 30.2704 hectares of land were also given to 28 families in barangays Kabulihan and Nabaoy in mainland Malay town, according to news reports.
Aside from the Ati tribe, DAR is also set to distribute land titles to the Tumandok tribe of Boracay. At least 31 families from the tribe are being eyed as beneficiaries, reports said.
Aklan Governor Florencio T. Miraflores thanked Duterte for making good on his word to distribute a portion of Boracay to agrarian reform beneficiaries, as government sought "to bring the beach paradise to order after years of overdevelopment."
This story is produced by VERA Files under a project supported by the Internews' Earth Journalism Network, which aims to empower journalists from developing countries to cover the environment more effectively.