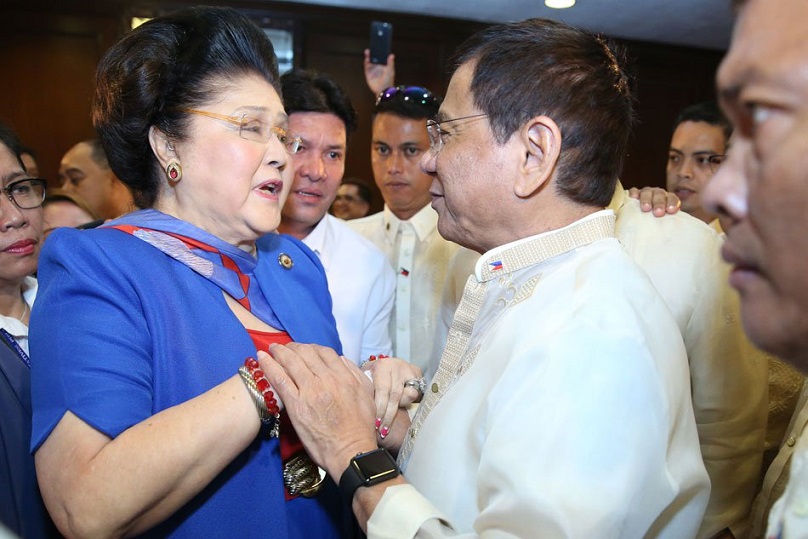 Pres. Duterte and Imelda Marcos SONA juy 25 2016. Malacañang photo by King Rodriguez.

It's doubtful that the fabulous Imelda Marcos would ever set foot in jail after the conviction by the Sandiganbayan on seven counts of graft with a prison sentence totaling 77 years (six years and 1 month to 11 years for each case).
But the decision last Nov. 9 by Associate Justice Maryann E. Corpuz-Manalac and concurred in by chairperson of the graft court's fifth division, Rafael R. Lagos and Associate Justice Maria Theresa V. Mendoza-Arcega is enough to reverse the declining faith of many in the country's justice system.
Actually, this is the second boost in less than a month. Last Oct. 22, Presiding Judge Andres B. Soriano of Branch 148 of the Regional Trial Court, National Capital Region refused to succumb to the pressures of those in power to nullify the amnesty granted to Sen. Antonio Trillanes IV in 2011.
As CARMMA ( Campaign Against the Return of the Marcoses and Martial Law )said "In these trying times, her (Imelda) conviction, together with the perpetual disqualification from public office, gives us enough hope to continue the fight for justice. It is a victory for us, the Filipino people, who have never backed down from the struggle against the return of the Marcoses to power, even in the face of great odds.
From her detention cell in Camp Crame, Sen. Leila de Lima issued a hopeful statement: "The guilty verdict handed over by the Sandiganbayan against former First Lady and current Ilocos Norte Rep. Imelda Marcos is long overdue, but is still a welcome relief in our tedious struggle to make the Marcoses and their cohorts accountable for their crimes. This development also serves as a reminder to other abusive and crooked officials – the current occupant in Malacañang included –that the long arm of the law and justice will catch up with them."
In its 70-page decision, the graft court took note that the 89 year-old Ilocos Norte representative widow and her late husband President Ferdinand Marcos had money in Swiss banks through foundations amounting to $680 million when their combined lawful income from 1966 to 1986 totaled only to a dollar equivalent of $304,000.
Former Solicitor General Florin Hilbay said it's understandable that some are disappointed that Imelda Marcos won't be jailed soon, "if at all." But, he said, "A conviction is a conviction and that establishes an important fact about the Marcoses that we can and should use against fake news and persistent attempts at historical revisionism."
That's an important point that Hilbay underscored because not only members of the Marcos family in their bid for a dominant political role in the national scene but President Duterte himself sells the fiction that reports about Marcos ill-gotten wealth and human rights violations have not been proven in court.
Duterte conveniently set aside the extensive documentation of the Presidential Commission on Good Government, which was created to recover the Marcos ill-gotten wealth; Republic Act No. 10368, or the Human Rights Victims Reparation and Recognition Act of 2013, provides that compensation for martial law era human rights victims was to be sourced from P10 billion Marcos ill-gotten wealth that was transferred to the Philippine government through the Dec. 10, 1997 ruling of the Swiss Federal Supreme Court; and the July 15, 20013 decision by the Supreme (G.R. No. 152154).
For the May 2019 elections, the Sandiganbayan verdict may not have a strong adverse effect on the candidacy of Mrs. Marcos for governor of Ilocos Norte as well as that of her grandson, Matthew,for vice governor because the province is concededly Marcos country. But it may have a negative impact on the senatorial bid ofher daughter Imee.
Her son, Ferdinand "Bongbong" Marcos,Jr, will also have added burden to win public acceptance as he pursues his protest of the results of the 2016 vice presidential contest.