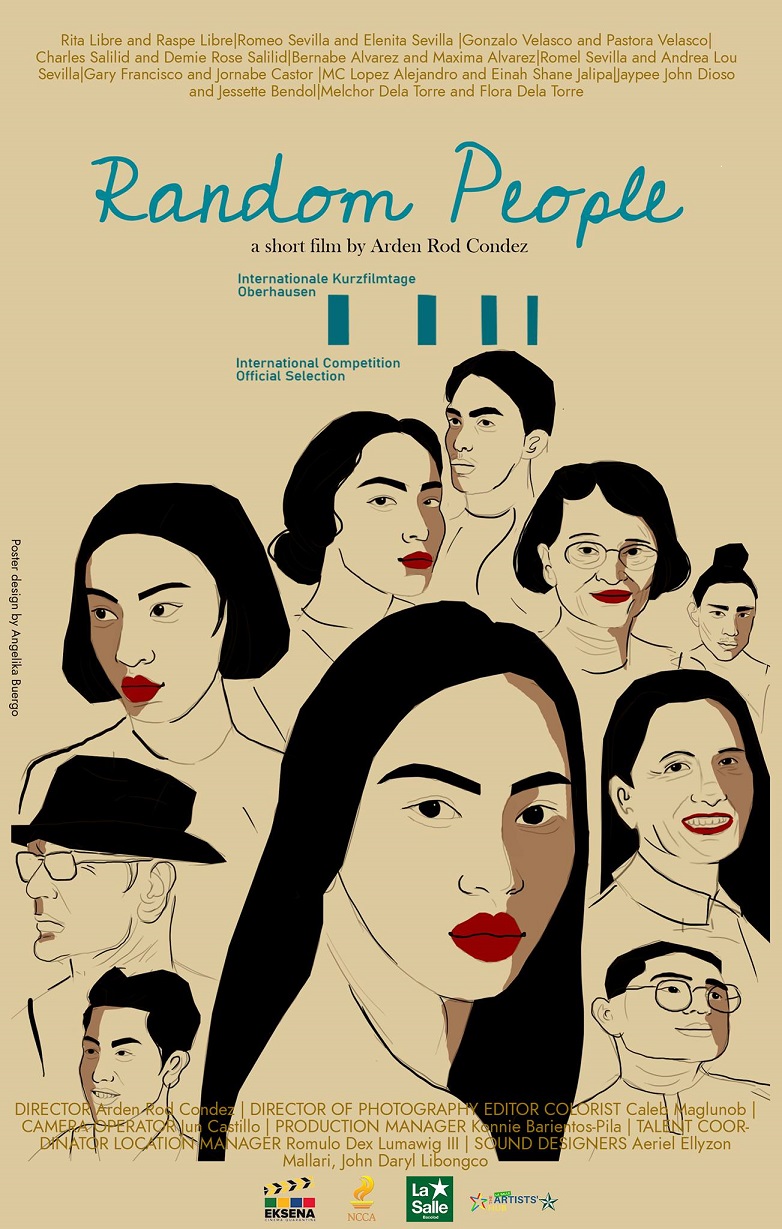 Poster of Random People by Arden Rod Condez.
The town of Pandan in Antique is in a state of anxiety these days.
Not because of supernatural forces that were featured in the 2019 award-winning film, John Denver Trending, that put the fourth class municipality in the world map.
Today's menace is the more aggressive Delta variant of the dreaded coronavirus disease 2019 (COVID-19). Two cases have been noted by the COVID-19 task force in Pandan recently.
Antique is one of the four provinces (the other three are Aklan, Capiz and Iloilo) that compose the island of Panay in Western Visayas. Whatever happens in one province affects movement of goods and people in the neighboring provinces.
Pandan is an idyllic town ( population: 34,333 as of 2015) quietly coping with the onslaught of the virus.
Based on the latest figure (July 20) from the local rural health unit, there are 31 active confirmed cases of COVID-19 with 14 admitted in hospitals, adding to a total of 129 confirmed cases. As this is being written, the Pandan LGU has announced another confirmed case of COVID-19 in the municipality.
The members of the Antique Inter-Agency Task Force (IATF) have agreed to put up provincial border controls in the towns of Hamtic, Anini-y, Pandan and Libertad in an effort to limit non-essential travels.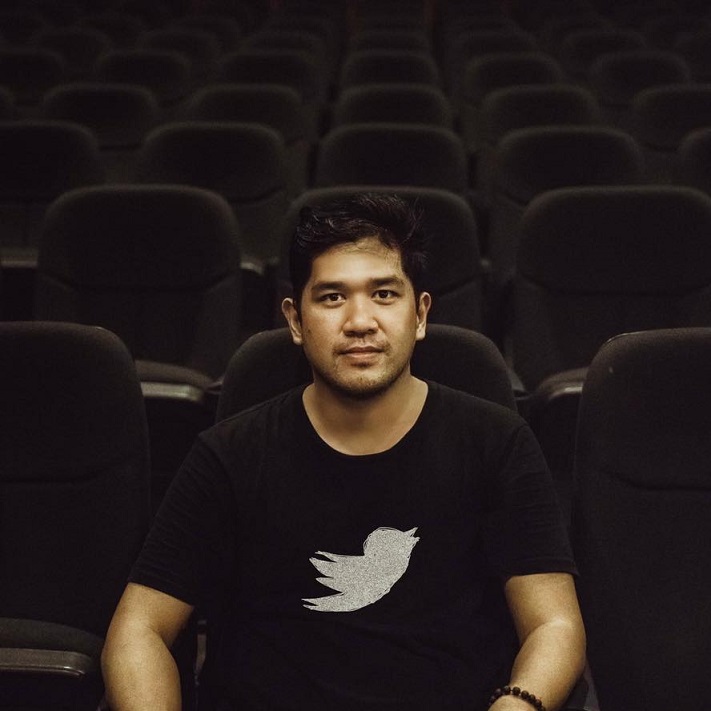 Pandan-based filmmaker Arden Rod Condez. From filmmaker's FB page.
Meanwhile, Pandan-based award-winning filmmaker Arden Rod Condez (John Denver Trending) said he has become busier during the pandemic. "I welcome jobs that I can manage through online meetings. We have started our small production house; Southern Lantern Studios and its presence is now more felt."
With close tie ups with other filmmakers Sheron Dayoc and Sonny Calvento, the production house focuses on training and hiring talents from the regions. "We feel a great need for these promising filmmakers to be given good chances to prove their worth. Their passion to prove their worth produces the best results. There are many good talents from the regions awaiting good breaks."
Last year, they did a tourism campaign for the Department of Tourism and two commercials for Netflix.
For now, Condez is focused on script development for a comedy film with a big production company.
Last year, he was also involved in the first Western Visayas Film Mentoring Initiative while finding time to wrap up two short films for the National Commission for Culture and the Arts (NCCA). He was also lecturer on scriptwriting and direction at the University of the Philippines Iloilo. "I feel young doing these lectures," he said.
He admits that teaching during the pandemic has become more difficult. "To put it bluntly, it is tough, especially since I taught film directing during the first semester last year. For one, how can you explain a frame or a shot to students online? Since you cannot demonstrate onsite, I have to show them sample clips. It was tedious. I also focused more on film theories. I believe YouTube has better teaching materials on that showing what is close up, extreme close up and wide shot, among others.I just have to remind them that their individual stories dictate the manner of directing that their stories need. So I encourage more discussion, more script analysis and developing your own film language."
One of the short films he did was for Eksena Cinema Quarantine: Covid 19 Filmmakers Diaries.
Filmmakers were asked to film their experiences during the pandemic. "As I don't want to work in front of the camera, I chose to film my neighbors and relatives. The seven-minute short film just featured 10 couples in their most intimate moments. A fitting reminder for everyone on how our relationships with other people can help us survive."
The short film Random People also got invited to the International Short Film Festival Oberhausen, believed to be the oldest short filmfest in the world. It was just screened in Croatia and is headed for Vienna, Austria at the end of July.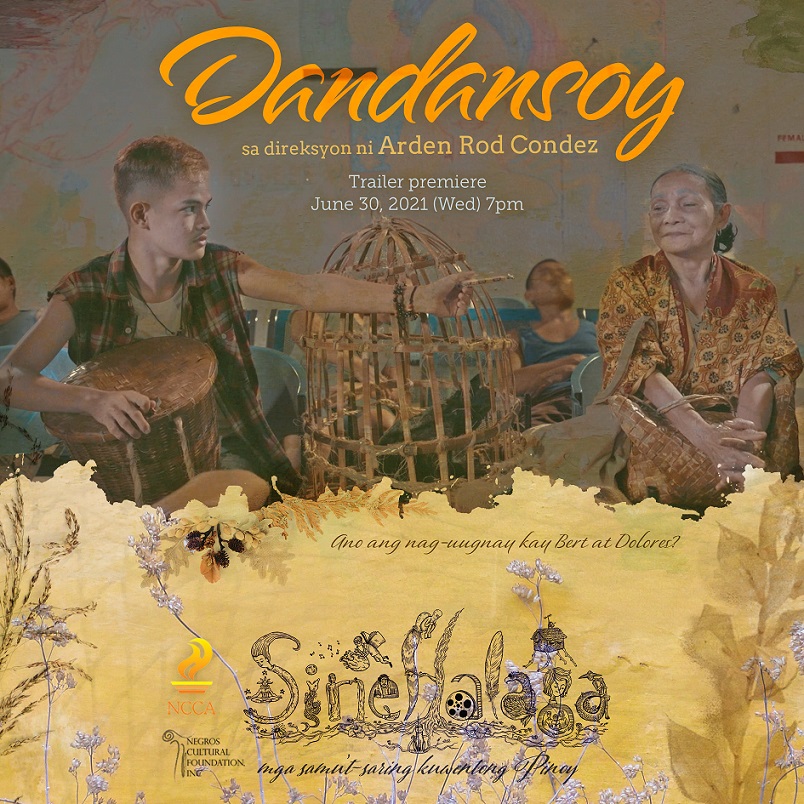 Poster of Arden Rod Condez's "Dandansoy."
He also did a short film for the NCCA Sine Halaga program to be launched on July 28 with online screenings sometime in August. The short film Dandansoy features an all-Pandananon cast led by 2019 Cinemalaya best actor Jansen Magpusao. "The film poses the question: What does it mean to have a family in times of crisis? When you are left in the province, to whom can you turn to as an alternative family? The film is just a light-hearted drama with a little comedy and horror.Good for the kids."
Condez pointed out the only way filmmakers can survive the pandemic is to adjust. "We have to use this pandemic as a motivation to reassess our aesthetics as well as our strategy in filmmaking. ABS-CBN remains shut down and many projects are on hold because of the pandemic.So we have to find creative ways to survive.Independent filmmakers are known to be resilient and can find a way to work with so many limitations. They can survive anything, including a low budget. We are used to fighting battles big and small. I am sure we are fully armed to fight another one brought about by the pandemic."