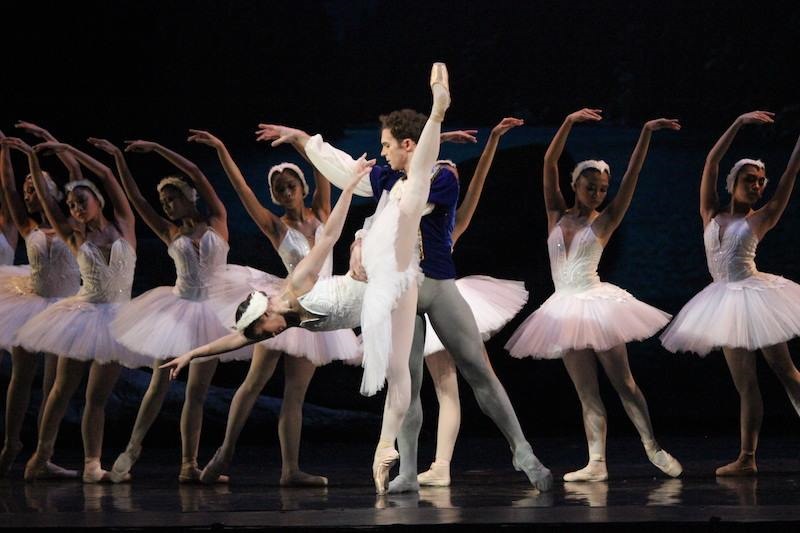 Candice Adea and Joseph Phillips in Swan Lake. a commendable production. Photo by Ballet Philippines.
Manila's ballet scene bristled with excitement last weekend when three sets of Filipino Odette-Odiles took to the CCP stage for their baptism of fire in the world's favorite ballet warhorse, Swan Lake.
It did help of course that Manila had seen the best in that ballet favorite. Like it or not, today's audiences realized how Asian dancers could easily adjust to ballets conceived for European bodies.
The ballet great Anna Pavlova (one of the greatest Odette-Odiles) danced at the old Manila Grand Opera House in the late 20s and for some reasons, ballet caught up with Filipino dancers.
The ballet ban in the 50s (reportedly ordered by a powerful man of the church) delayed growth of ballet in the country but it easily caught up with local audience exposures to the acclaimed ballet stars in the West.
Matinee audiences in the early 70s saw the Odette-Odile of Ester Rimpos but it was ManiyaBarredo who made the big splash as the White Swan and had audiences cheering with her Black Swan as she delivered the much dreaded 32 fouettes in the third act.
(A fouette is French for "whipped," and it's that whiplash motion of the raised leg that gives the turn its brilliance. That quick up-and-down of the ballerina's foot sometimes sends her traveling downstage; but the ideal sequence of 32 fouettés never travels from a single spot.)
As it turned out, our young ballerinas (most of them millennials) lived up to the challenge of the celebrated dual roles in Swan Lake.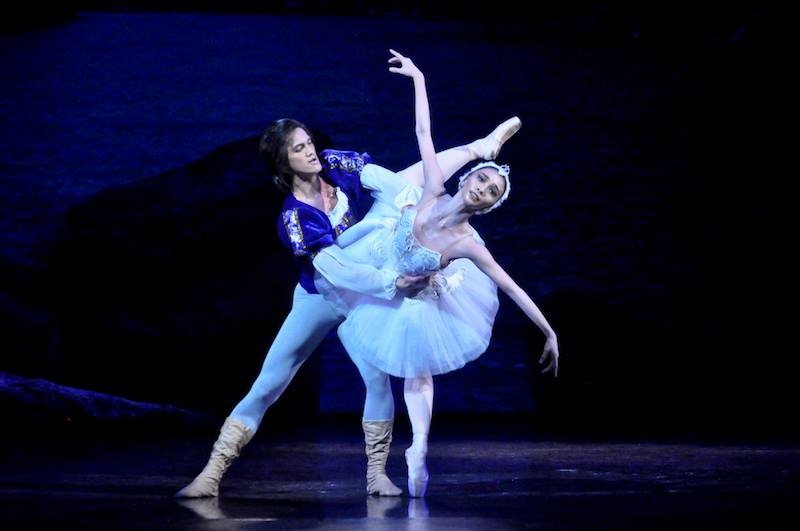 Denise Parungao and Garry Corpuz in White Swan episode. Photo by Ballet Philippines.
The 22-year old Denise Parungao was a big revelation as Odette and an even more impressive Odile.
Not only does she have the fragile arms and body of a swan; she can act as well and provided the matinee audience with good character contrast as Odette-Odile.
She got excellent support from the gallant and well-entrenched Siegfred of Garry Corpuz.
Moreover, the second evening performance with live music by the Philippine Philharmonic under Maestro Yoshikazo Fukumura had many things going for it.
The Japanese music director of the PPO was at home in the tempo of the dancers and provided excellent accompaniment.
Technically, Candice Adea delivered with good balance and breathtaking turns. Obviously, Odette-Odile is one dual role you cannot master overnight. Her White Swan didn't elicit poetic lines but her dancing sparkled in the Black Swan episode.
With his good looks and well-internalized dancing, Joseph Phillips was instantly an ideal Siegfred, noble in every move and the epitome of the perfect partner.
Margie Moran Floirendo's entrance as Queen Mother elicited welcome applause with her regal air that looked very much inborn than studied. Her stunning beauty didn't eclipse her ability to act which served her very well.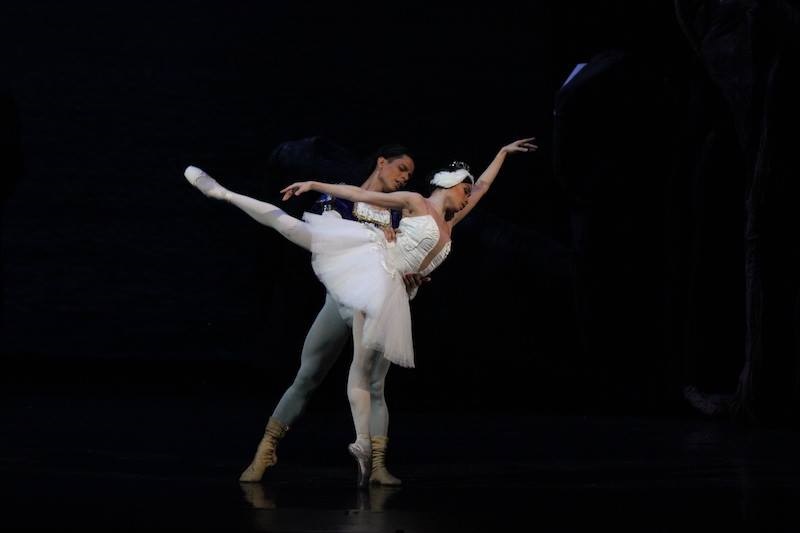 Jimema Reyes and Victor Maguad. A flashy Odile and a youthful Siegfred. Photo by Ballet Philippines.
Jemima Reyes (as Odette-Odile) and Victor Maguad (as Siegfred) ended the weekend run of Swan Lake literally with a bang.
Reyes was a surprisingly tender Odette with a lot of delicate swan-like turns of her head in her exquisite entrance and with arms simply perfect for a swan used to good advantage in her dramatic exit in Act II (White Swan).
Moreover, she was a flashy Odile in Act III delivering triple fouettes in the grand pas and outnumbering the output of the earlier Odiles.The crowd simply went crazy as the fouettes — later turning into pirouttes — went as far as the 20th mark.
Reyes did her homework well and she was lucky to have a good and stable partner in Victor Maguad who was a superb and remarkably youthful Siegfred.
The Rothbart of Patrick John Rebullida was a subtle evil personified and so was the Wolfgang of Butch Esperanza.
Ballet Philippines' latest Swan Lake restaged by Nonoy Froilan was a highly commendable production from the dazzling sets of Ohm David, costumes by James Reyes to the versatile corps de ballet.
As once ballet observer once noted, "'Swan Lake' is the most difficult thing to portray for a female ballet dancer; it really requires such specific qualities of articulation, agility, strength, and the arm work is something that takes a lot of training."
As the first week run showed, they passed the test with a lot of free horizon into which they can grow and evolve as an ideal swan and a high supportive Siegfred.
(The last weekend run of Swan Lake at the CCP on Saturday March 4 at 2:00PM & 7:00PM, and Sunday March 5 at 3:00PM. Discounts are still available for students, government employees, senior citizens, and young professionals aged 21-30. To reserve your seats, call Ballet Philippines at (02) 551-1003 or email info@ballet.ph.)