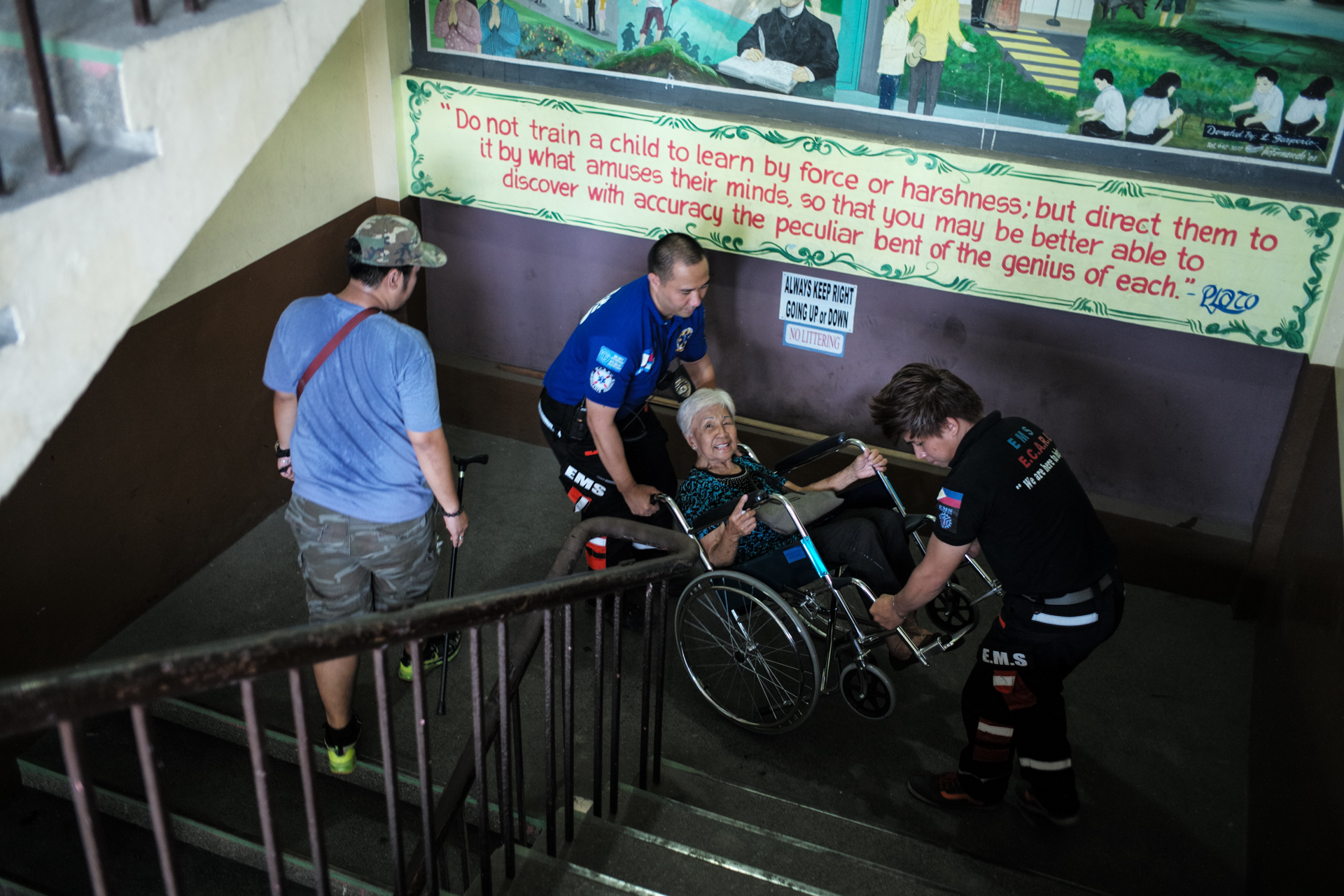 By VERA FILES
HALFWAY into the day of Monday's elections, problems among voters with disabilities have been piling up from across the country.
Initial reports as of noon show many persons with disabilities (PWDs) having a hard time exercising their right to vote, betraying a lack of preparation by the Commission on Elections (Comelec), despite an accessible polling precincts (APP) law that had been in place since 2013.
In Makati City, at the Hen. Padre Pio Elementary School, an emergency APP (EAPP), was set up, but procedural concerns resulted in long hours of waiting.
As its name suggests, EAPPs are alternatives to APPs: they come in the form of makeshift tents at the ground floors of polling places.
PWDs, senior citizens and heavily pregnant women are entitled to vote in EAPPs, yet have to sign a waiver to authorize the support staff to pick up their ballots from their original precincts as stipulated in Comelec Resolution 10108.
This translates to long hours of waiting.
Some PWDs and senior citizens opted instead to climb stairs than wait, including disability advocate and former state solicitor Jessica Magbanua. 
Magbanua, who uses a wheelchair, had to be brought to the third floor of the Hen. Padre Pio Elementary School to vote.
The law providing APPs, Republic Act 10366, was not fully enforced in 2013 but is supposed to be implemented in this year's elections.
Magbanua pinned the blame on the lack of information dissemination on the EAPPs: Comelec's resolution governing EAPPs was only promulgated April 29, less than two weeks before elections.
Lawyer Rona Caritos, executive director of Legal Network for Truthful Elections (LENTE) agrees.
"Dahil yan ay belatedly na-release ng Comelec natin, wala nang panahon para magcascade ung information pababa sa mga teachers natin, sa mga stakeholders natin gaya ng mga PWDs organizations (Because of the belated release by Comelec, there had not been time to cascade information to stakeholders, including teachers and PWD organizations)," Caritos said.
"So nakita natin, ngayong umaga, masakit makita na mayroon pa rin tayong mga kapatid na PWD na gumagapang sa mga stairs dahil nasa second o third floor yung pagbobotohan nila (And as we are seeing this morning, it is really painful to see our PWD brethren crawling flights of stairs just to get to their designated second or third floor voting places)," she added.
The lack of information dissemination is evident in reports on the experiences of PWD voters nationwide.
In vote-rich Cebu City, at the Mabolo Elementary School, only discreet signs notify PWDs, senior citizens and pregnant women of their APP. Unless they inquire at the voter's assistance center, they go directly to the express lane, another mechanism that is supposed to help vulnerable voters by giving them priority in lines.
Yet, even express lanes seem to not work in some areas.
In Koronadal, South Cotabato, at the Marbel 1 Central Elementary School, express lanes are provided but access to the polling place is still hard since there are drainage and gutters in front of classrooms. Some PWDs volunteered to help other PWDs and senior citizens.
In nearby Cotabato City, at the Sero Elementary School, senior citizens, PWDs and pregnant women are given priority, but still find voting difficult because the only chairs available in precincts are kiddie chairs. Guards at Sero also have no idea what an EAPP is, and what it is for.
Comelec spokesperson James Jimenez, in a press conference before noon, clarified that all precincts without APPs are expected to have EAPPs.
In the precinct where he voted, Jimenez said senior citizens came in groups, prompting other voters waiting in queue to complain.
To resolve the issue, the Board of Election Inspectors (BEIs) employed a system where senior citizens vote alternatively with other voters.
This already contradicts Comelec's earlier announcement that senior citizens, as well as PWDs and pregnant women, will be prioritized in express lanes at all times, whether or not they had signified their intent to vote in an APP.
The legal thrust to provide accessible voting places for PWDs dates back to February 2013, when Pres. Benigno Aquino III signed R.A. No. 10366, mandating the Commission on Elections (Comelec) to establish accessible polling places (APPs) for PWDs.
The law, however, had had very little effect on the two elections that year.
Comelec had initially wanted to pilot a mall voting initiative during the 2016 elections, targeting around 2 million vulnerable voters.
It aborted the plan last April 27, due to unresolved issues and possible violations of the Omnibus Election Code.
Not all PWDs reported having faced challenges in voting.
Joseph Ablong, 48, who uses a wheelchair, said he did not find it difficult to vote in Barangay Poblacion in Bongao, Tawi-Tawi because there was a ramp, and he was given priority.
Voting precincts in Bongao are located on the ground floor.
Comelec figures show there are 318,013 registered PWD voters and 6,695,251 senior citizen voters for the 2016 elections.
As of April 19, there are 6,211 APPs across the country, but only 768 APPs with above 100 registered voters had been identified by Comelec. – Jake Soriano, Maria Feona Imperial and Bryan Ezra Gonzales, with Bhas Abdusamad, Rosan Aliya Agbon, Yang Aming, Emman Cagayan and Lucille Sodipe