A YouTube channel that has been churning out false information is now spreading the lie that Commission on Elections (Comelec) spokesperson James Jimenez has been removed from his post, and that there will be a reshuffling of the poll body's leadership.
This is a false narrative, said Jimenez in a tweet on May 23 addressing the claim.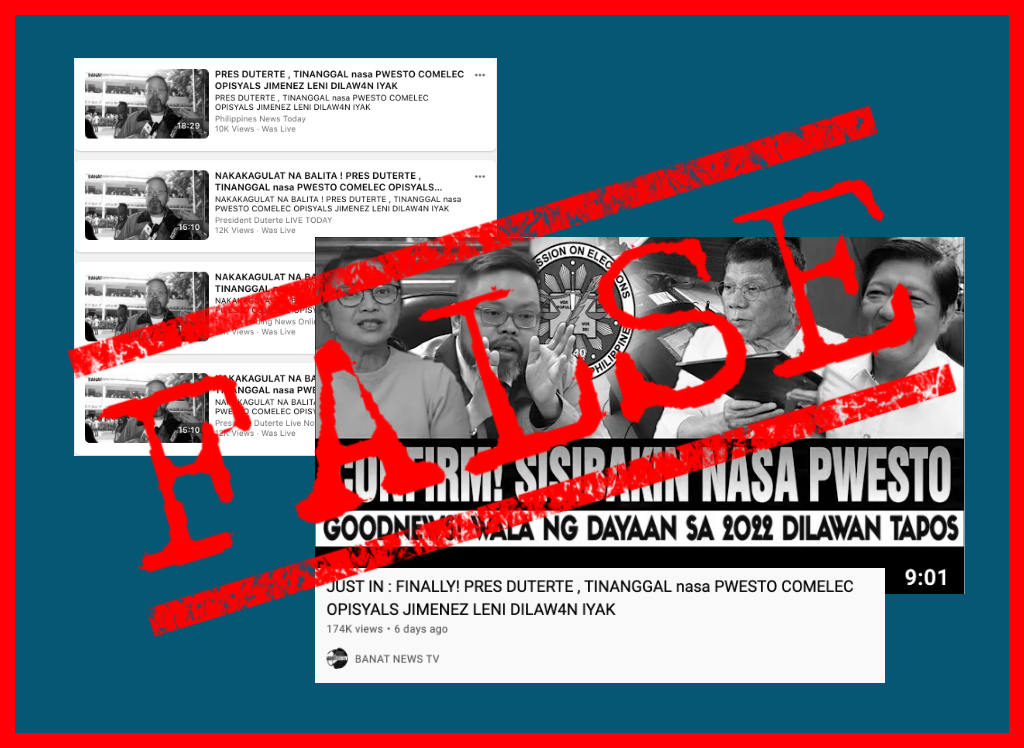 "For the record: The Comelec is an independent Constitutional Commission. Its members can only be removed thru impeachment so 'balasahan' (reshuffle) is NOT an option," said Jimenez, who has been the poll body's spokesperson since 2006.
The Comelec chairman and commissioners each have a term of seven years, and may only be removed upon impeachment and conviction of Constitutional violations, treason, bribery, graft and corruption, other high crimes, or betrayal of public trust.
The false claim was made in a May 22 video by YouTube channel BANAT NEWS TV. Its title read: "JUST IN : FINALLY! PRES DUTERTE , TINANGGAL nasa PWESTO COMELEC OPISYALS JIMENEZ LENI DILAW4N IYAK (fired Comelec officials Jimenez, Leni yellows cry)."
The voice-over in BANAT NEWS TV's video read a March Facebook (FB) post pointing out that President Rodrigo Duterte will be appointing three more commissioners to the Comelec upon the expiration of the terms of the current chair Sheriff Abas, Rowena Guanzon and Antonio Kho Jr. in February 2022. This runs counter to the claim that the officials are being "removed."
BANAT NEWS PH's spurious post is actually a rehash of a video it released on March 18, or two days after the above-mentioned FB post was published.
The version that circulated this month surfaced as Jimenez said in a media forum last week that Comelec was mulling over an idea to hold voting in May 2022 by schedule amid the COVID-19 pandemic. (Read: Pagboto by iskedyul)
The erroneous video has been viewed over 174,000 times and reuploaded by five FB pages, getting 58,000 more views. BANAT NEWS PH was created on Dec. 26, 2015 but a look at its posting history shows it started posting pro-Duterte content only in March 2020.
(Editor's Note: VERA Files has partnered with Facebook to fight the spread of disinformation. Find out more about this partnership and our methodology.)