A Facebook (FB) user spuriously claimed in a widely-shared May 21 post that President Rodrigo Duterte has now "fulfilled his promise" to ride a jet ski to the South China Sea to prove the Philippines' ownership of disputed waters.
Duterte has done no such thing, and has even called this vow a "campaign joke." The photos used in the post were from 2018 and showed Duterte's then-aide Christopher "Bong" Go and son, Davao City Vice Mayor Sebastian Duterte, touring the Casiguran Sound in Aurora province while riding jet skis. The president did not join them in the water activity.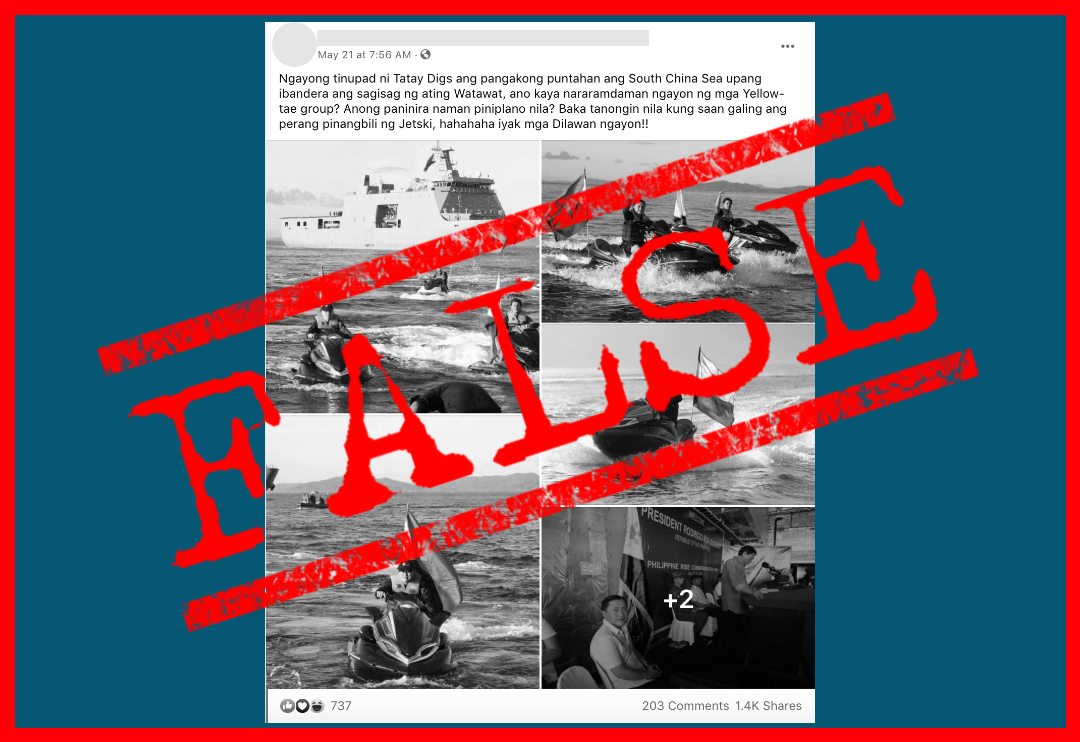 All seven images carried by the netizen's false FB post could be traced to a two-year-old post from Go's official FB page. They were part of an album of 40 photos all taken during the May 15, 2018 commemoration of the renaming of the Benham Rise to Philippine Rise that was attended by Duterte.
One of the photos showed the president speaking at the event.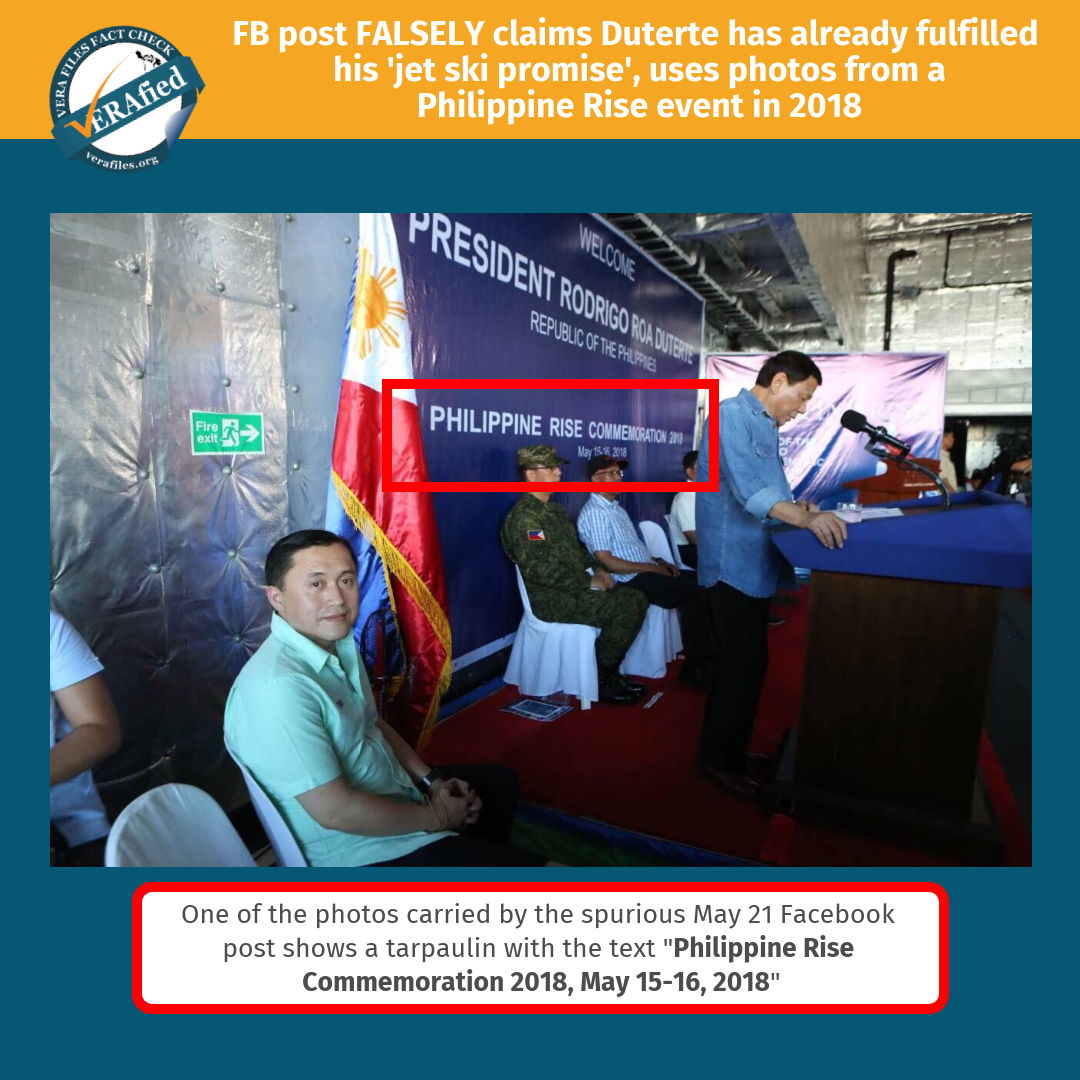 The Casiguran Sound and the Philippine Rise are both situated to the east of the country, while the West Philippine Sea (WPS) — where the challenged areas within the country's exclusive economic zone are located — is to the west of the archipelago.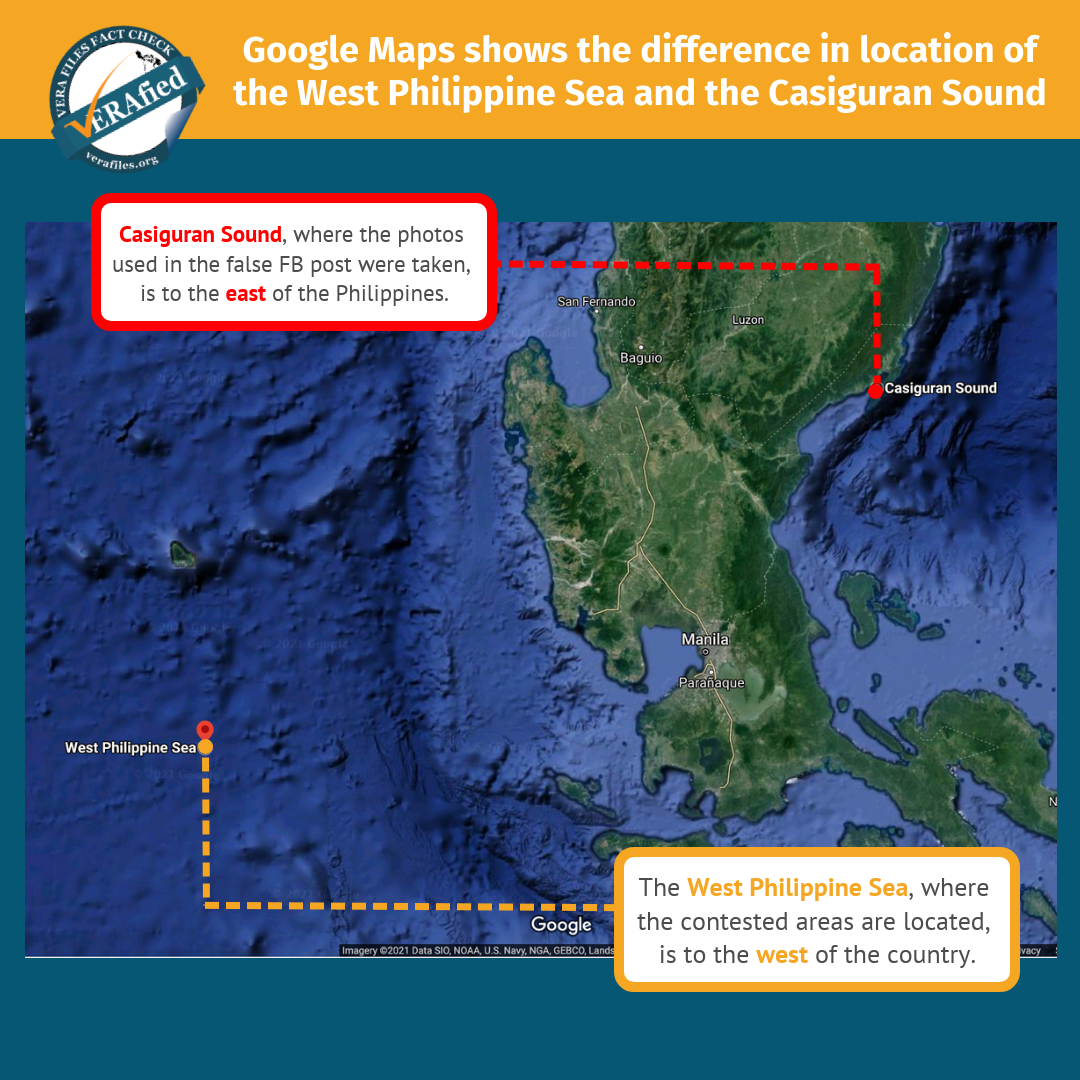 The whole jet ski issue stemmed from a pronouncement Duterte made in 2016 in a televised pre-election debate. He said once he becomes president, he would go to "Spratly, Scarborough" using the said watercraft and raise the Philippine flag at China's "airports" in the area to stake the country's claim.
He backtracked on this statement this May 3 and said that "never" in his campaign did he promise to "retake the West Philippine Sea." Two days later, he threatened to junk the 2016 arbitral tribunal decision which ruled in favor of the Philippines and dismissed China's nine-dash line claim in areas in the WPS.
Per the latest update from the National Task Force for the WPS last May 12, 287 maritime vessels operated by Chinese militia remain stationed near the municipality of Kalayaan, which is within the country's exclusive economic zone.
The erroneous FB post was published a day after Malacañang said Duterte was considering meeting with his predecessors to consult them in relation to the WPS issue. Four days later, however, Presidential Spokesperson Harry Roque said the meeting between Duterte and former Philippine presidents was not an urgent matter.
The untrue post has over 700 reactions, 200 comments, and 1,400 shares.
(Editor's Note: VERA Files has partnered with Facebook to fight the spread of disinformation. Find out more about this partnership and our methodology.)