LET this be a warning to voters. All may not turn out right on election day.
Take the case of James Jimenez, the spokesman of the Commission on Elections, who will be unable to cast his vote on May 13. He checked his status in the Comelec's precinct finder only to find that his name was not there.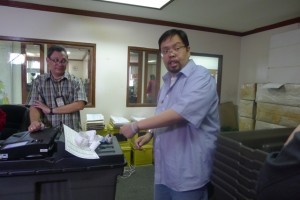 His voter registration records have been deactivated.
"It's a common mistake, I think, that a lot of people make na nagiging daan din para on Election Day biglang pupunta dun akala mo makakaboto ka hindi pala (that paves the way for voters who go to their precincts thinking they can vote, only to realize that they can't,)" Jimenez told reporters.
"So let me be a lesson to all of you," said the director of the poll body's Education and Information Department.
Jimenez also admitted he has yet to enroll his biometrics information, but will do so way ahead of the 2016 elections.
He said he last voted in 2007 but failed to vote in the 2010 national and barangay elections. Under RA 8189 or the Voter's Registration Act of 1996, registration records are deactivated when a person failed to vote in two successive regular elections.—Mikha Flores