President Rodrigo Duterte is not removing Commission on Elections (Comelec) spokesperson James Jimenez and naming lawyer Glenn Chong in his place, as falsely claimed in a video.
YouTube channel BANAT NEWS TV published the erroneous 10-minute video on June 23 with the title, "JUST IN : FINALLY! PRES DUTERTE CONFIRMED , PATAL-SIKIN sa PWESTO si JIMENEZ IPALIT si Atty.CHONG (oust Jimenez from his post, replace him with Atty. Chong)?!!"
Duterte has not said anything about replacing Jimenez or mentioned Chong in any of his recent speeches. The false claim was based on comments posted by netizens on social media.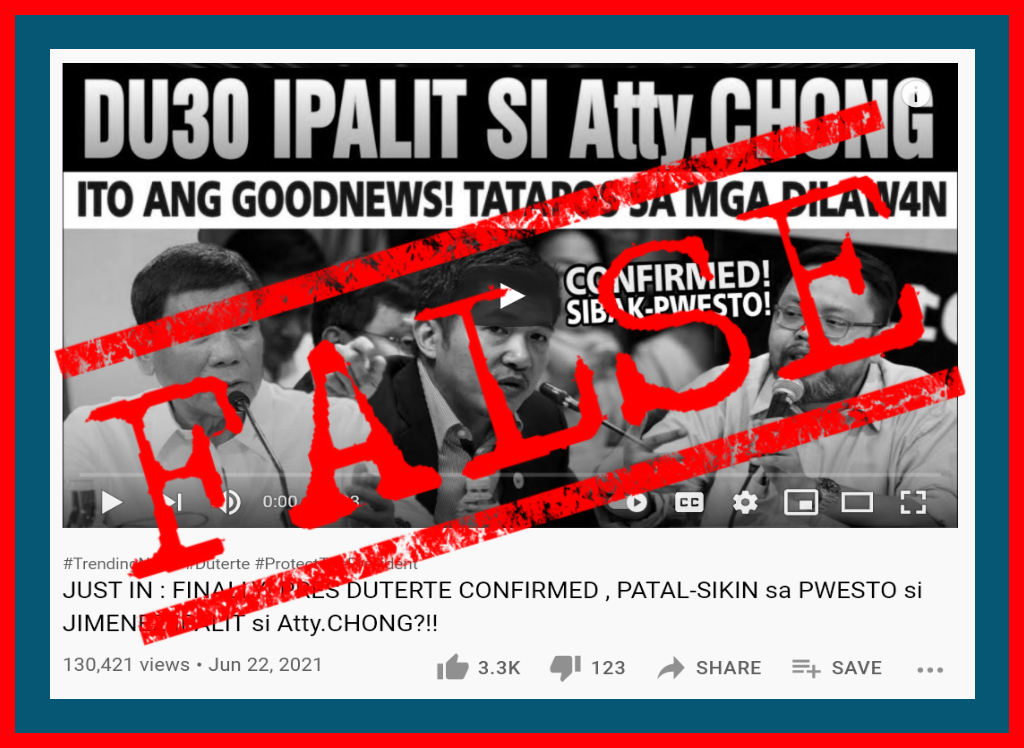 To support its untrue claim, BANAT NEWS TV's narrator read three Facebook (FB) comments that accused Jimenez of receiving bribes. The comments also included calls to replace him with someone "deserving" and "incorruptible" like Chong.
Chong, a candidate in the 2019 senatorial race, has been fact checked by VERA Files Fact Check in the past. (See: VERA FILES FACT CHECK: Chong's misleading claims on UV simulators for 'pre-shaded ballots')
In an apparent attempt to make its false claim look like a news report, BANAT NEWS TV's video led with unrelated but legitimate newscasts. It grabbed two June 22 reports from DZRH News Television — one about the president's statement on wearing face shields, and another about calls for Davao City Mayor Sara Duterte-Carpio to run for president. A third clip was about Senate President Vicente "Tito" Sotto III's reaction to the confusing advice on wearning face shields.
The erroneous video emerged a day after Comelec issued a reminder that there were 100 days left for voters to register for the 2022 national elections.
The false YouTube clip has more than 198,500 views, and has been uploaded on Facebook by the pages Rodante Marcoleta live and Philippines Trendinh News. BANAT NEWS TV was created in December 2015, Rodante Marcoleta live in April 2017 and Philippines Trendinh News in June 2020. All three accounts have a history of posting online disinformation.
In May, VERA Files Fact Check debunked a similar false post claiming that Comelec commissioners were being replaced.
(Editor's Note: VERA Files has partnered with Facebook to fight the spread of disinformation. Find out more about this partnership and our methodology.)