YouTube channel BANAT NEWS TV and site kidstva (kidstva.com) posted on May 18 and 19 respectively, a 10-minute video falsely claiming ABS-CBN spread "fake news" about Filipinos not being able to fish in Scarborough Shoal. The post also made a fabricated claim that one of the network's news anchors, Karen Davila, is being sacked for it.
This is not true.
The video erroneously used a two-year-old report about fisherfolk working in the disputed waters, also called Bajo de Masinloc, and incorrectly presented it as recent. There is also no truth to the claim that Davila is being removed by her network. No news reports nor official statements from ABS-CBN support this.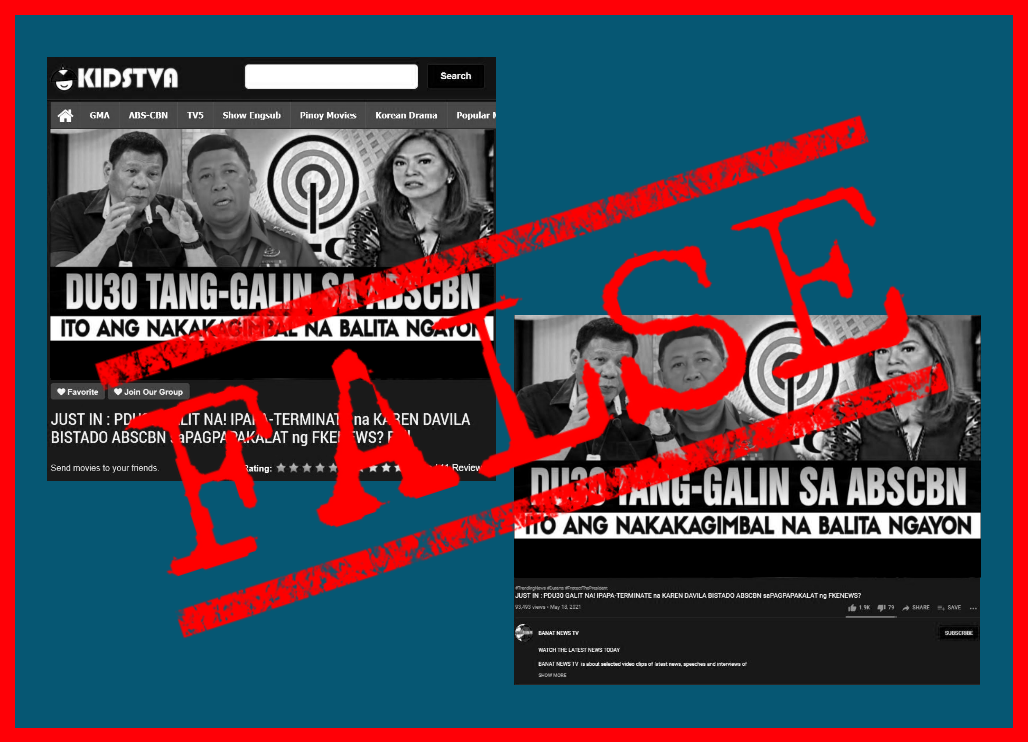 The videos both bore the untrue headline, "JUST IN : PDU30 GALIT NA! IPAPA-TERMINATE na KAREN DAVILA BISTADO ABSCBN sa PAGPAPAKALAT ng FKENEWS (President Duterte, angry! Will have Karen Davila terminated, ABS-CBN caught spreading fake news)?"
What was labelled a "fake" story was a May 12 post by ABS-CBN's official Facebook page about a fisherman expressing his disappointment after President Rodrigo Duterte dismissed as a "joke" his campaign promise to ride a jetski to the Shoal and defend Philippine sovereignty from China.
After flashing a screengrab of the post, BANAT NEWS TV and kidstva showed a report by state broadcaster People's Television Network (PTV) from April 29, 2019 featuring fishermen saying they are able to freely fish in the West Philippine Sea. They used this to contradict ABS-CBN's claim in its May 12 post.
The PTV 2019 report included an interview with then-Armed Forces Chief of Staff Benjamin Madrigal, a detail that proves it is an old clip. The former soldier is now retired and serves as Administrator of the Philippine Coconut Authority.
Many news outlets continue to report that fisherfolk still struggle to fish in Scarborough Shoal due to Chinese military presence. Television reporter Chiara Zambrano also reported last April 8 that the ABS-CBN news team that traveled to the West Philippine Sea saw several Chinese vessels stationed in the fishing grounds. One Chinese Coast Guard vessel even chased the civilian boat carrying the news team.
According to social media monitoring tool CrowdTangle, kidstva's video could have reached more than 183,000 netizens. Its top traffic generators on FB are pages Rodante Marcoleta Supporters Live, Rodante Marcoleta Supporters, and Philippines trendinh news.
BANAT NEWS TV's video has over 93,000 views. It could have reached 374,000 people, according to CrowdTangle. The channel was created on Dec. 26, 2015.
(Editor's Note: VERA Files has partnered with Facebook to fight the spread of disinformation. Find out more about this partnership and our methodology.)