At least four local Facebook (FB) pages posted on May 20 photos of Hindu idols strewn across a street and a riverbank and were falsely described as being tossed away by Indians suffering from COVID-19.
The untrue posts bore identical captions, stating: "LIBO-LIBONG REBULTO SA INDIA WINASAK AT TINAPON DAHIL WALA UMANONG NAGAWA PARA DINGGIN ANG KANILANG MGA PANALANGIN (Thousands of statues in India were wrecked and thrown away because people's prayers allegedly went unheeded)."
This is false. The four photos were all taken before the first case of the coronavirus disease 2019 (COVID-19) was reported in December 2019.
The recent surge in COVID-19 cases in India due to new variants and relaxed public health measures led to a crisis described as the worst in the world.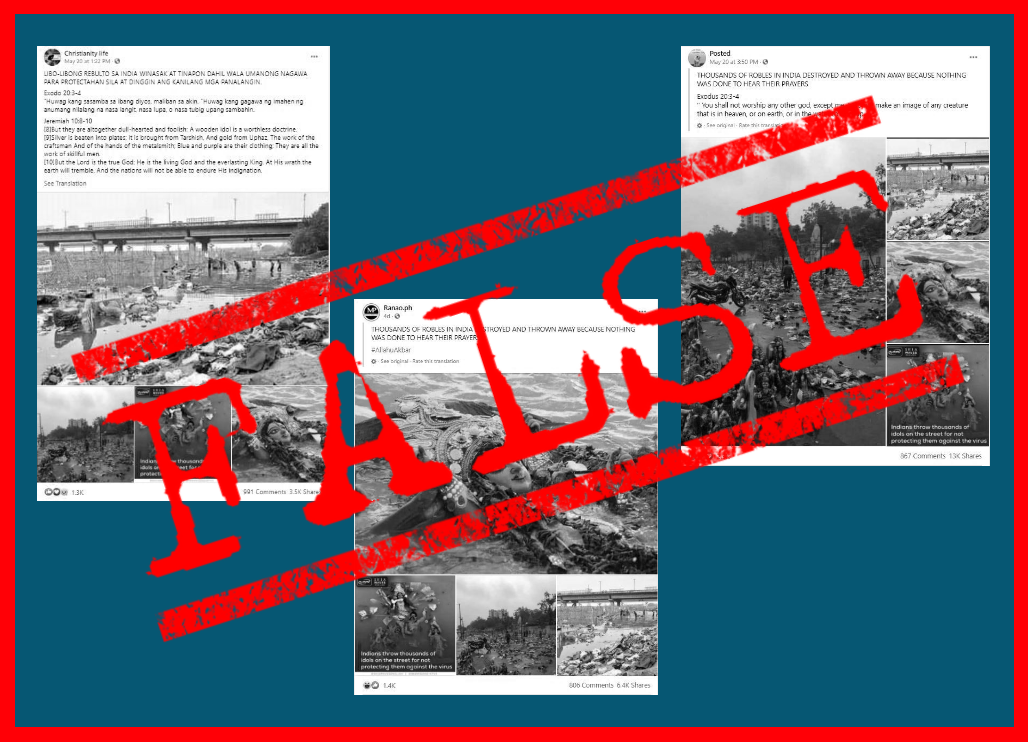 One photo was originally uploaded on Twitter on Aug. 11, 2019 by Vijay Nehra (@vnehra), a former municipal commissioner of Ahmedabad city in India. He said in his tweet that locals had fished these religious Dashama idols out of the Sabarmati river to keep the body of water clean.
The tradition of submerging these idols in the river is done at the conclusion of a 10-day festival celebrating the goddess Dashama, in hopes of bringing prosperity and good fortune. A report by Indian news media ABP Asmita News corroborates Nehra's tweet.
Another photo, which shows an idol floating on water, could be traced to a report on Oct. 3, 2019 by India Times. The photo accompanied a story about a national ban on immersing religious materials in the Ganges and its tributaries, as part of efforts to rehabilitate the river.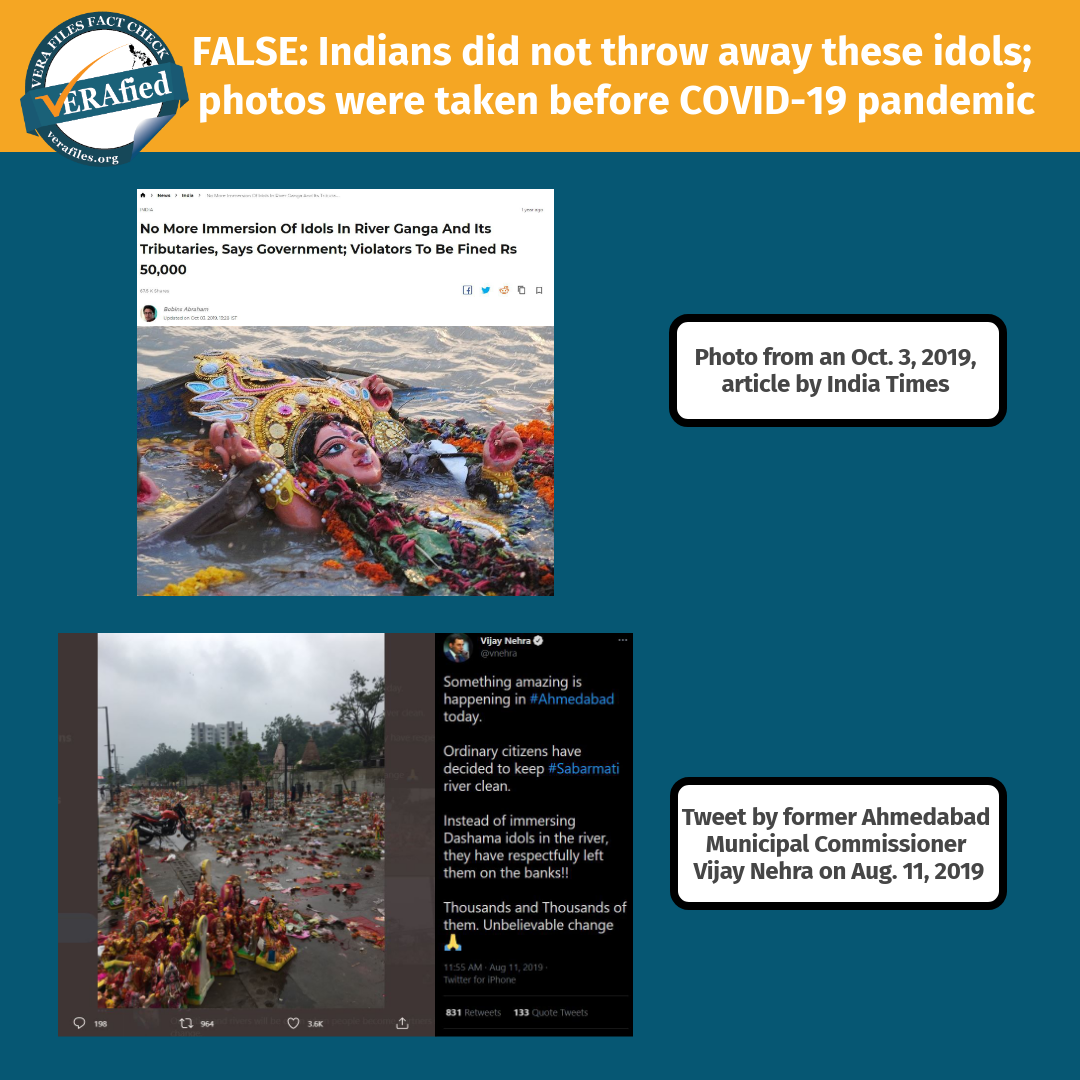 A third photo, showing colorful tarps and religious paraphernalia on a riverside, is from an Oct. 9, 2019 story by Indian online news site Scoopwhoop about a decision by Delhi locals not to immerse their idols in the Yamuna river to curb pollution. The image was credited to The New Indian Express, but its copy can no longer be found on the site.
The fourth image was that of another Hindu idol submerged in a river during the Durga Purga festival in Guwahati city. It was taken on Sept. 30, 2017 by Agence France-Presse photographer Biju Boro. The photo included a logo of Shia Waves, a Shiite news agency, which misused the AFP photo in a false report about idols being discarded for failing to protect them against COVID-19.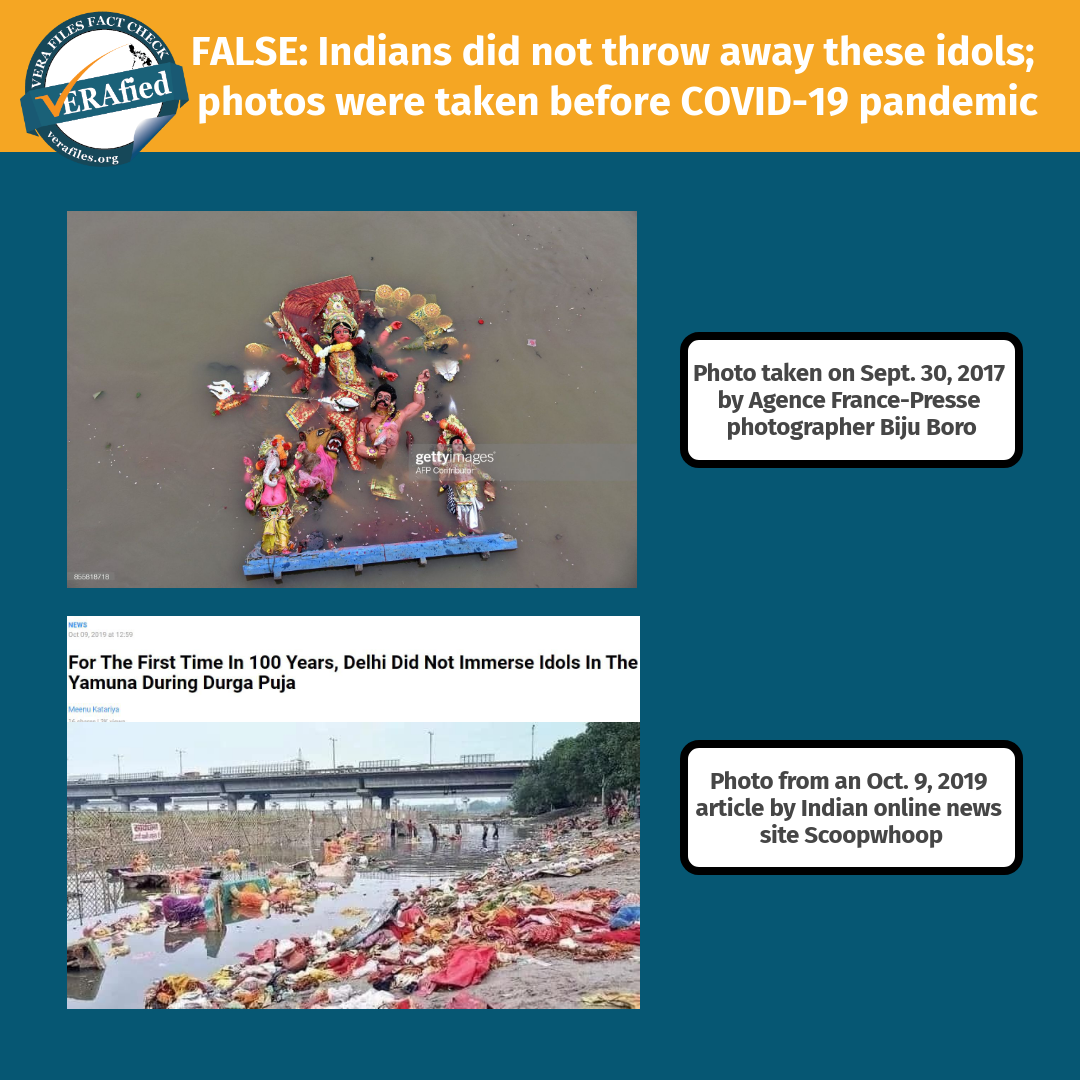 Other fact-checking networks have also debunked the false claim.
Two days before the false posts emerged, international media reported that India's COVID-19 tally passed 25 million, the highest in Asia. This has climbed to 27.1 million cases as of publishing.
The nation is also currently battling a disease called the black fungus that has infected nearly 9,000 people.
FB pages Ranao.ph, Posted, Manny Pacquiao Supporters, and Christianity Life posted the false claim. Collectively, their posts were shared over 79,000 times.
Ranao.ph was created on April 14, 2020. Christianity Life and Posted were formed just this month, on May 7 and 14 respectively. Manny Pacquiao Supporters joined FB in July 2018.
(Editor's Note: VERA Files has partnered with Facebook to fight the spread of disinformation. Find out more about this partnership and our methodology.)