A screenshot of a 2019 news flash about the approval of the Reserve Officers Training Corps (ROTC) House bill has been reshared on Facebook and passed off as breaking news, misleading readers into thinking it is new.
Facebook (FB) page Luminous by Trixie Cruz-Angeles & Ahmed Paglinawan, posted the misleading graphic on May 22 with the caption: "Be combat ready, kids."
It was lifted from a May 20, 2019 post from CNN Philippines' official FB account. The news organization reported about the House of Representatives' third and final reading of House Bill 8961, which would make ROTC mandatory for Grades 11 and 12 students.
A few netizens were able to point out that the alleged "breaking news" report was two years old. Those who did not see the date in the viral screenshot celebrated, saying that the passing of the ROTC bill is "good for the next generation" because it will train them to become disciplined. Some even reshared the original CNN Philippines' post.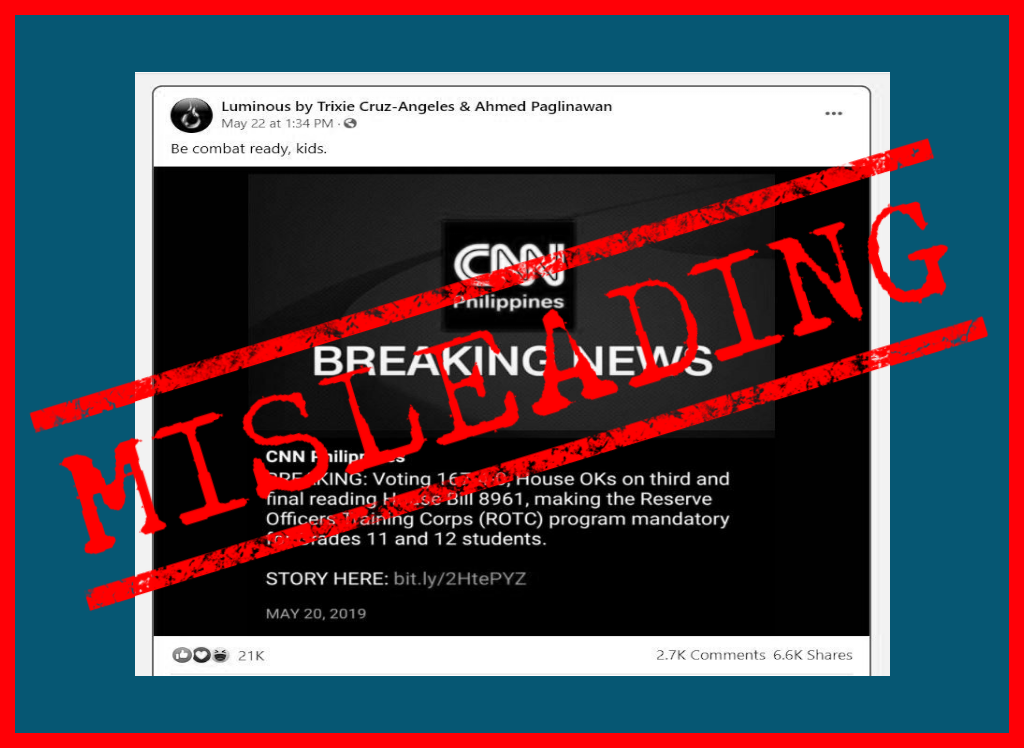 During the 17th Congress from 2016 to 2019, House Bill 8961 was not passed into law because its counterpart, Senate Bill 2232, was not taken up by the Senate due to lack of time despite President Rodrigo Duterte certifying the measure as urgent.
The House of Representatives currently has 32 bills, and the Senate has seven pending bills related to ROTC. On Feb. 11, 2020, the House Committees on Basic Education and Culture, and on Higher and Technical Education formed a technical working group to consolidate all ROTC bills.
ROTC, which aims to provide military education and training for students, was made optional in 2002 after a University of Santo Tomas cadet was killed after disclosing in January 2001 the corruption in the campus' ROTC program.
The Luminous by Trixie Cruz-Angeles & Ahmed Paglinawan misleading post garnered 21,000 reactions, 2,700 comments, and 6,600 shares on FB. Its top traffic generators were FB page Crabbler, and FB groups News Natin To and Free The Patriot/Free MGen Jovito Palparan Movement.
Luminous by Trixie Cruz-Angeles & Ahmed Paglinawan was created in January 2017.
(Editor's Note: VERA Files has partnered with Facebook to fight the spread of disinformation. Find out more about this partnership and our methodology.)