Another false social media post that claims Sen. Emmanuel "Manny" Pacquiao has been booted out of Partido Demokratiko Pilipino – Lakas ng Bayan (PDP-Laban) by party chairman President Rodrigo Duterte is making the rounds online.
This is not true. There have been no official statements from the party, nor any news reports that Pacquiao, who is currently party president, has been ousted.
A similar post was debunked by VERA Files Fact Check on May 19. (See: VERA FILES FACT CHECK: Duterte DID NOT remove Pacquiao from PDP-Laban)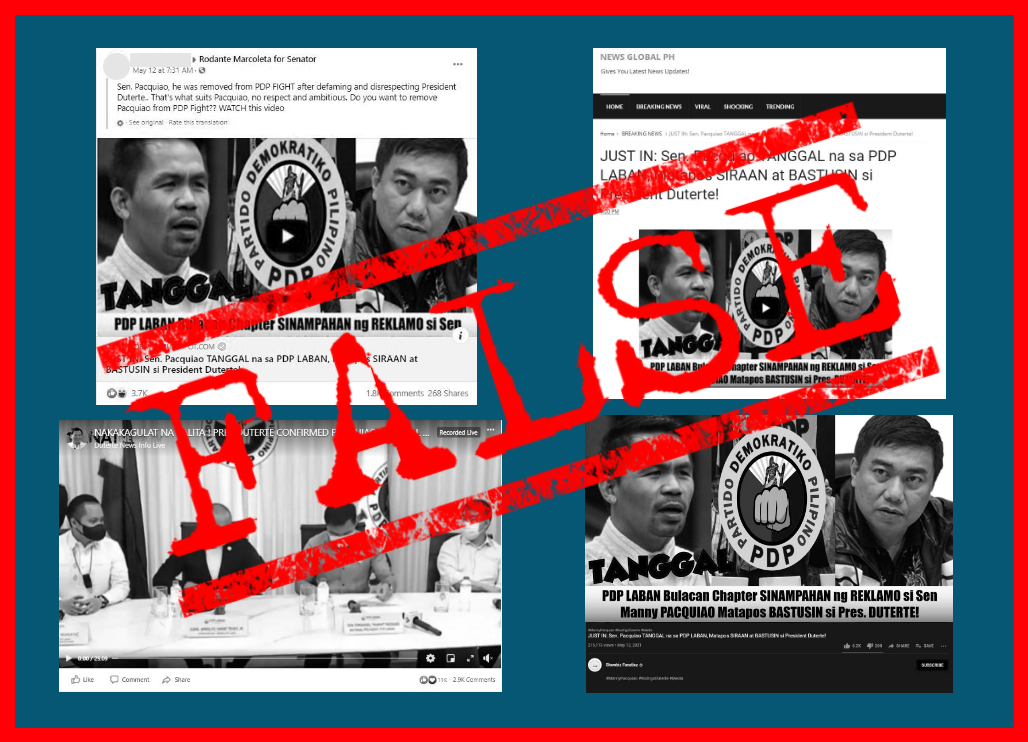 The erroneous 10-minute video was published on May 12 by the YouTube channel BANAT NEWS TV, headlined, "NAKAKAGULAT NA BALITA ! PRES DUTERTE CONFIRMED PACQUIAO TANGGAL nasa PDP LABAN KINONDENA ng PDP BULACAN (Shocking news! Pres Duterte confirmed Pacquiao's removal from PDP-Laban, condemned by PDP Bulacan)." It was reuploaded by several Facebook pages, and continued to be shared by netizens nearly two weeks later.
As its content, the false post patched together clips of PDP-Laban Secretary General Melvin Matibag during a May 11 interview with SMNI News, and with PTV reporter Daniel Manalastas. Matibag explained why PDP-Laban's Bulacan chapter had earlier issued a resolution condemning Pacquiao's comment about Duterte's weak statements on Chinese incursions in the West Philippine Sea. He did not say Pacquiao was dismissed from the party.
The untrue post continues to be shared amid speculation that Pacquiao may run for president in the May 2022 elections.
BANAT NEWS TV, which joined YouTube in 2015, has published a number of false and misleading videos fact-checked by VERA Files.
This specific post by the channel received over 183,000 views and could have reached more than 515,000 people, according to social media monitoring tool CrowdTangle. Its video was reuploaded by six FB pages. A copy by Duterte News Info Live was viewed over 552,000 times.
(Editor's Note: VERA Files has partnered with Facebook to fight the spread of disinformation. Find out more about this partnership and our methodology.)