A Facebook (FB) page published a video wrongly claiming in its headline that former senator Antonio Trillanes IV, an outspoken critic of President Rodrigo Duterte, will again get locked up in jail.
On March 7, the page Balitang Balita TV uploaded a 12-minute video with the title: "NAKAKAGULAT NA BALITA ! PRES DUTERTE SAWAKAS! KINUMPIRMANG MULING MAKUKULONG si TRILLANES – DOJ GUEVERRA [sic] (Shocking News! Finally, President Duterte! Trillanes confirmed to be imprisoned again – DOJ Guevarra)."
This is false. Duterte has made no comment on a Court of Appeals (CA) decision favoring Trillanes in his amnesty case. Justice Secretary Menardo Guevarra did express his opinion but did not say the former soldier turned lawmaker would be imprisoned.
On March 1, the appeals court overturned the 2018 orders of Makati Regional Trial Court Branch 150 Judge Elmo Alameda that revived a 2007 rebellion case against Trillanes and which resulted in his arrest.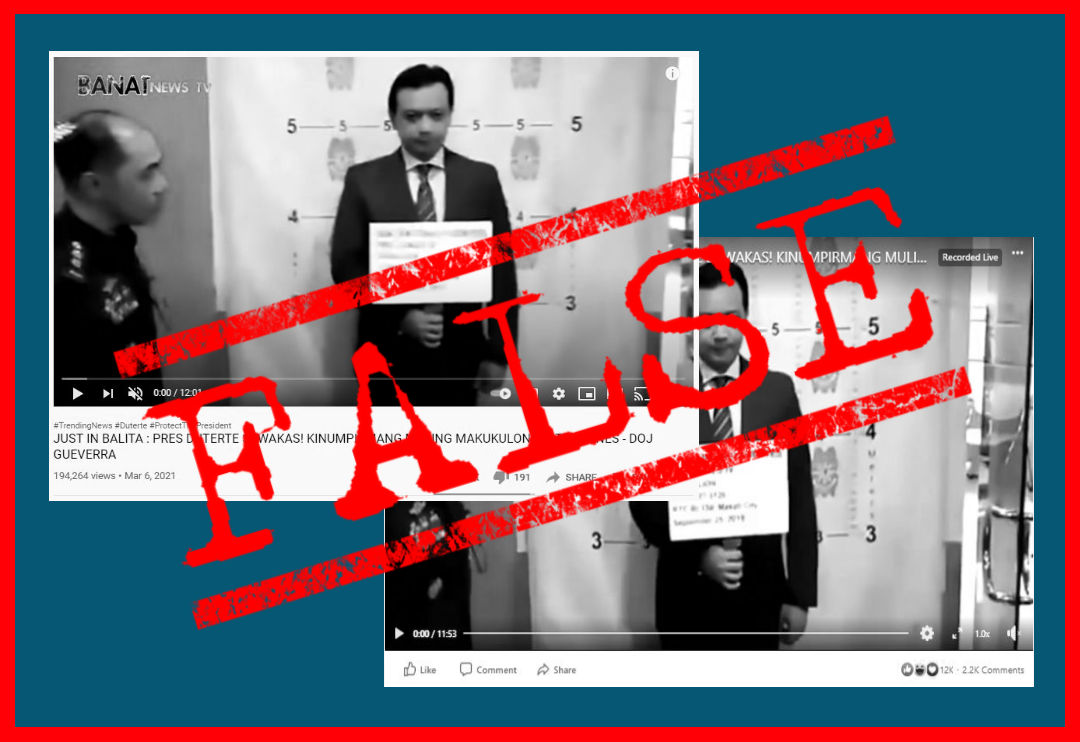 In the video's content, Balitang Balita TV changed its claim slightly: that the Department of Justice (DOJ) chief said the former lawmaker "might be imprisoned again."
Guevarra's actual statement, however, made no mention of imprisonment. What he did say regarding the CA decision that favored Trillanes was that the battle was "far from over."
The CA said the lower court committed grave abuse of discretion when it "summarily and cursorily" acted on a criminal action which it long-ago dismissed. (The same RTC dismissed Trillanes' rebellion case in 2011, after he was granted amnesty by former President Benigno Aquino III.)
Balitang Balita TV's inaccurate claim was not reflected in a Philippine Daily Inquirer article and News5 quote card published on March 4 that were cited in its video.
"Based on what has been reported in the media, the same decision of the CA upheld the validity of the proclamation revoking the amnesty granted to Sen. Trillanes. If this is so, it opens a number of legal options to the government, and if I may say, the battle is certainly far from over," Guevarra was quoted as saying.
The appeals court's decision indeed upheld the legality of Duterte's Proclamation No. 572, which revoked Trillanes's amnesty in 2018.
For Guevarra, this means the government can file new cases against Trillanes. He added that he is leaving it up to the Office of the Solicitor General to "determine the appropriate legal remedy."
To mislead viewers, the FB page used long playbacks of parts of a three-minute Manila Bulletin video showing the former senator's arrest booking and documentation at the Makati Police Station on Sept. 25, 2018, and parts of a November 2018 speech where Duterte criticized Trillanes and former Magdalo Party-List Rep. Gary Alejano who staged mutinies during the term of former President Gloria Macapagal-Arroyo.
Balitang Balita TV's video got 19,000 reactions, 3,000 comments, and 970,000 views on FB. Its original version, which was uploaded on YouTube channel BANAT NEWS TV on March 6, got 185,000 views on YouTube and could have reached 686,000 people according to social media monitoring tool CrowdTangle.
Balitang Balita TV was created in October 2017, BANAT NEWS TV in December 2015.
(Editor's Note: VERA Files has partnered with Facebook to fight the spread of disinformation. Find out more about this partnership and our methodology.)