A Facebook (FB) page made a false claim that former senator Antonio "Sonny" Trillanes IV has paid bloggers to discredit President Rodrigo Duterte. It used a 2019 video to support the false claim it posted on May 16.
The video posted by Philippines trendinh news. carried the title: "BLOGGER NA INUTUSAN NI TRILLANES PARA SIRAAN SI PRRD NAHULI NG MGA PULIS | TRILLANES DESPERADO (Blogger tasked by Trillanes to defame [Duterte] caught by the police | Trillanes desperate)." Its news ticker read: "Trillanes nagbayad ng milyon sa mga blogger (Trillanes paid a million to bloggers)."
No part of the video, nor any news reports, support the erroneous claim.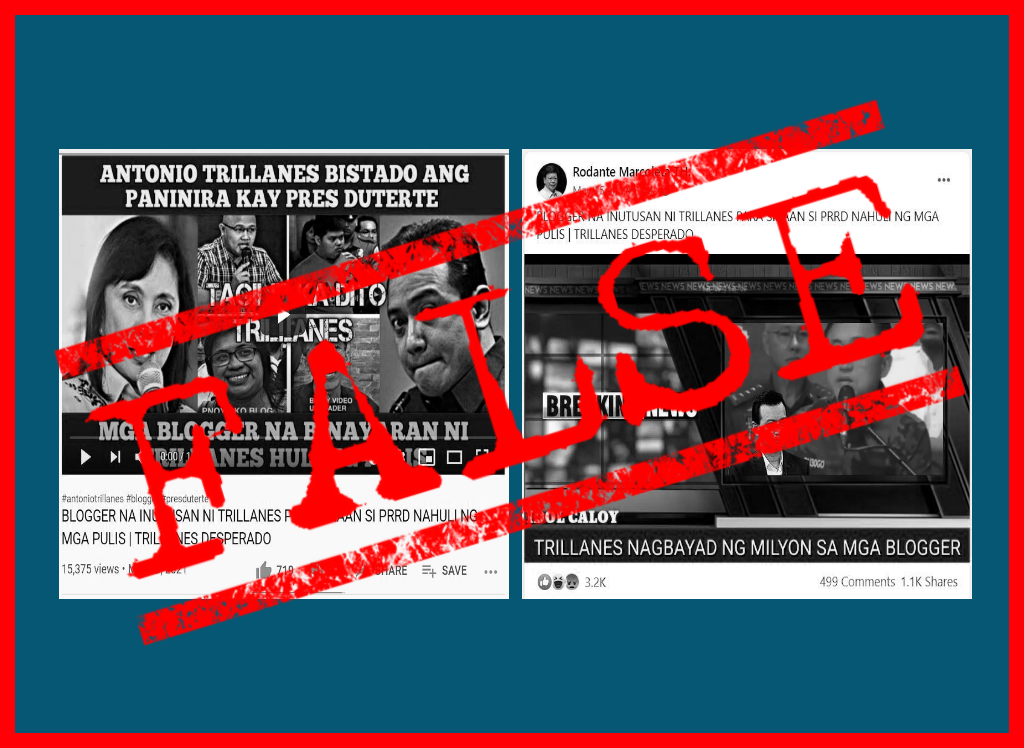 The spurious video used part of an Aug. 1, 2019 press conference where two suspects were presented by Senator Christopher "Bong" Go and former Philippine National Police Chief Oscar Albayalde. They were arrested for scamming a number of lawmakers by disguising as former Camarines Sur representative Arnulfo Fuentebella.
At the press conference, Senator Go alleged that Dennis Jose Borbon, one of the suspects identified as a former Congressional staff of a partylist member, personally knew former senator Trillanes and former Magdalo Partylist Rep. Gary Alejano.
At the time, Trillanes responded to Go's allegation by telling reporters: "Pwede ba tigilan nya ako sa mga kalokohan niya? Wala akong pakialam sa kanya (Can he just spare me from his antics? I don't care about him)."
Phlippines trendinh news.' erroneous video emerged four days after former senator Trillanes tweeted an announcement on May 12. He urged opposition party 1SAMBAYAN Coalition to consider him as their primary candidate for the 2022 presidential election.
It garnered a total of 78,000 views and 5,200 FB interactions. A version uploaded by FB page Rodante Marcoleta TH. got 4,475 interactions, while a May 14 copy by YouTube channel IDØL CÀLØY got nearly 15,360 views.
Philippines trendinh news. was created in April 2020, Rodante Marcoleta TH. in October 2020, and IDØL CÀLØY in February 2019. All of these have a history of sharing disinformation on social media.
(Editor's Note: VERA Files has partnered with Facebook to fight the spread of disinformation. Find out more about this partnership and our methodology.)