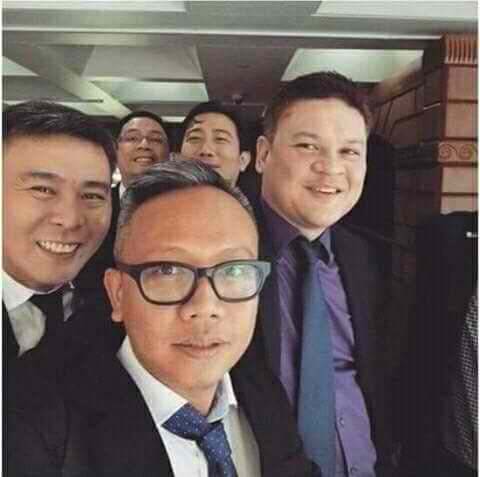 Pictures tell a lot. Davao City Vice Mayor Paolo Duterte, right. The person on the left is Davao City Councilor Noli "Small"Abellera identified by customs broker Mark Taguba as the one who received P5 million for Paolo. At the back is presidential son-in-law Atty. Mans Carpio beside Charlie Tan, identified by Sen. Ping Lacson as 'bribe giver" in the Customs.
The saying "A fish is caught by its mouth" applies to President Duterte on the issue of the alleged involvement of his son, Davao City Mayor Paolo Duterte, and his son-in-law, Atty. Manases Carpio in the release without inspection by the Bureau of Customs of a shipment containing 604 kilos of shabu worth P6.2 billion last May.
Duterte told reporters Sunday, "Ang advice ko kay Pulong? Punta ka doon. And then pagdating mo, dun sa questions, sabihin mo, 'I will not answer you.' I'm invoking my right of silence kasi noong eleksyon pa, hindi pa Presidente tatay ko, binibira mo na kami. So if you want evidence, do not get it from the mouth of other people. Go somewhere else."
Pulong is the nickname of Paolo.
Political analyst Segundo Romero commented in Facebook, "When your father advises you to keep silent, he must think you're kinda stupid."
Added Romero, "Funny, but when Polong keeps silent in the Senate hearing, he will be speaking the eloquent truth."
Duterte said, "When a person invokes a Constitutional right, you cannot infer anything wrong there. And you cannot force a person to testify. All you have to do is to send a letter. We are not answering your questions. I will not submit to an investigation. For what? You are on a fishing expedition."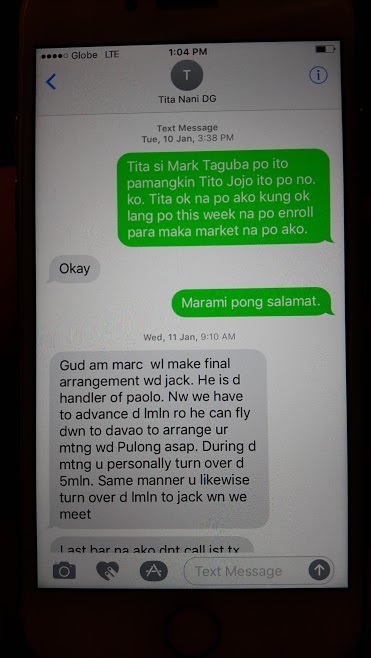 Text message of customs fixer Tita Nani to customs broker Mark Taguba.
Sen. Richard Gordon, chairman of the Senate Blue Ribbon Committee and a known ally of Duterte, made a turnaround from his earlier stand that Paolo and Mans Carpio would not be invited as their alleged involvement in the so called "Davao Group" at the Bureau of Customs is hearsay.
Gordon's refusal to invite Paolo and Carpio was the subject of a heated argument between him and Sen. Antonio Trillanes IV who requested for it prompting the latter to say that the Blue Ribbon Committee has become a "Comite de Absuelto."
Paolo and Carpio names appeared in the text messages between customs broker Mark Taguba and Tita Nani, a Customs fixer, who up to now has not been identified.
Paolo's name was mentioned as part of the Davao group that facilitates for a hefty fee release of shipments without inspection at the Customs. Taguba said last January he went to Davao to deliver P5 million for Paolo as his "enrolment" fee in the Davao group and it was received by Davao City Councilor Noli "Small" Abellera.
Abellera admitted having met Taguba in Davao but denied receiving the P5 million.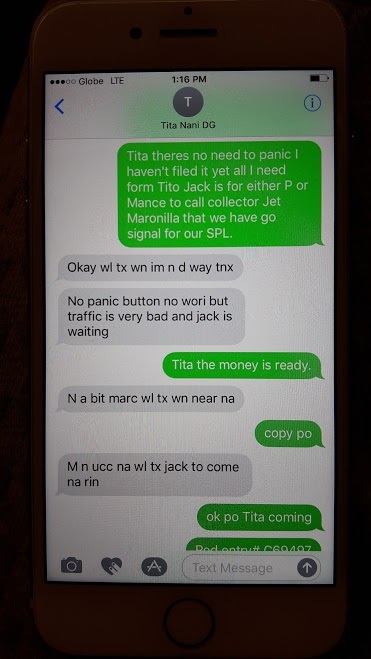 Mark mentions "P and "Mance."
Duterte had said in the beginning of his presidency that he would resign if his son would be linked to corruption and illegal drugs. Lately he revised his conditions, requiring concrete proof:"Itong anak kong si Pulong, sinabi ko bigyan ninyo na ako ng affidavit na may taong nagbigay, siya mismo… kung may camera, may audio mas maganda… at tinanggap niya, at narinig ko ito bayad sa ano"
Last Sept. 1, Duterte called Trillanes allegations about his son's involvement in smuggling as "basura.
This is not the first time that Duterte dismissed Trillanes'expose about him as "garbage." During the election campaign, Trillanes alleged that Duterte had at least ₱211 million deposited in the Bank of the Philippine Islands branch along Julia Vargas on Ortigas Center, Pasig City, which he did not declare in his 2014 Statement of Assets, Liabilities and Networth.
The day the story was first published, April 28, 2016, Duterte said at the Makati Business Club luncheon appearance, "Believe me. That's garbage. You can check with the bank. You go there. I told you, he is a liar. He fabricated this."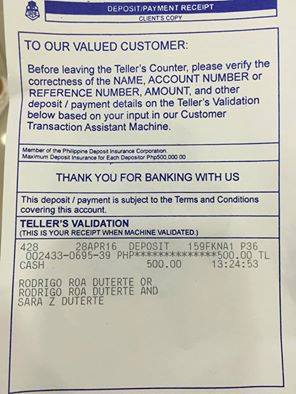 " Receipt of the deposit in Duterte's BPI account which he earlier dismissed as "fabricated".
At 1:24 p.m – My friend deposited in Duterte's published BPI account P500. It was accepted. I posted on Facebook the receipt showing his name and his daughter, Sara, as owners of the account.
At 3:09 p.m, Duterte issued a statement admitting the existence of the BPI account.