Davao Death Squad: the tie that binds President Duterte and SP03 Arturo Lascañas
However Malacanang tries to discredit SPO3 Arturo Lascañas' explosive exposé about President Duterte's direct role in theDavao Death Squad, it's obvious that the President and his men are shaken.
Take a look how they have acted silly trying to counter it.
The grand bungle was committed by Press Secretary Martin Andanar when he floated the rumor that reporters were paid $1,000 each to cover the press conference of Lascañas heldat the Senate last Feb. 20.
The allegation was so incredible, it was hilarious.
Andanar had to backtrack and in so doing lost his position as one of the President's spokesmen.He is now relegated to doing the administrative side ofthe President's communication network.
At the Senate, Malacañang's dependable ally Sen. Richard Gordon tried to deprive Lascañas of a venue to correct his October 2016 testimony where he said that the Davao Death Squad was a myth. He refused to have his committee on justice and human rights re-openfor Lascañasnew testimony.
But truth like water finds a way of flowing however it is blocked.Sen. Panfilo Lacson's committee on public order gave the public the opportunity to hear Lascañasturn-around testimony where he gave more details of his role in the Davao Death Squad.
All that Malacañang'ssenator-defenders could do was nitpick on the fonts of his testimony (Tito Sotto) and raise doubts on his spiritual renewal.
In last Monday's testimony, Lascañas shared an incident involving the President's son, Paolo, who is now Davao City vice mayor.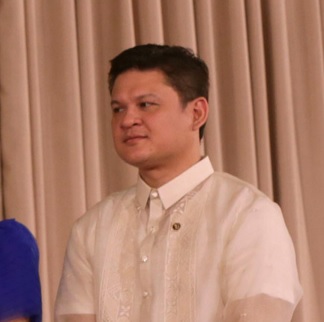 Davao City Vice Mayor Paolo Duterte
The retired policeman/hitman narrated that Paolo once asked him to monitor a van that he suspected to be containing illegal drugs that belonged to an acquaintance of his, a certain Charlie Tan.
Lascañas said when they were about to zero in on the van, Paolo intervened.He never knew if drugs were found in the van but he said he wasdisappointedbecause he thought they were seriously relentless in the campaign against illegal drugs.
He said he regretted that he didn't intervene for his two brothers who were killed in Duterte's war against illegal drugs in the city.
Paolo did not deny the incident Lascañas mentioned. He raised the fake placard of destabilization – a pathetic strategy of insecure leaderships. He attacked Sen. Antonio Trillanes III, whom the policeman sought when he decided to tell the truth about his role in the DDS.
In his Facebook post, the young Duterte said: "No less than retired SPO3 Lascañas admitted that he sought the help of the Trillanes in recanting from his earlier Senate testimony. This only shows that Trillanes is behind the latest Lascañas testimony that not only dragged the name of President Duterte in the summary killings but also tried in vain to include me and my friend in the illegal drug trade.
"Trillanes is now desperate in bringing down my father that he would move heaven and earth just to pin us down in these made-up accusations. Trillanes is making money in this circus because his political career is already at a dead end," he said.
How about the President?
Two weeks after Lascañas turnaround testimonny, all that he said was :" I have no plans of answeringLascañas' rehashed lies."
In an ambush interview last Tuesday, Duterte was asked:
" Sir, you mentioned the DDS earlier, so sir in your knowledge of it, sino iyong creator ng DDS?
His reply:"You should ask Jun Ledesma. He's a journalist in Davao. He would give you the history of iyong… well… Ayaw ko iyong to sound apologetic. You just ask him. He's a kolumnista sa Sun Star Davao. He would give the right person because he was part of it actually.
Reporter: Sir, sabi ni Lascañas that you were the one who created the DDS?
Duterte:I need not do that. Hindi na kailangan. I did not create an air force, I have an Air Force. I will not create a DDS, may police department ako.
Reporter:Sir, si Lascañas ang sabi nagbigay daw kayo para sa pang-dialysis, pang kidney transplant?
Duterte: " I don't know, I don't know. But we have a Lingap sa Mahirap sa Davao.
Reporter:Sir, dun lang sa isa, sa testimony ni Lascañas, iyong sinabi niya sir. Iyong may isang pamilya na pinatay daw kasama iyong bata?
Duterte:I do not know what he's talking about.
Reporter:Sir, do you think he's a credible man? Is he telling the truth?
Duterte:I don't know. Nandoon man kayo.
Reading Duterte's answers, Lascañas observed: "Bakit ganito mga sagot niya. Para siyang lito?"