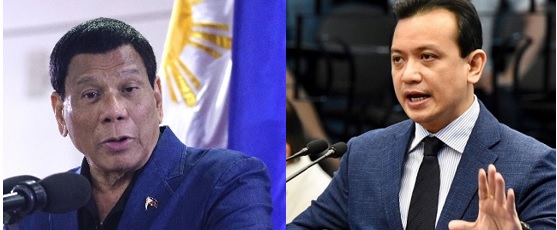 Pres. Duterte miscalculated his hold on institutions in revoking the amnesty granted to Sen. Antoinio Trillanes IV
By Segundo Eclar Romero
Duterte has set the stage for sacrificing Jose Calida. He has said he issued Presidential Proclamation 572 on the say so or Calida as Solicitor-General. Duterte, of course, knows that targeting Trillanes was a joint project between him and Calida. They both hated the Senator, and would take the first opportunity, no matter how clumsy, to neutralize him. Calida has in a sense borrowed Presidential Powers with the President's complicity to try to extricate himself from the charge of conflict of interest in the way his security agency business cornered government contracts. It was a long shot, but Duterte has a way out — he could always put the entire blame on Calida, if the plan backfires.
Of course the plan has backfired. It has been so indefensible at its face value that no one was willing to lay his reputation on the line for the revocation of the amnesty. Calida clumsily tried to distance himself from the amnesty revocation action, saying with a straight face before media that he had nothing to do with it. But the DND and AFP who did not want to be left holding the bag pointed to Calida as the prime mover. He had tried to get the AFP and DND unnecessarily compromised in the caper, trying to dupe the AFP into arresting Trillanes without a proper warrant.
So now Duterte is poised to cut Calida loose, unless either of the two RTCs and the Supreme Court sustain Calida and Duterte and issue a warrant, or, in the case of the Supreme Court, refuse to issue a TRO against the arrest.
That Duterte is not insisting that the military arrest Trillanes is a signal to the courts that they have autonomy in deciding the case, which will likely be the dismissal of the AFP petition for a warrant of arrest. I cannot imagine a self-respecting judge ruling that the revocation is valid, given the facts that have come to light. Besides, the weight of the appreciation of both the legal world and the public, even just as a matter of common sense, is on the side of Senator Trillanes.
Duterte has the option of revoking his Proclamation 572 and making Calida take full responsibility by resigning, or he can await the decision of the Courts, and in the likely event of repudiation, then sack Calida. Either way, Duterte is clearly the loser, saving face, but losing credibility and power.
This case is so stark that there are unseen consequences. Many people who have given Duterte the benefit of the doubt over two years would now want to cut losses. They will stop, look, and listen. In due time, they will cautiously test their new critical stance of the Duterte administration, trying to blend with the emerging dominant climate of anti-Duterte public opinion.
Meantime, Duterte has, in a matter of a week, elevated Trillanes to Presidentiable status. Trillanes has basked in the seeming complicity of all the media to give him as much media mileage to hit at Duterte, Calida, Guervarra, and their unnamed accomplices, while Duterte was on his trip to Israel and Jordan. Because Duterte chose to create this situation while he was away with his crackpot PCOO operatives in tow, there was feeble response to counter the Trillanes media onslaught against Duterte. Almost overnight, Trillanes has become an international sensation as well.
Now Duterte is stuck with Trillanes. Trillanes cannot be put away like Senator Leila de Lima and Chief Justice Maria Lourdes Sereno. What is the difference? Well, the De Lima and Sereno cases remain controversial cases, still tugging at Filipino and international consciences that have been temporarily resolved with the expenditure of much political capital. Having another contentious case too soon is now becoming too suspiciously close to an undeniably vengeful dictatorial display. Besides, Duterte is losing his grips on power. The steady replacement by Gloria Arroyo of Duterte's henchmen in the House with her erstwhile lieutenants who have been infamously linked to corruption under her Presidency, like Arthur Yap who is now Deputy Speaker, speaks of the rise of an independent power center in national politics. Duterte apparently cannot do anything about this GMA expansionism, even if it has hurt him deeply but would not admit so. Already, GMA allies are asking Duterte economic managers to resign for mismanaging the rice shortage and high inflation the country is experiencing.
The Trillanes case is different because it is also so clumsily set up. Where is the full cast of characters that would impugn the character of Trillanes with gusto and a dash of lewdness, the way the House did to Senator de Lima and Sereno? Where is the collegial conspiracy that some justices of the Supreme Court and SC staff mustered to destroy Sereno? Where are the trolls that kept the pedestrian gallery fed with salacious stories and false news?
In this case, the only advocates of the revocation of amnesty were Justice Secretary Guevarra, Presidential Legal Adviser Sal Panelo, and Spokesperson Harry Roque. Guevarra insisted the proclamation was valid, but was quick to add that the Department of Justice had nothing to do with the build-up of the case against Trillanes. Secretary Guevarra had this weird technique of going before the media defending the revocation, but letting tiny clues that he is merely playing along according to some compelling script. Panelo as usual defended the revocation of the amnesty, without making sense. Roque will be remembered for defending the revocation of the amnesty, saying Trillanes cannot win the soldiers to his side, because Duterte has doubled their salaries.
In this stage of the contest, Duterte loses Calida while Trillanes loses nothing, but gains immense popularity and credibility. It does not help that, without part of any strategic plan, the likes of Labor Undersecretary Jing Paras and Polong Duterte and Mans Carpio have come to the rescue of Duterte by filing, or threatening to file, their own cases (slander) against Trillanes. These cases further show how topsy-turvy Duterte's camp has become. None of these additional cases will put Trillanes away anytime soon. They only show Duterte has exhausted the weapons he can use against Trillanes. Wala nang bala. Tirador na lang!
Meanwhile, the economic managers of Duterte — Diokno, Dominguez, Pernia, Pinol — cannot join the fray. They'd rather stay quiet and invisible. They have nothing to contribute to taking Trillanes down. They are, in fact, taking Rodrigo Duterte down. Rodrigo Duterte is exasperated, because these brilliant men at the helm of the economy are supposed to take care of this side of governance. Duterte knows nothing in this area, and now that there is a crisis, all he can say is that it is Donald Trump's fault, for increasing tariffs against Chinese goods. Why Duterte chooses to be ridiculous and at the same time exhibit sympathetic economic pain with the Chinese is puzzling.
As the long Filipino Christmas season stretches before us, no doubt Duterte will make his usual speeches. But he will not be able to keep himself from demonizing Antonio Trillanes, over, and over, and over. He will be inventive, creative. But above all, he will be vengeful and wistful. Here is a strongman who is not strong enough to put his nemesis away. The credibility and political capital he needs to do that rests on his delivering on his promises to his people. But he has already publicly confessed it cannot be done. The Filipino people are wondering how this predicament will end. Their President himself has no idea.
(The author,Dr. Segundo Joaquin E. Romero, Jr. is presently President of the Universities and Research Councils Network in Innovation for Inclusive Development in Southeast Asia (UNIID-SEA), a regional network engaged in development projects for the poor.)