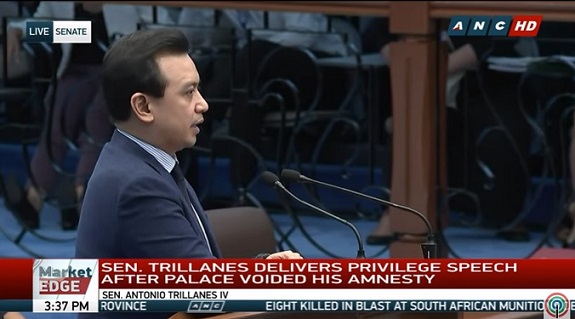 Pres. Duterte showed his ignorance of Sen. Antonio Trillanes IV when he thought the senator would cower in fear and hide when he ordered the revocation of the amnesty granted to him and other officials who took a stand against the presidency of Gloria Arroyo on July 27, 2003 at then Oakwood Hotel (now Ascott) at the Makati Commercial Center and on November 29, 2007 at The Peninsula Manila hotel in Makati.
No, the 47-year old senator, who was imprisoned for more than seven years (he won his senatorial seat in 2007 while he was in detention) called Duterte a coward.
"Mr. Duterte, duwag ka. Inantay mo pang makaalis ka bago mo nilabas itong proclamation mo. (Mr. Duterte, you are a coward. You waited until you have left before your released this proclamation.)
Trillanes said he will not be intimidated. "This is a clear case of political persecution, but I will not cower. There's a time for reckoning for you and your minions."
In a statement, Trillanes said "It was agreed to by the Senate leadership that I remain under the custody of the Senate President until my lawyers have filed the necessary petition against the illegal and unconstitutional revocation of my amnesty. What Mr. Duterte wants to happen is to order a warrantless arrest which seems to declare a de facto martial law."
He underscored that all requirements for the grant of the amnesty "have been complied with."
" I even took oath in front of then defense officials. All my cases covered by the amnesty have been dismissed," said the senator, who has exposed Duterte's bank deposits amounting to not less than P200 million contrary to Duterte's claim that he was not a millionaire.
A paid legal notice of Proclamation No. 572 was published in the Manila Times Tuesday (Sept. 4).
Proclamation No. 572 is titled "Revocation of the Department of National Defense AD HOC Committee Resolution No. 2 (31) dated January 31, 2011 insofar as it granted amnesty to former LTSG Antonio Trillanes IV,
Reason cited in the proclamation signed by Duterte and Executive Secretary Salvador Medialdea (who are both in Israel and Jordan in an official visit) was Trillanes did not file an Official Amnesty Application Form and that "there is no available copy of this application for amnesty in the file records."
The proclamation also said Trillanes never expressed his guilt for the crimes that were committed on occasion of the Oakwood Mutiny and the Manila Peninsula Hotel Siege.
Social media is now flooded with video of Trillanes filing the application form for amnesty at the Department of National Defense.
Tindig Pilipinas, a civil society group critical of Duterte said, "Kung nag-Google lang sana si Duterte, makikita niya ang public admission na ito. (If only Duterte searched in Google, he should have seen Trillanes' public admission.) They attached a Jan. 5, 2011 GMA 7 news item with the headline,"Trillanes avails of amnesty, admits 'breaking rules'."
Detained senator Leila de Lima, who was the secretary of justice when Trillanes was granted amnesty by Pres. Benigno Aquino III, issued a statement from her detention cell in Camp Crame condemned Duterte's revocation of Trillanes' amnesty: "Kinokondena ko at mariing kinasusuklaman ang pagbawi ni Duterte ng amnestiya kay Sen. Sonny Trillanes. Ito ay mali, hindi makatwiran at walang basehan. Tunay na karimarimarim!"
De Lima raised a question: "If there is ZERO basis in fact and in law to revoke Sen. Sonny's amnesty, then, why did Duterte issue his Proclamation? Walang legal, legal dito. It was simply a political move to try to silence Senator Trillanes. Another palpable case of political persecution.
De Lima said Duterte must now be in a state of panic: "Nagpapanic na si Duterte. Nasusukol na sya sa kanyang mga kawalanghiyaan, kabuktutan, kasinungalingan at asal-diktador. Nakikita na rin ng marami ang kapalpakan at kawalang liderato ni Duterte sa maraming isyu gaya ng papataas pangpresyo ng mga bilihin at krisis sa bigas at isda. Lumalaki na ang oposisyong umaalma sa kanya. Kaya binabalingan ni Duterte ang mga lider na gaya ni Sen. Sonny."
She saidDuterte will fail:"Pero, mabibigo ka, Duterte.Magwawakas din ang iyong kasamaan. At mananagot ka sa iyong mga kasalanan."
Duterte's revocation of Trillanes' amnesty shows the depth of his desperation in dealing with the senator, whose moves against him has always been backed up with solid evidence and concrete action like the bank accounts and the information filed with the International Criminal Court.
In contrast, Duterte's countermoves against Trillanes are duds like thenon-waiver for the opening of his bank accounts and fabricated foreign bank accounts of the senator.
We recall what our source in Malacanang related that early in his presidency, Duterte ordered to gather "dirt" about his critics who include De Lima and Trillanes. After a few months his "researchers" came back with some stuff about De Lima which was used against the senator. But they got nothing on Trillanes.
"Wala talaga?" an exasperated Duterte asked, our source said.
The "researchers" replied: "Wala talaga, Mr. President."
The source said Duterte gave a chilling order: "Itumba na lang yan."
Some of those in the room weremilitary officers, graduates of the Philippine Military Academy. There's a brotherhood among PMAers. Immediately, Duterte's order reached Trillanes.
Duterte's problem in the fight with Trillanes is that he is not on the side of truth. Lies never win over truth.
By Duterte's irrational moves, you can tell it's just a matter of time.