Watching legislative hearings is bad for the health.
No, it's not the stress or migraine that you get listening to the inane questions. It's the feeling of superiority that you develop listening to the likes of Tito Sotto, Joel Villanueva and Manny Pacquiao. Especially Manny Pacquaio.
It's not healthy.
I felt that last Monday watching senators interrogate SPO3 Arturo Lascañas on his new affidavit about the Davao Death Squad.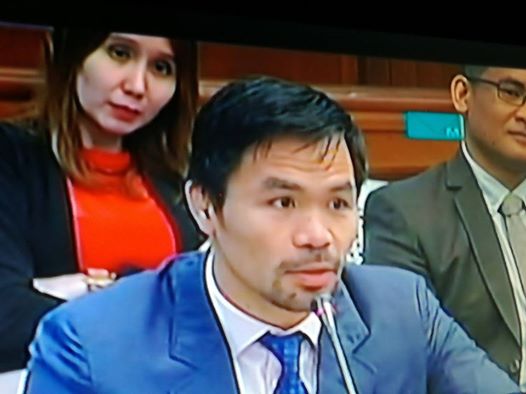 Sen. Manny Pacquiao lectures SP03 Arturo Lascañas on spiritual renewal
Take this question of Sotto to Lascañas why the font in the paragraph about the Davao Death Squad was different from the rest of the text of his Feb. 19, 2017 affidavit.
Lascañas couldn't explain and Sotto thought he was able to dent the hitman's credibility.
Of course, Lascañas could not answer about the differences in font because the content of the affidavit is his but he was not the one who typed it.
The one who typed the affidavit is responsible for choosing the font to be used-be it Arial, Times Roman, Helvetica, Calibri, etc. etc. So, if Sotto wants to know more about the fonts in the affidavit, the Public Order Committee headed by Sen. Panfilo Lacson better summon the one who typed the affidavit, probably the secretary of the lawyers.
Villanueva is young but it seems he is hard of hearing.
Lascañas had explained early in the hearing the reason for his turnaround, yet Villanueva asked about it again. Expectedly, he got the same answers.
He kept on insinuating that Lascañas must be disgruntled because his group or his company was not able to get contracts they had applied for from the government. Lascañas kept on repeating it was not his group, he has no company. He was just invited by fellow Davaoeños he met in Manila to go with them while they were following up their application for projects with the government.
Yet, he kept on saying "your group" as if he has not heard what Lascañas kept on repeating.
By the way, why is Villanueva still in the Senate when the Ombudsman has found him guilty of "grave misconduct, serious dishonesty and conduct prejudicial to the interest of the service in connection with his Priority Development Assistance Fund and has ordered his dismissal?
Pacquaio is not only hard of hearing. He is a living example of the depth of ignorance in the Senate.
Sounding sanctimonious, he volunteered to give Lascañas a lecture on "spiritual renewal" even quoting a verse from the Bible.
Little learning is indeed dangerous.
Anyway, here's how social media pundit Bernard Ong summarized Monday's hearing:
Lacson tried to chair impartially. Couldn't resist and tried to poke Lascañas' credibility a couple of times.

Trillanes interjected only twice: #1 to say there may be more corroborating witnesses coming .#2 to establish that Lascañas' spiritual renewal meant he stopped killing.

Poe asked Lascañas tough questions. But also asked Davao Philippine National Police and Commission on Human Rights tougher questions on their failure to investigate Extrajudicial Killings

Ejercito tried to probe and debunk Lascañas' claims. Said he feared testimony was for destabilization.

Cayetano chipped away at the affidavit – checking dates, names, personal knowledge. Pitting Lascañas versus Matobato. He was Duterte's most effective lawyer in this round. #WhereIsGordon

Hontiveros asked pointed questions and got straight answers – DDS existence (Yes). DDS effectiveness vs Drugs (No). Cops behind DDS (Yes). DDS tactics exported nationwide (Yes). Collateral damage (about 10%).

Sotto asked useless question about how a phrase got copied-and-pasted in different font size into affidavit. More appropriate for Plagiarism hearing than EJK hearing.

Pacquiao articulated 'flip-flop bayaran' line. Asked why Lascañas changed his testimony (Already asked and answered several times earlier). Asked if Lascañas is being used to pin down Du30 (Lascañas said he is staking his life with this). Asked if he was coached (Lascañas said lawyers drafted affidavit but all content was his). Mistook stupidity for common sense.

Villanueva had long pa-pogi intro, showed a clip of Lascañas' recanted testimony, asked the same questions as other senators. Waste of time.

Bam Aquino asked money trail (None), who reported directly to Duterte (SPO4 Buenaventura), organization (11 stations each had own Death Squad), modus (Nanlaban pretext, packing tape on live suspects), deniability (small group within PNP). Asked PNP re investigation or inaction. Asked CHR what they will do about biggest EJK case – 200 EJKs – on record. Most substantial Q&A among senators.

Pangilinan asked if DDS tactics yield results (No. Lascañas' own brothers still into drugs many years later), what motivated hitmen (Rewards – including financial), how many buried in quarry (Most victims).

Angara asked how it felt to kill (rewarded and felt stig), clarified 'arbor' (well-connected can get away free) and 'elimination-of-competition' (cops as foot soldiers killing for drug lords), drew out impunity. Asked what reforms Lascañas would suggest for PNP (Stop EJK!)
Bonus: Pastors-who-love-killers Cayetano and Pacquiao both quoted the Bible and challenged Lascañas' spiritual renewal.