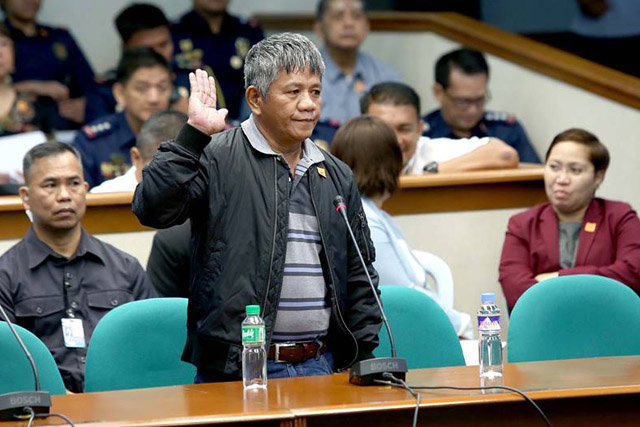 Self-confessed member of the Davao Death Squad Edgar Matobato in the Senate. Photo by Senate PRIB Albert Calvelo
The message of Holy Week, Fr. Fidel Fabile – our parish priest in Moonwalk in Las Piñas, said is hope.
After Jesus' triumphant entry into Jerusalem marked yesterday with our waving of the palms, suffering and grief followed culminating in the crucifixion of Jesus Christ. Then comes the Resurrection which is celebrated on Easter Sunday.
Fr. Fidel said Holy Week re-assures us that amidst all suffering in life, something beautiful awaits us. That there is something to hope for.
Fr. Fidel's sermon reminded me of the self-confessed member of the Davao Death Squad Edgar Matobato and the incident with a firefly.
This story was related by a priest who gave sanctuary to Matobato after he left the Witness Protection Program when Rodrigo Duterte won the presidency in May 2016.
The priest said this was before Matobato met with Sen. Leila de Lima in a mass about two years ago. De Lima, then the head of the Senate Committee on Human Rights was leading the investigation ofthe rising number of extra-judicial killings as Duterte was revving up his anti-drug campaign.
The priest said ,with Matobato under their protection they were all the time conscious, even paranoid, about the security risks they were facing.
One late night when all the lights were off and the convent was quiet, he got a call from Matobato who was concerned because of a tiny light penetrating into the room which he shared with his wife.
The priest said he had to go to Matobato's room and investigate. They traced the source of the light and it was a firefly.
The priest cites the Alitaptap incident to underscore how God works in mysterious and heart-warming ways. That even in a pitch-black room, light will find its way in.
This is a nice reflection this Holy Week.The light from that firefly boosted their faith and generated more light to sustain Matobato who courageously repeated his testimony in the Senate about Duterte's Davao Death Squad despite harassment from the senators.
Matobato's testimony led retired policeman Arturo Lascañas to see the light.
Lascañas reversed his first testimony denying Matobato's story about the DDS. In a one-day hearing held by the Senate Committee on Public Order headed by Sen. Panfilo Lacson, Lascañas not only confirmed what Matobato narrated but added more information about his role in the Davao Death Squad.
But not surprisingly, the senators preferred to remain in the dark, giving more weight to Sen. Manny Pacquaio's flawed arguments than Lascañas' testimony.
That's what Holy Week is all about- we have to go through darkness before we can see the light.