Website KIDSTVA (fuziwara.com) published an erroneous post on Oct. 3 claiming Vice President Leni Robredo is going to be removed from her post following recent developments in the electoral protest filed by defeated candidate Ferdinand "Bongbong" Marcos Jr.
It bore the title, "VP LENI ROBREDO SISIBAKIN NA SA PWESTO | BONGBONG MARCOS ANG TUNAY NA BISE PRESIDENTE NG PILIPINAS (VP Leni Robredo to be sacked from her position | Bongbong Marcos the real vice president of the Philippines)!" It carried as its content a video uploaded on Oct. 1 by YouTube channel IDØL CÀLØY bearing a nearly identical headline.
Not true. The Supreme Court, sitting as the Presidential Electoral Tribunal (PET), has made no such comment in connection with the four-year-old protest of the former senator. The PET is the sole judge of all election-related contests about the president and vice president.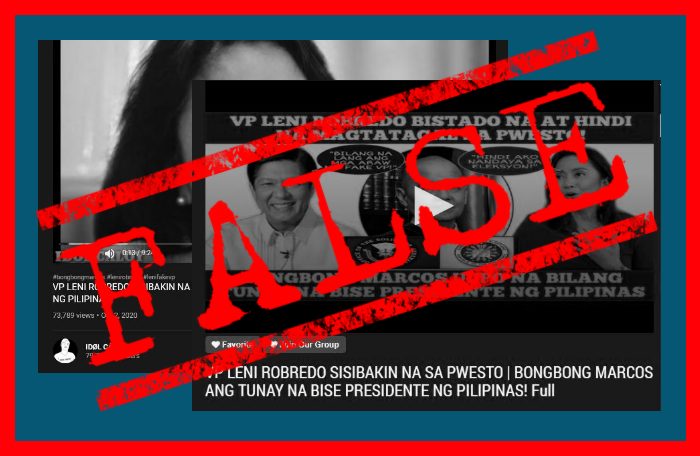 KIDSTVA's false post surfaced three days after the PET on Sept. 30 asked the Commission on Elections (Comelec) and the Office of the Solicitor General (OSG) to comment on Marcos' third cause of action in his poll protest filed in June 2016: to annul votes in Lanao del Sur, Basilan and Maguindanao because of alleged terrorism and poll fraud.
Specifically, the PET ordered the Comelec to report whether petitions for failure of elections were filed in the three Mindanao provinces and whether special elections were held there.
It also asked both the Comelec and OSG to give their legal opinion on whether the Tribunal may declare the annulment of elections even without special elections, and if it may declare the failure of elections and order the conduct of special elections.
KIDSTVA and IDØL CÀLØY's posts also misled viewers, as their featured video was composed mainly of a narrator reading The Manila Times' report on the PET's recent actions.
KIDSTVA's untrue story gathered over 8,400 interactions on Facebook, according to social media monitoring tool CrowdTangle, and could have reached over 623,000 people. Meanwhile, IDØL CÀLØY's upload has over 152,000 views.
YouTube channel IDØL CÀLØY was created in February 2019, while Fuziwara.com was created in November 2019.
(Editor's Note: VERA Files has partnered with Facebook to fight the spread of disinformation. Find out more about this partnership and our methodology.)