(Part 2 of 2) Videos were the weapon of choice for disinformation creators in the last national elections. Over a third, or 82 out of 218 content fact-checked by VERA Files, came in this format. TikTok published 45 of these.
In the 2019 elections, fake quote cards emerged as the top format of disinformation.
A common form of video disinformation that VERA Files Fact Check encountered during this election involved videos with manipulated audio. Six of these were flagged.
Below is one example where attendees of Leni Robredo's rally in Kidapawan City supposedly chanted "BBM."
In another TikTok video, footage of a religious group at the dolomite beach at Manila Bay was manipulated and bore audio from a different clip, which had people shouting, "Marcos, Marcos pa rin!"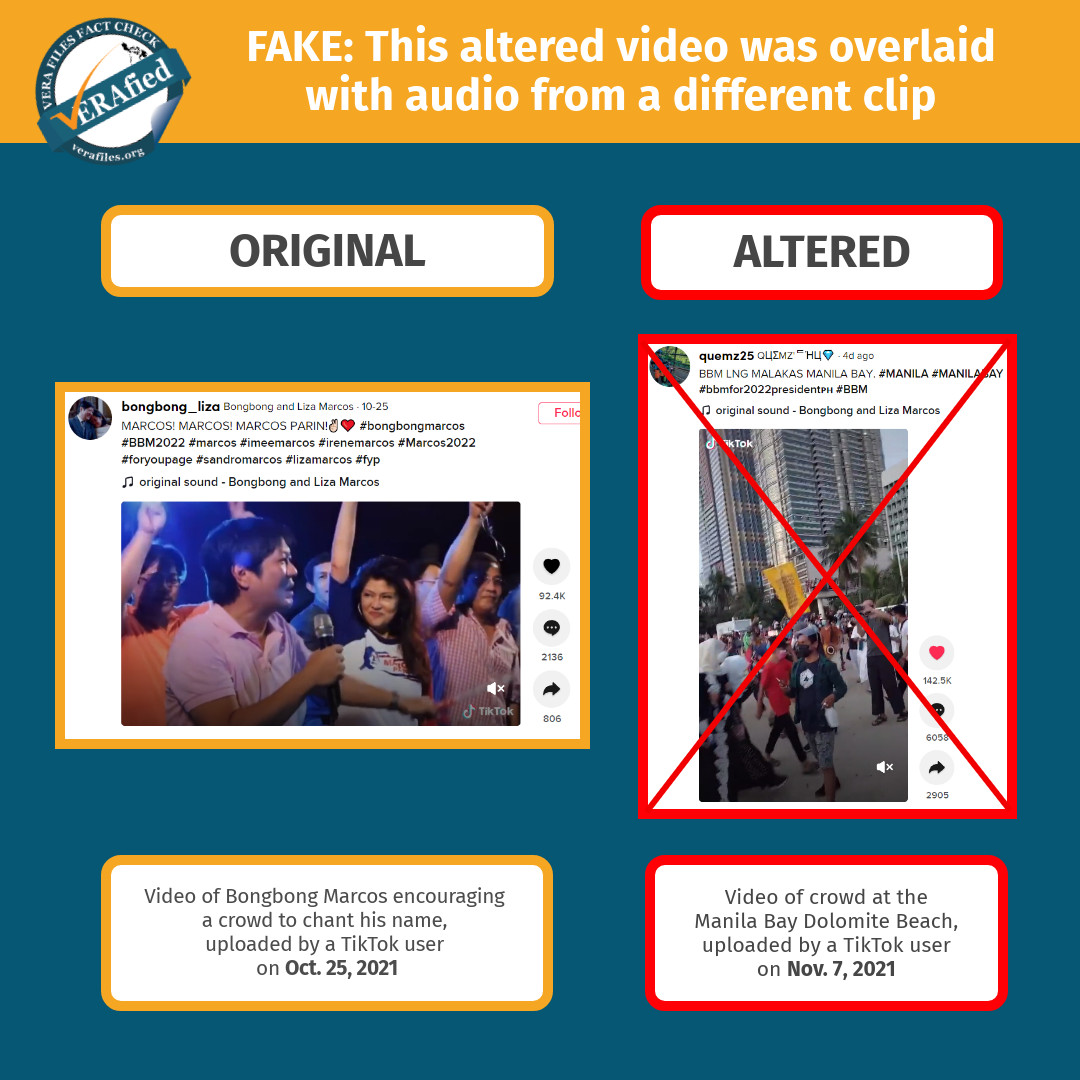 Deepfake videos are not yet a problem in the country, with only one such piece flagged by fact-checkers. Deepfakes can involve images convincingly altered to misrepresent someone doing or saying something that in reality, was not done or said, according to a definition by the Merriam-Webster Dictionary.
In April, a video of Marcos Sr. questioning the moral values of people voting for a tax evader made the rounds on Facebook and in private messengers.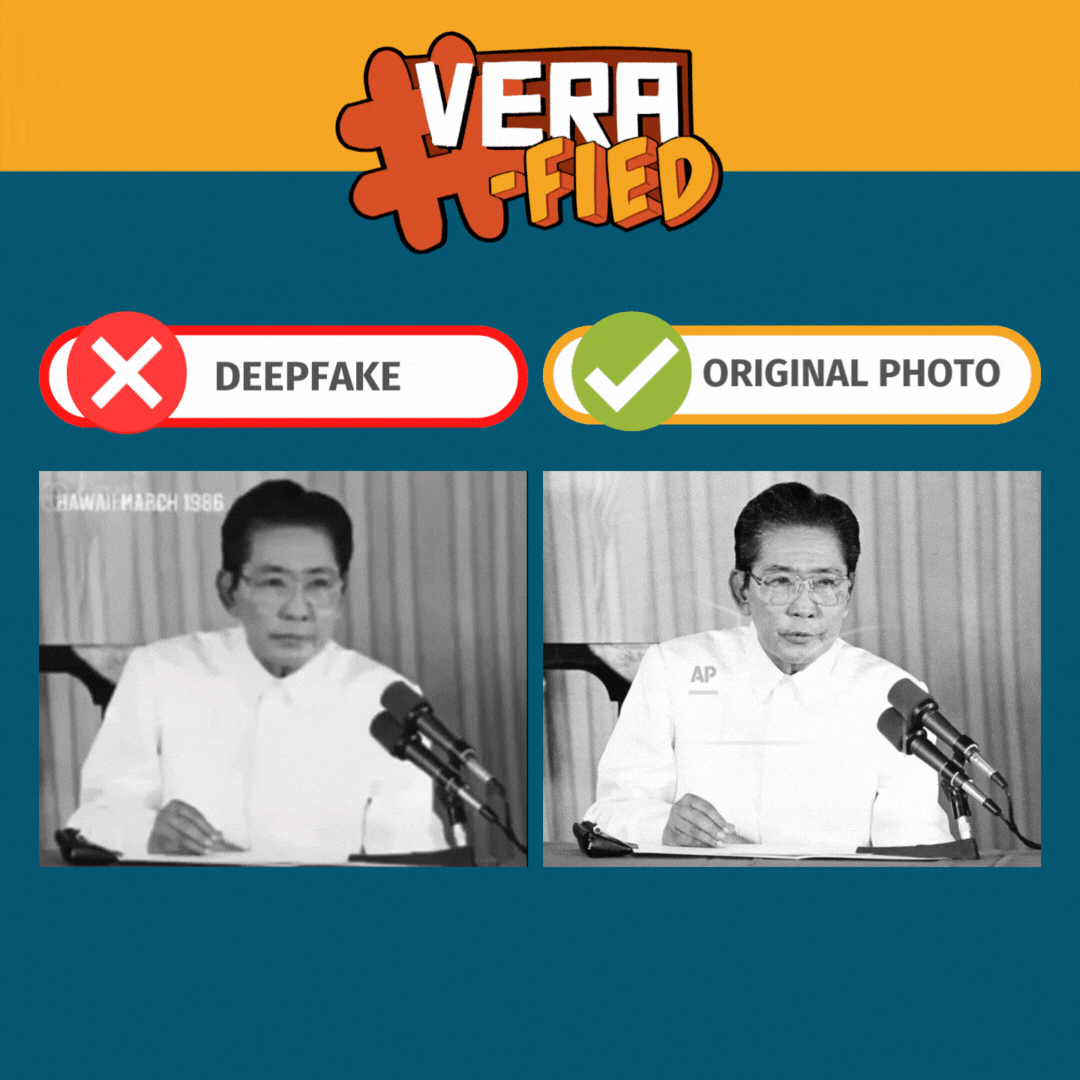 But upon verification, the video turned out to be a deepfake and actually consisted of a picture of Marcos Sr. mid-speech in 1986. His mouth was edited and replaced with someone else's and made to move to deliver the remark.
With 83.85 million Facebook users in the Philippines in early 2022, or 78.6% of its entire population, it is not surprising that the election-related content fact-checked by VERA Files mostly came from Facebook.
VERA Files Fact Check, a third-party fact-checking partner of Meta, flagged 207 such Facebook (FB) posts during this period.
TikTok has become a fast-rising platform, bumping off YouTube to third place. Its popularity served as catalyst for videos to become the dominant vehicle in spreading disinformation.
While VERA Files Fact Check flagged 298 pieces of social media content, it only did 218 fact-checks because some social media content was actually the same, merely cross-posted onto a different platform.
This practice of cross-posting allowed disinformation to have a longer shelf life and expanded its reach that it couldn't have received otherwise from persisting in one platform alone.
For example, in March, there was a clip of a priest delivering a homily, which was misleadingly spliced together with clips of Marcos' campaign rallies — to make it look like the former was endorsing the latter. It got 311,000 views on TikTok.
The same day, a Facebook page uploaded it and got 4.89 million interactions.
Six more Facebook pages, five FB accounts and two YouTube channels also reuploaded the video as their own and collectively gathered an additional 4.84 million interactions.
Tsek.ph called this production and proliferation of high volume, multipronged and multi-platform falsehoods as a "firehose of disinformation" strategy, where select targets are attacked — or in this case, propped up — using traditional media and communities of sharers on social media.
Looking ahead
Since the swearing in of the new administration on June 30, election-related disinformation has tapered down to a trickle compared to the firehose that it was at its height.
Although the volume of misinformation and disinformation was high and multipronged, so were efforts to combat these. There were also more initiatives this year to correct falsehoods and teach people to become critical consumers of information.
This included Tsek.ph, the pioneering election fact-checking collaboration in the country, which grew to 34 partners from media, academia and civil society from an initial 14 partners when it launched in 2019. VERA Files Fact Check is a member of Tsek.ph.
Have you seen any dubious claims, photos, memes, or online posts that you want us to verify? Fill out this reader request form.
(Guided by the code of principles of the International Fact-Checking Network at Poynter, VERA Files tracks the false claims, flip-flops, misleading statements of public officials and figures, and debunks them with factual evidence. Find out more about this initiative and our methodology.)