(Part 1 of 2) To confuse and disinform was the name of the game in the 2016 presidential elections as well as in the 2019 mid-term polls, but this year's presidential race was the most vicious.
Election disinformation that Filipinos faced was harmful, repetitive and fast-moving. It was also built on the foundations of years-long disinformation that targeted specific candidates.
VERA Files Fact Check has been fact-checking viral posts since the 2016 elections. It has observed the resurfacing of old, false, and misleading narratives this election season. From unfounded cheating allegations to historical revisionism, disinformation campaigners harped on repetitive messaging and double-downed on its spread the closer the country approached May 9.
With new tactics, production of video disinformation increased, keeping up with the popularity of visual platform TikTok. Cross-posting – a worrisome trend already observed in 2021 — led to a higher volume of disinformation.
Same old: Marcos Jr. benefited the most; Robredo biggest victim of disinfo
VERA Files Fact Check published 218 fact-checks on poll-related falsehoods and misleading claims that spread on the internet from Oct. 1, 2021, when the filing of candidacies began, to Nov. 30, 2022, four months after the new administration took office.
The most that VERA Files debunked in a month during this period were 36 hoaxes in April.
Bongbong Marcos remained the top beneficiary of disinformation that used positive messaging, sustaining the position from 2021. In the years prior, he was second only to former president Rodrigo Duterte.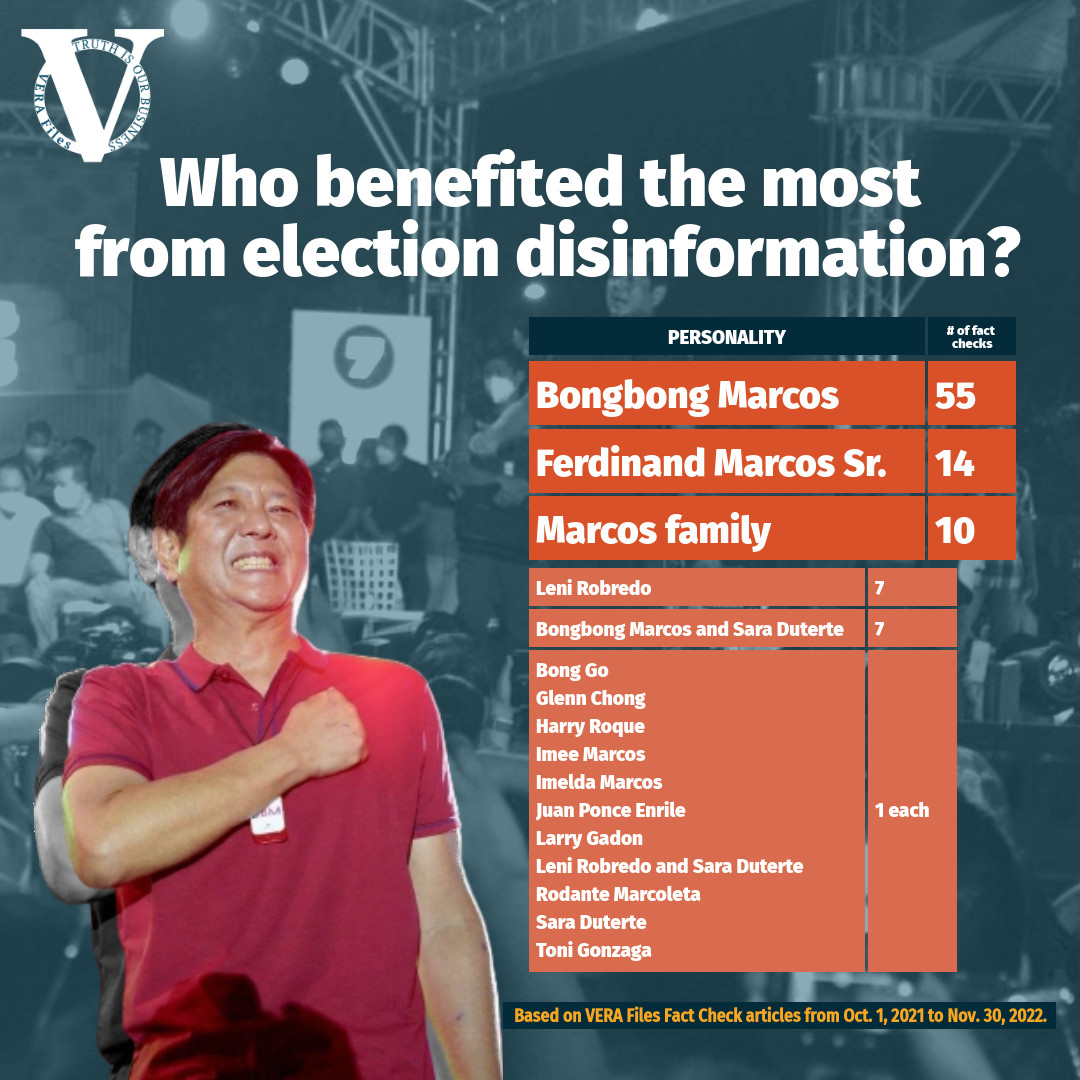 He benefited from 84 various types of internet content that have been fact checked. Among the narratives was that he graduated from the University of Oxford and that the mainstream media did not report on his campaign activities.
Other fact-checks were on disinformation concerning the era of his father, the late dictator Ferdinand Sr., the Marcos family in general, and Marcos' tandem with his running mate Sara Duterte-Carpio.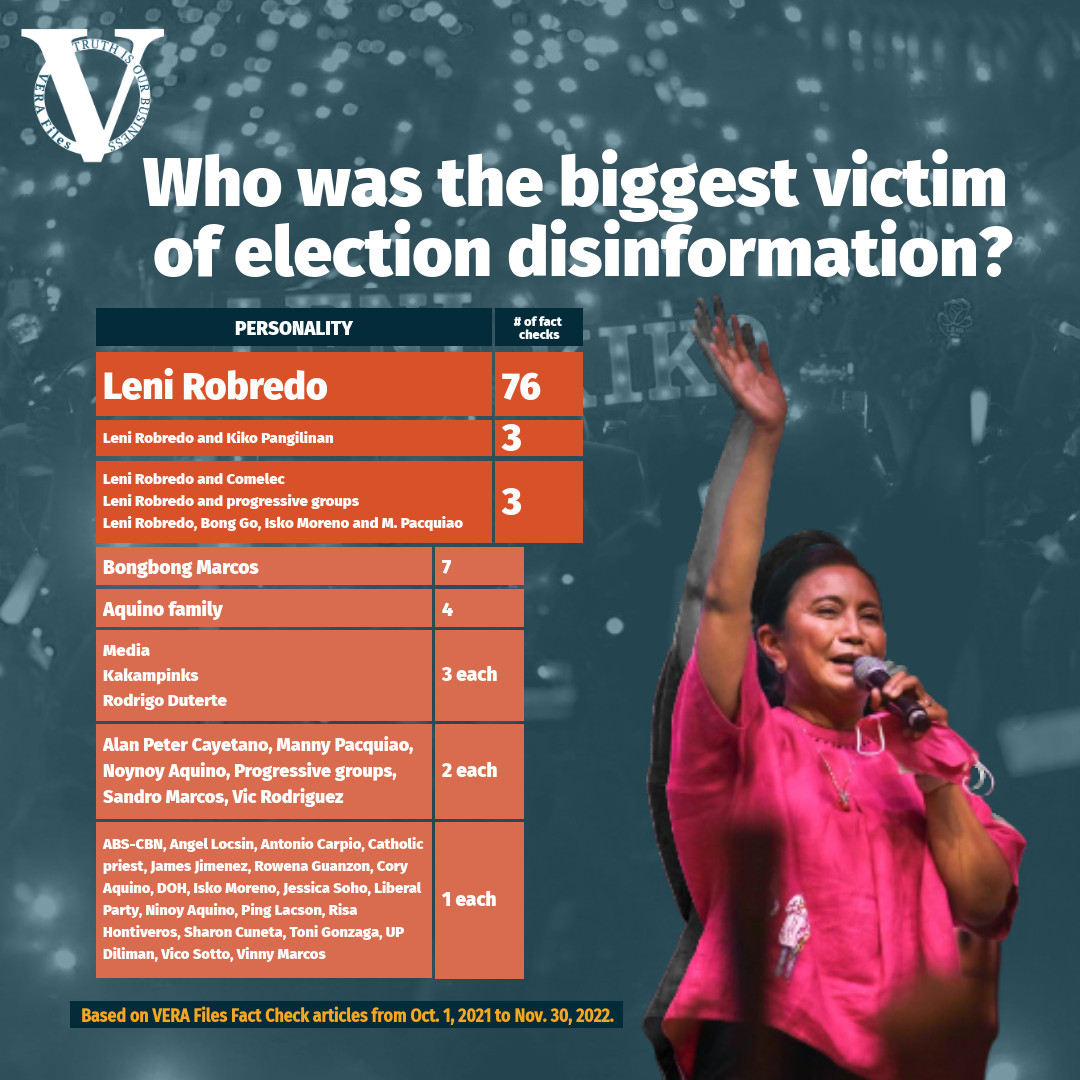 Meanwhile, Robredo continued to be the biggest victim of disinformation that used negative messaging, totaling 82 fact checks.
The most popular messaging made it appear that she makes nonsensical statements such as "Teenagers are the biggest victims of teenage pregnancy" and her advice to motorcycle riders to wear face shields over their helmets. Several false Facebook posts also tried to condition voters into thinking she was a cheater.
Several videos surfaced on TikTok showing Robredo's Kakampink rallies, but with its audio edited to make it appear her supporters were chanting "BBM" — a Marcos moniker.
Apart from the frontrunners in the presidential race, others who notably figured in misinformation and disinformation narratives were institutions of authority such as the Commission on Elections (Comelec) and the Department of Health (DOH) and two Catholic priests.
Tall tales to confuse voters
"Disinformation campaigns often begin well before elections to create confusion and allow the losers to challenge results," said the Electoral Integrity Project in a blog post in April.
In the last election, VERA Files Fact Check saw the recycling of old, false portrayals to benefit specific candidates while bringing down others. Newer and harmful narratives were introduced, fueling attempts to manipulate people's opinion on one hand, and attacking trust in personalities and institutions on the other.
The election-related disinformation campaigns that pervaded online revolved around the following:
Have you seen any dubious claims, photos, memes, or online posts that you want us to verify? Fill out this reader request form.
(Guided by the code of principles of the International Fact-Checking Network at Poynter, VERA Files tracks the false claims, flip-flops, misleading statements of public officials and figures, and debunks them with factual evidence. Find out more about this initiative and our methodology.)