A Youtube channel which has repeatedly been fact-checked for its inaccurate content claimed that the alleged hackers of the Commission on Elections (Comelec) servers planned to commit electoral fraud against presidential aspirant Ferdinand "Bongbong" Marcos Jr.
This is false. An investigation into the alleged hacking is still in progress.
Youtube channel Showbiz Fanaticz uploaded a video on Jan. 10 that bore this clickbait headline: "NAKAKAGUKAT: [sic] DATA BASE ng COMELEC NA HACKED NA| Mga PLANONG PANDARAYA Kay BONGBONG MARCOS BISTADO!! (Shocking: Comelec database hacked/Plans to commit voter fraud against Bongbong Marcos revealed!)"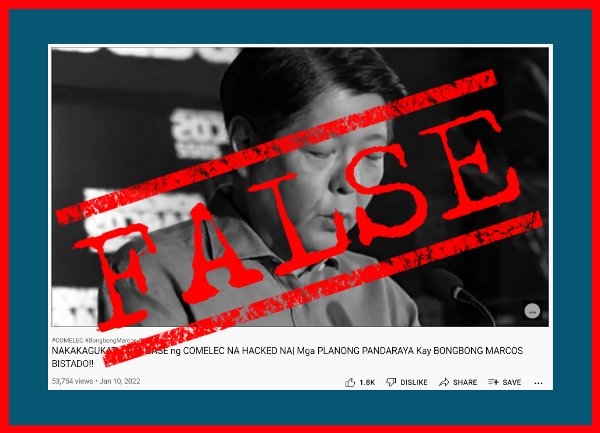 The video featured a story published by the Manila Bulletin on Jan. 10 claiming that Comelec servers were breached by hackers two days prior and more than 60 gigabytes of data, which include sensitive voter information, were possibly compromised ahead of the 2022 general elections.
The poll body, in a Jan. 10 statement, questioned the veracity of the report and said it offered "scant substantiation for its assertions" and did not even provide information on how it proved there was a data breach.
"We see no evidence of any sort of breach… but of course we are working hard to validate these allegations," Comelec spokesperson James Jimenez said in a press briefing on Jan. 12.
The hacking incident is undergoing investigation. The National Privacy Commission (NPC) issued separate orders to the Comelec, the Bulletin and its tech editor Art Samaniego to appear for a clarificatory online meeting on Jan. 25.
The video also erroneously claimed that voter fraud happened during the 2016 vice presidential election. The Supreme Court had settled this matter and unanimously dismissed the entire electoral protest filed by Marcos Jr. against Vice President Leni Robredo for "lack of merit," concluding the 4-year litigation case.
Out of the 91 Youtube videos fact-checked by VERA Files last year, 25 were from Showbiz Fanaticz. (Read VERA FILES FACT CHECK YEARENDER: Youtube disinformation more notorious and networked on Facebook in 2021)
The video on the alleged data breach has been viewed more than 53,000 times. It was reuploaded by FB page Bong bong Marcos tayo sa 2022, created on Oct. 24, 2021, and viewed more than 329,000 times and garnered more than 11,000 reactions, 5,600 comments and 6,300 shares.
Have you seen any dubious claims, photos, memes, or online posts that you want us to verify? Fill out this reader request form.
(Editor's Note: VERA Files has partnered with Facebook to fight the spread of disinformation. Find out more about this partnership and our methodology.)