Two Youtube videos erroneously claimed that the Commission on Elections (Comelec) denied the disqualification cases against presidential aspirant Ferdinand "Bongbong" Marcos Jr.
The petitions were not junked but raffled off to the Comelec's 1st and 2nd divisions.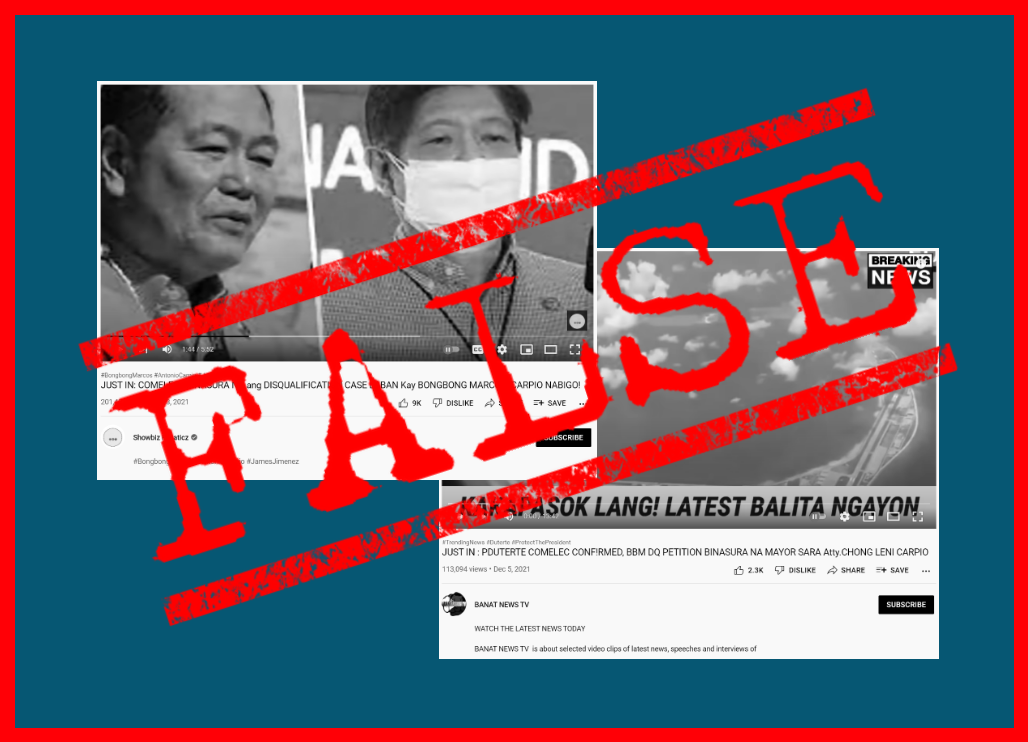 The two videos carried similar headlines but different contents to support their false claims.
Youtube channel Showbiz Fanaticz posted a video on Dec. 3 which bore the headline: "JUST IN: COMELEC, IBINASURA NA ang DISQUALIFICATION CASE LABAN Kay BONGBONG MARCOS| CARPIO NABIGO!"
The video cited two The Manila Times articles to support the following claims:
That Comelec junked the disqualification case against Marcos;
The Court of Appeals (CA) acquitted Marcos of tax evasion;
Comelec spokesperson James Jimenez said Marcos will not be disqualified; and
Retired Supreme Court associate justice Antonio Carpio "failed" in his petition.
Here are the facts:
It is not true that the Comelec denied the disqualification cases against Marcos. Presently, eight petitions against him have been raffled off to the Comelec's 1st and 2nd divisions, with the latest filed by an Ilocano group composed of martial law victims.
Jimenez earlier clarified his Nov. 2 statement that "there is no clear case" to disqualify Marcos came a day before the cancellation petition against Marcos' certificate of candidacy was filed. (See VERA FILES FACT CHECK: Comelec spox's remark on 'no clear case' vs Bongbong Marcos NEEDS CONTEXT)
Meanwhile, Carpio did not and "has no plans" to file a disqualification petition against Marcos for the upcoming election. (See VERA FILES FACT CHECK: Carpio did NOT file disqualification petition vs Marcos Jr.)
Showbiz Fanaticz, has been repeatedly fact-checked by VERA Files. It was flagged last month for making a similar false claim about Marcos' cancellation cases. (See VERA FILES FACT CHECK: Video FALSELY claims SC officially 'sided' with Marcos in COC cancellation case)
Another Youtube channel, BANAT NEWS TV, posted a similar video on Dec. 5 which carried the headline: "JUST IN : PDUTERTE COMELEC CONF!RMED, BBM DQ PETITION BINASURA NA MAYOR SARA Atty.CHONG LENI CARPIO".
The video used a Nov. 9 clip of lawyer Glenn Chong to support their claim even though Chong only gave an opinion on the issue.
The Comelec has yet to rule on the petitions against Marcos. There are currently eight petitions: one declaring him a nuisance candidate, one looking to nullify his certificate of nomination and acceptance, two seeking to cancel his certificate of candidacy, and four to bar him due to his tax conviction.
There are several steps to go through before the Comelec finally decides on the outcomes of these cases. (See VERA FILES FACT SHEET: Understanding the petitions against candidates in the 2022 polls)
BANAT NEWS TV has been flagged by VERA Files Fact Check multiple times for spreading disinformation. (See VERA FILES FACT CHECK: Go, Moreno, Pacquiao and Robredo NOT backing out and VERA FILES FACT CHECK: PDP-Laban did NOT file disqualification case vs Pacquiao)
The videos surfaced after a group claiming to be the real members of the Partido Federal ng Pilipinas, the party which appointed Marcos as their standard-bearer, filed the sixth petition against Marcos.
The BANAT NEWS TV (created on Dec. 26, 2015) and Showbiz Fanaticz (Nov. 9, 2017) videos have been viewed more than 310,000 times and garnered over 6,700 interactions combined according to social media monitoring tool CrowdTangle.
Have you seen any dubious claims, photos, memes, or online posts that you want us to verify? Fill out this reader request form.

(Editor's Note: VERA Files has partnered with Facebook to fight the spread of disinformation. Find out more about this partnership and our methodology.)