A Youtube channel and a website falsely claimed that the Commission on Elections' (Comelec) second division has dismissed the disqualification petition against presidential aspirant Ferdinand "Bongbong" Marcos Jr.
The poll body has yet to issue a decision on any of the eight cancellation and disqualification cases against the former senator.
Youtube channel Showbiz Fanaticz posted a video on Dec. 13 which bore the headline: "BREAKING: COMELEC Second Division TULUYAN ng IBINASURA ang DQ CASE LABAN Kay BBM | CARPIO, TE IYAK!"
The video emerged after the Comelec's 2nd division issued on Dec. 13 a resolution denying three motions for intervention in connection with one petition seeking to cancel Marcos' certificate of candidacy. The Youtube channel used the decision to support its erroneous claim.
A day later, website Global Balita PH published an article that carried a headline which read: "JUST IN: PANALO NA! LIBO-LIBONG ABUGADO PINAGTANGGOL si BBM sa Comelec D1LAWAN LENI TALO PACMAN ISKO"
The article contains a now unavailable video, and text in its thumbnail that reads: "PETITION DISMISSED NA. ITO ANG AYAW MAPANOOD NG MGA D1LAWAN"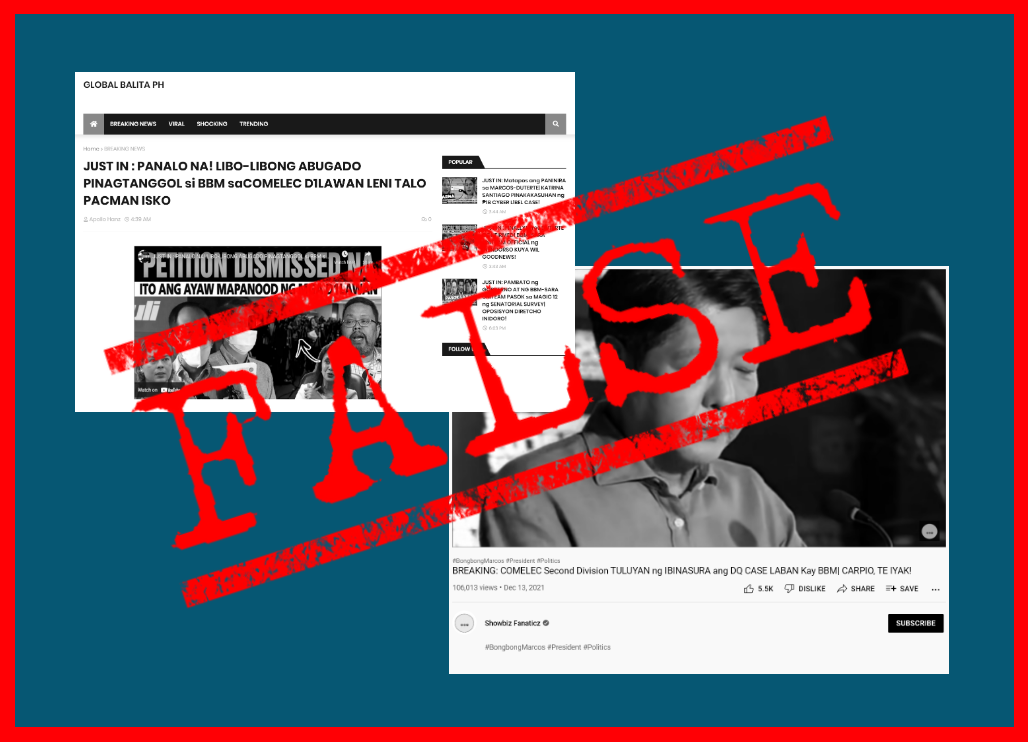 There are eight cancellation and disqualification petitions against Marcos that have been raffled off to the Comelec's 1st and 2nd divisions. Most of them question his eligibility to run for public office because of a 1995 tax evasion conviction and misrepresentation in his filing of a certificate of candidacy given that he is ineligible because of his failure to pay taxes.
The Comelec has yet to decide on these cases but it denied the motions for intervention filed in relation to one petition to prevent a delay in the resolution of the said case. It did not junk the petition itself.
The video uploaded by Showbiz Fanaticz has been viewed more than 109,000 times and has garnered more than 3,500 Facebook (FB) interactions, according to social media monitoring tool CrowdTangle.
FB group Rodante Marcoleta Supporters and a netizen reuploaded the video the same day it was published and has been collectively viewed more than 53,000 times. The two videos have also garnered more than 3,200 reactions, 1,000 comments and 900 shares.
Less than two weeks ago, the same Youtube channel published a similar video also with an erroneous claim that the Marcos disqualification case had been junked.
The article of Global Balita PH has garnered more than 4,500 FB interactions and could have reached 1.5 million netizens, according to CrowdTangle. Its top traffic generators are FB groups Rodante Marcoleta for Senator, Mike Defensor For Senator Movement, and BBM-SARAH 2022 Para Magandang Bukas Sa Bayan.
Have you seen any dubious claims, photos, memes, or online posts that you want us to verify? Fill out this reader request form.
(Editor's Note: VERA Files has partnered with Facebook to fight the spread of disinformation. Find out more about this partnership and our methodology.)