A Nov. 13 Facebook (FB) post erroneously claims that presidential aspirant Ferdinand "Bongbong" Marcos Jr. got 21 million votes during his 2016 vice presidential bid and thus won against Vice President Leni Robredo.
This number is nearly seven million more than the votes he actually received, as per the official and final count certified by the joint Congressional canvassing committee. Further, the Supreme Court (SC) in dismissing Marcos' electoral protest, used the result of nationwide recount where Marcos got 14,157,771 votes and Robredo had 14,436,337 votes.
The spurious post, published in public group Bongbong Marcos Alliance for Unity and Progress, used a two-minute-long TikTok video reuploaded on FB to back up its claim. A cursory search showed the clip was lifted from a 13-minute-long YouTube video that was already flagged as false by VERA Files Fact Check last May.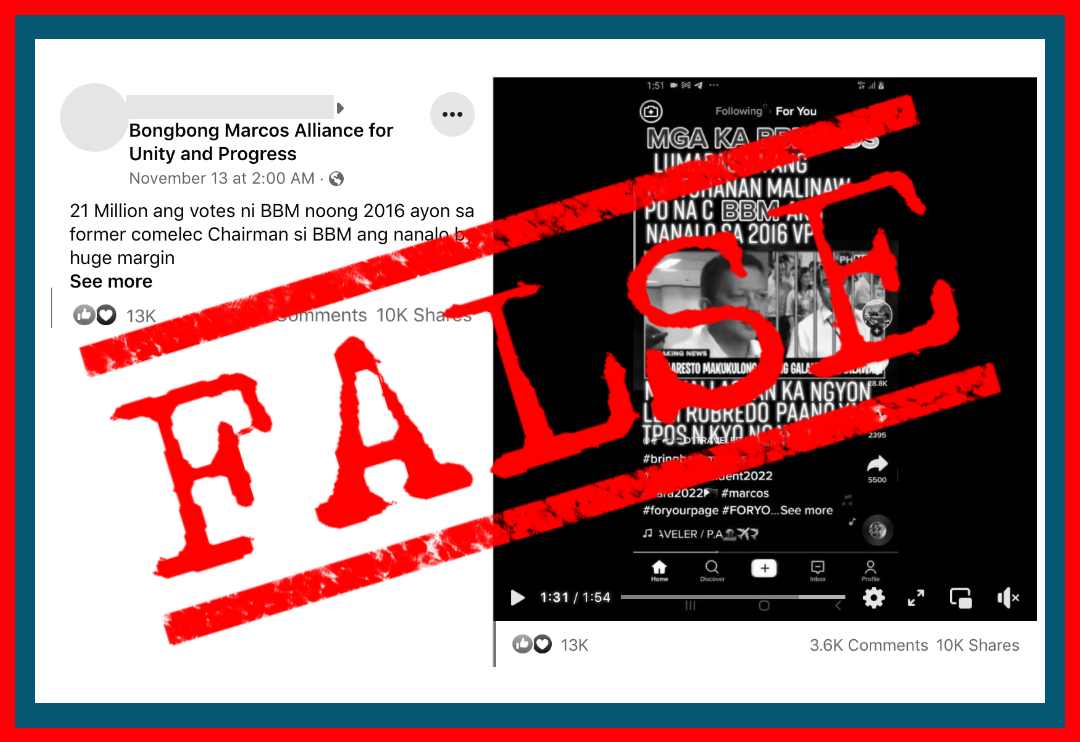 The TikTok video tied together two clips that are not directly related to Marcos or his failed vice presidential run.
The first 19 seconds of the video was clipped from a February 2018 interview of Sorsogon Governor and former senator Chiz Escudero following a Senate session that probed the alleged ill-gotten wealth of former Commission on Elections (Comelec) Chief Andres Bautista. Escudero mentioned neither Marcos nor the 2016 national elections during the interview.
The remaining portion of the clip featured an unidentified man claiming that Bautista went to see President Rodrigo Duterte after the 2016 polls to tell the chief executive that he actually received 21 million votes, as opposed to the 16.6 million stated in the official election tally.
The man never claimed Marcos likewise received 21 million votes in the polls, but suggested there was "rampant cheating," including in the vice presidential race. His claims have no basis.
About a month after Robredo was officially declared vice-president, Marcos filed an electoral protest challenging results of voting in some cities and provinces and claimed he was the rightful winner. But after almost five years of hearing his case, the SC, sitting as the Presidential Electoral Tribunal, last February dismissed the protest and unanimously upheld the victory of Robredo.
The false FB post in group Bongbong Marcos Alliance for Unity and Progress came just a day after the Comelec announced it had issued summons to Marcos in relation to the petition seeking the cancellation of the former senator's Certificate of Candidacy for the 2022 polls.
Marcos' camp was unable to submit its response before the Nov. 16 deadline, but Comelec's 2nd Division later granted the camp's motion to extend the deadline until Nov. 22.
The erroneous post already has over 16,000 reactions, 4,300 comments, and 11,000 shares. It could have reached almost 3.4 million netizens, according to social media monitoring tool CrowdTangle, with traffic coming largely from public groups TEAMBBM2022-KSA, "Marcos Loyalists Movement" alliance of TEAM MARCOS PA RIN(ULAP), and RETIREES AND DEPENDENTS GROUP, … ATBP. …
Meanwhile, the original TikTok video published by user D'TRAVELER / P.A got over half a million views before it was taken down.
Have you seen any dubious claims, photos, memes, or online posts that you want us to verify? Fill out this reader request form.
(Editor's Note: VERA Files has partnered with Facebook to fight the spread of disinformation. Find out more about this partnership and our methodology.)