A video that falsely claimed former Chair of the Commission on Elections (Comelec) Andres Bautista will be arrested and jailed has appeared on several online sites since May 23.
The video headlined "BREAKING NEWS AARESTUHIN NA ANDRES BAUTISTA KULONG ANG KAHAHANTUNGAN PRES DUTERTE ESCUDERO (Andres Bautista will be arrested, jailed as consequence, Pres. Duterte, Escudero" used a recycled interview that took place in 2018.
There are no fresh reports about Bautista being arrested and jailed. The last report about the former Comelec chair said he was in the United States.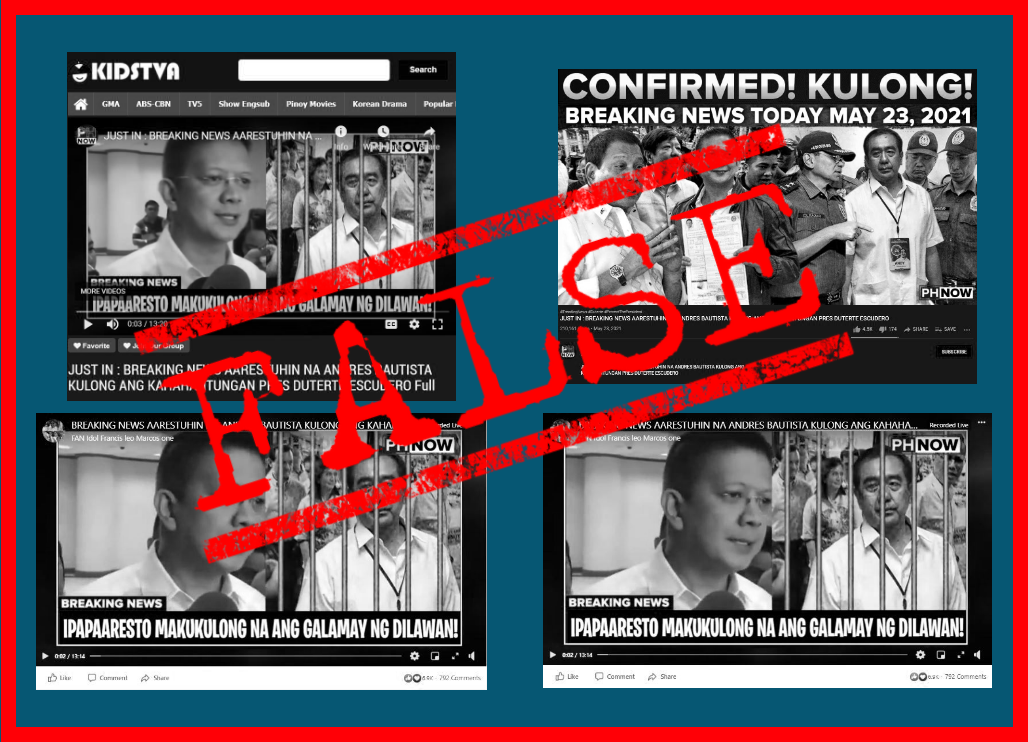 Bautista, due to allegations of unexplained wealth, was impeached by the House of Representatives on Oct. 11, 2017. He handed his resignation on the same day, but it was to take effect at the end of that year.
The erroneous 13-minute clip mentioned President Rodrigo Duterte and Sorsogon Governor Chiz Escudero in the headline but there was no statement from the president in the video. Instead, it featured a recycled interview clip of Escudero from Feb. 12, 2018. In this interview published by Rappler, the former senator sought an arrest warrant against the former Comelec chair.
The recycled video showed a clip of Escudero on the left side while being interviewed, while a photo of Bautista behind a graphic of bars was on the right.
For the most part of the video, an unidentified Duterte supporter spoke and claimed the Comelec could have miscalculated the presidential vote tally in 2016, saying the president could have garnered 21 million votes, higher than the official count of 16.6 million votes. The man also accused the opposition party of destabilizing the government, naming former Sen. Antonio Trillanes IV and Vice President Leni Robredo.
Bautista was appointed Comelec chair by former President Noynoy Aquino of the Liberal Party, where both Trillanes and Robredo are members.
The false video emerged a week after Trillanes said he will run for President in 2022 if Robredo is not going to contest the post.
Among those that uploaded the false video are Youtube page PH NOW, site kidstva (kidstva.com), and Facebook (FB) pages FAN Idol Francis leo Marcos one and FLM Idol.
PH NOW was created on July 31, 2016. It has over 266,000 subscribers. Its video was viewed over 200,000 times.
Kidstva's video could have reached 185,438 followers, according to social media monitoring tool CrowdTangle. Its top traffic generators on FB are pages Rodante Marcoleta Supporters Live, Rodante Marcoleta Supporters, and Rodante Marcoleta Supporters Tv.
(Editor's Note: VERA Files has partnered with Facebook to fight the spread of disinformation. Find out more about this partnership and our methodology.)