A three-year-old video of a street rally in Malaysia around the time of the country's general elections in 2018 is being peddled erroneously on social media as a gathering in support of presidential aspirant Ferdinand "Bongbong" Marcos Jr.
A reader asked VERA Files Fact Check to check the veracity of the 27-second video.
The fake clip was shared from a Dec. 1 post of Facebook (FB) page BBM for President. It bore TikTok's watermark and was originally uploaded by user mbfcel, but said copy had been taken down.
The video played a campaign jingle asking people to vote for Marcos in the upcoming 2022 presidential polls. This audio was lifted from a separate TikTok post by user @ms.dimple1185.
Running a reverse image search on keyframes of the spurious clip yielded copies of it published in connection with the 14th Malaysian general election held on May 9, 2018.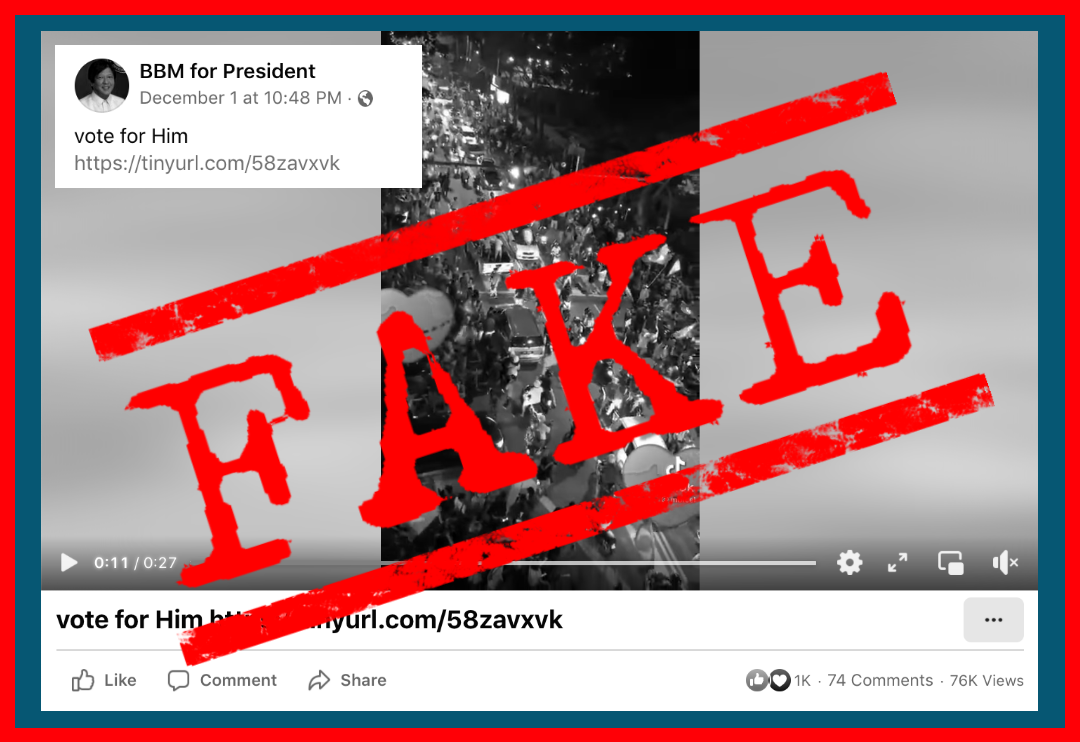 The clip's earliest traceable copy was posted by Twitter user @ahdfaisal on May 10, 2018. The tweet described the event caught on camera as "jubilations in Kuala Lumpur" over the unprecedented victory of the Malaysian opposition coalition Pakatan Harapan (PH) in the national polls.
Another user, @abdullahhaidir1, published a copy of the video the day following the Malaysian elections, likewise announcing the victory of the opposition bets. A copy of the clip could also be traced in a May 2020 tweet by user @MohdFaizalMusa1, who reminisced about the "mandate of the people" supposedly demonstrated by the results of the political exercise in 2018.
Additionally, a closer look at the flags held and waved by people in the video shows they bear the logo of the Parti Keadilan Rakyat (PKR), one of the members of the PH coalition. During the 2018 general elections, the alliance decided to use PKR's logo to represent all of its candidates.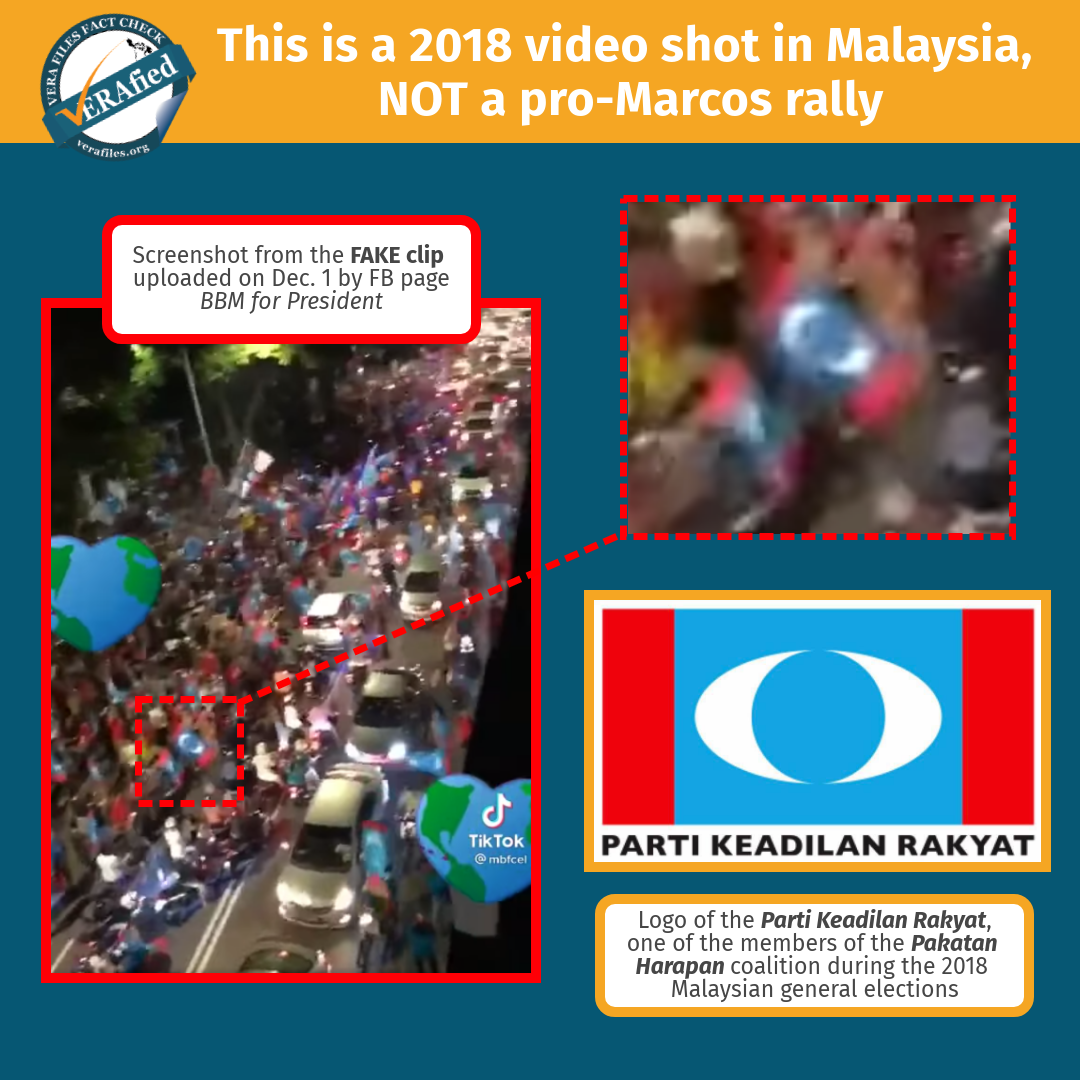 The fake 'pro-Marcos rally' clip surfaced just a few days after Partido Federal ng Pilipinas (PFP), Marcos' political party, filed an answer-in-intervention with the Commission on Elections in response to the petition seeking the cancellation of Marcos' certificate of candidacy.
PFP said Marcos is qualified to run in next year's elections and insists its presidential bet already paid the deficiency taxes and fines imposed on him by a 1997 Court of Appeals decision. But a certification from the Quezon City Regional Trial Court says it has no record of Marcos' payment. (See Marcos has not paid tax deficiencies and fine on 1997 evasion case, says court)
BBM for President's copy of the clip now has a thousand reactions and almost a thousand shares. It has already been viewed over 76,000 times by social media users. The FB page was created on Nov. 13 last year.
Have you seen any dubious claims, photos, memes, or online posts that you want us to verify? Fill out this reader request form.
(Editor's Note: VERA Files has partnered with Facebook to fight the spread of disinformation. Find out more about this partnership and our methodology.)