Facebook (FB) users are citing a website that named Ferdinand "Bongbong" Marcos, Jr. among the "notable alumni" of the University of Oxford as proof of their claim that the former senator earned a bachelor's degree from the institution. This is misleading.
EduRank.org, a service that provides a ranking methodology for top universities in the world, clarified that its list of alumni "includes not only those who have a degree from the university."
"The term 'alumni' is not synonymous with 'graduates'. One can be an alumnus without graduating," it said in an email response to VERA Files Fact Check.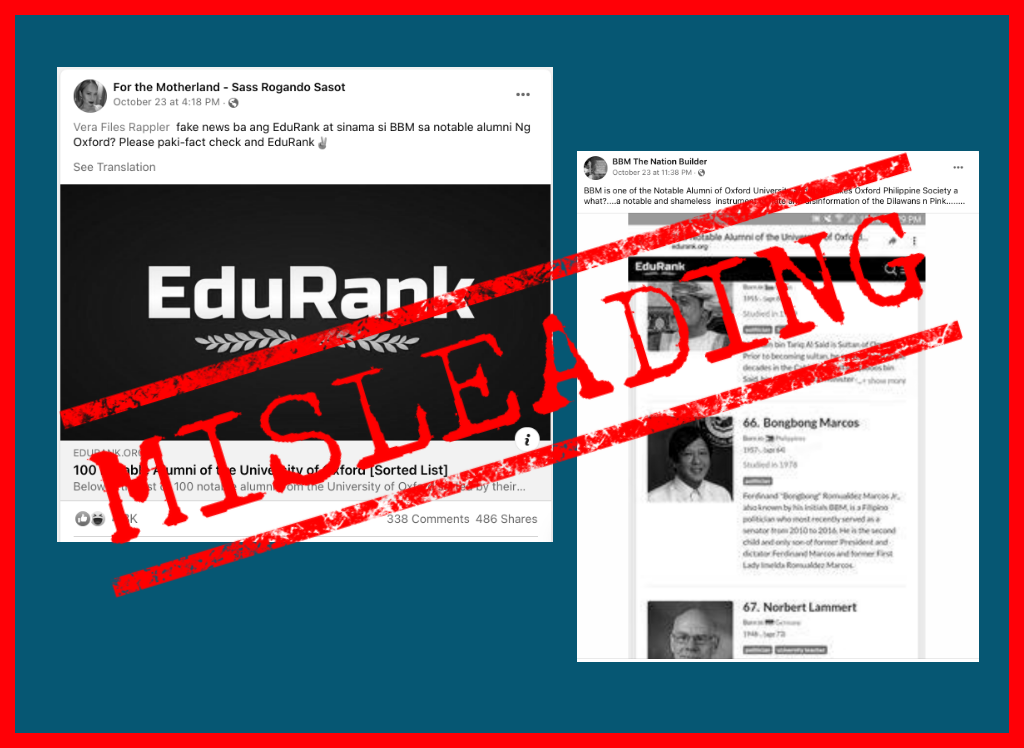 EduRank uploaded last Aug 11 a list of 100 notable alumni from Oxford University, with Marcos ranking 66th.
A few Marcos supporters used this to support their claim. "Here's the proof that BBM graduated/alumnus in Oxford University," they said, identifying Marcos through his initials.
On the methodology used, the EduRank team explained that the list is "sorted by popularity" using the number of page views on Wikipedia.
In response to FB posts using the list to prove Marcos' bachelor's degree, the team said: "As for Bongbong Marcos, we can neither confirm nor deny whether he had his degree from Oxford or not. We don't have anything other than publicly available information."
Marcos, in fact, did not complete a bachelor's degree from the said school in England but was awarded a Special Diploma in Social Studies in 1978. A Special Diploma "is not a full graduate Diploma," according to Stephen Rouse, Head of Communications at the Oxford University in an email to VERA Files Fact Check.
The said link to EduRank.org alumni list started circulating when the Oxford Philippine Society, an organization made up of 200 Filipino students and alumni of the Oxford University, "set out the facts" concerning Bongbong Marcos' claims about his academic qualifications in an Oct. 22 statement posted on FB.
Social media monitoring tool CrowdTangle showed that more than 80 pages have shared the link, including the FB pages of For the Motherland – Sass Rogando Sasot (created on Aug. 18, 2016) and Bong bong Marcos tayo sa 2022 (created on Oct. 9, 2021).
Posts about Bongbong Marcos' academic credentials resurfaced shortly after the son and namesake of late dictator Ferdinand Marcos formalized his bid for the presidency in next year's elections.
(Editor's Note: VERA Files has partnered with Facebook to fight the spread of disinformation. Find out more about this partnership and our methodology.)
Have you seen any dubious claims, photos, memes, or online posts that you want us to verify? Send us a message here or here.