At least two Facebook (FB) posts resurfaced a misleading article that made a wrong comparison between a special diploma and a bachelor's degree from the University of Oxford in the United Kingdom.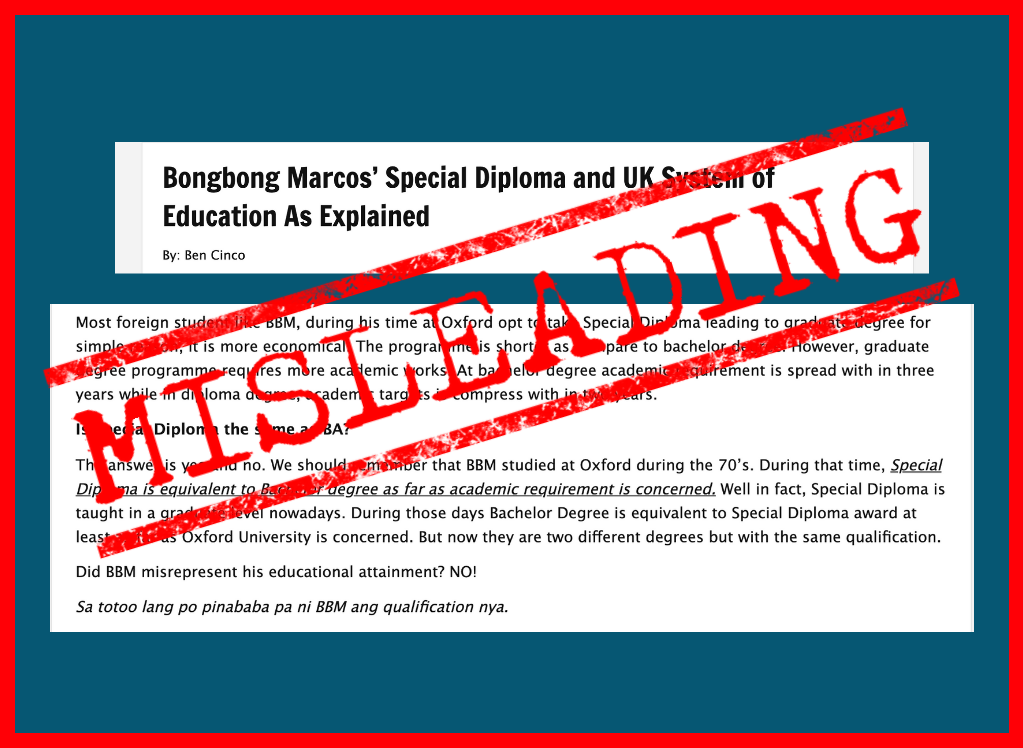 Attributed to a certain Ben Cinco, the lengthy text post attempted to explain the British educational system and said the special diploma in social studies that former senator Ferdinand "Bongbong" Marcos Jr. received from the university was "equivalent to a bachelor's degree as far as academic requirement is concerned" in the 1970s.
It also said that the special diploma track was a "compressed" version of a full three-year undergraduate bachelor's degree at Oxford.
This is wrong and misleading.
Oxford's head of university communications Stephen Rouse wrote in an email to VERA Files Fact Check: "There is no recorded link between the BA (Bachelor of Arts) and the Special Diploma, and the special Diploma was not a full graduate Diploma."
Past records show that Marcos had previously misrepresented his Oxford education and claimed to have obtained a bachelor's degree in Political Science, Philosophy and Economics (PPE).
Marcos enrolled at the University of Oxford for a PPE degree in 1975. However, Rouse clarified: "[H]e did not complete his degree, but was awarded a Special Diploma in Social Studies in 1978." He added that the diploma is no longer offered by the institution.
The deceptive posts propping up Marcos re-appeared around the time the former senator filed his candidacy for president in the May 2022 elections.
A cursory search traced it back to a December 2016 piece tagged as "opinion" published on a pro-Marcos website called Bagong Lipunan (created on Dec. 16, 2014). The misleading article could have reached over 3.2 million people, according to social media monitoring tool CrowdTangle. Its top traffic generators were the FB group Cyber Posting Philippines (Oct. 6), and the pages Bagong Lipunan (Dec. 12, 2014) and Atty Larry Gadon (Dec. 5, 2016).
It was also re-uploaded as a text post on Oct. 19 and 21 by the pages BBM Pilipinas 2022 (Feb. 4) and Kaalaman PH Media (Aug. 2, 2018), which have collectively garnered nearly 22,000 shares.
(Editor's Note: VERA Files has partnered with Facebook to fight the spread of disinformation. Find out more about this partnership and our methodology.)
Have you seen any dubious claims, photos, memes, or online posts that you want us to verify? Send us a message here or here.