(UPDATED) Sonshine Media Network International (SMNI) News, the news broadcasting arm of televangelist Apollo Quiboloy, erroneously reported that presidential aspirant Ferdinand "Bongbong" Marcos Jr. "passed" his bachelor's degree in social studies at the University of Oxford in the United Kingdom.
The university has already confirmed with VERA Files Fact Check that Marcos failed to complete his program, and was instead awarded a special diploma.
STATEMENT

On Nov. 9, SMNI News published on its official Youtube channel a report by news correspondent Brigitte Valencia, in which she said:
"Sa sertipikasyon ni BBM, nabigyan siya ng 'pass' na ibig sabihin ay nakapasa si Bongbong Marcos sa kanyang bachelor's degree na social studies."

Source: SMNI News, LIVE: SMNI NewsBlast, Nov. 9, 2021, watch from 2:31:04 to 2:31:13

In the English version of the report, reporter Rose Ann Samion said the same:
"According to BBM's certification, Bongbong Marcos received a 'pass,' indicating that he completed his bachelor's degree in social studies."

Source: SMNI News, Newsline World, Nov. 9, 2021, watch from 54:48 to 54:58

The report cited Oxford's degree confirmation letter certifying Marcos' special diploma in social studies.
The Filipino version of the report was uploaded on TikTok by a netizen on Nov. 10, and has gotten more than 58,600 views as of Nov. 19. This was republished by Facebook page TPL3 on Nov. 12, which has since been viewed more than 1.6 million times and has garnered over 56,000 reactions, 6,000 comments and 27,000 shares.
FACT

The University of Oxford confirmed in an Oct. 27 email to VERA Files Fact Check that Marcos "did not complete his degree" in Philosophy, Politics and Economics and was granted a Special Diploma in Social Studies in 1978.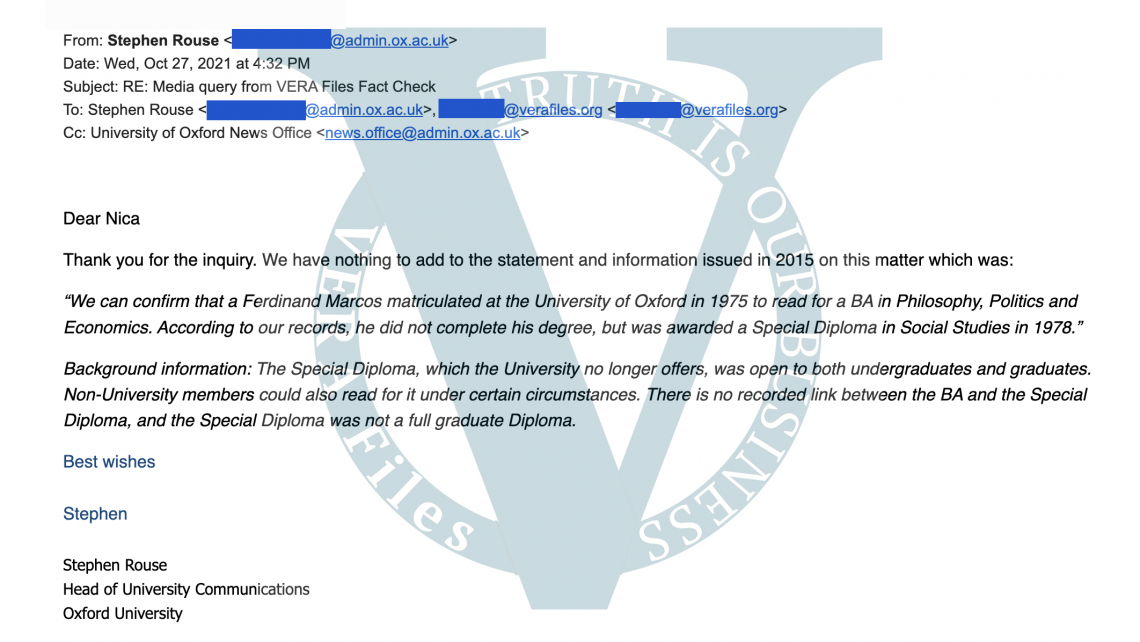 Oxford's head of university communications Stephen Rouse clarified that the special diploma, which the university no longer offers, is "not a full graduate diploma" and that "there is no recorded link" between the two certifications.
Lawyer Victor Rodriguez, Marcos' chief of staff, said in an Oct. 23 statement that Marcos has never "misrepresented his Oxford education." Marcos has misrepresented his university credentials several times. (See VERA FILES FACT CHECK: Bongbong Marcos' spox wrongly claims Marcos 'never misrepresented' Oxford education)
The SMNI News report with the wrong claim was published amid renewed doubts over Marcos' Oxford education. Researchers from the Marcos Regime Research program of the University of the Philippines Diliman Third World Studies Center have written in-depth reports on his educational attainments. (See The documents on Bongbong Marcos' university education (Part 1 – Oxford University) and The documents on Bongbong Marcos' university education (Part 2- Wharton School))
Editor's Note: This story was updated on Feb. 14, 2022 to include a screenshot of the email sent by Stephen Rouse of the University of Oxford to VERA Files Fact Check.
Have you seen any dubious claims, photos, memes, or online posts that you want us to verify? Fill out this reader request form.

Sources
Personal communication (Email), Oxford Head of University Communications, Oct. 27, 2021
SMNI News, LIVE: SMNI NewsBlast | November 9, 2021, Nov. 9, 2021
SMNI Livestream, Newsline World | November 9, 2021, Nov. 9, 2021
(Guided by the code of principles of the International Fact-Checking Network at Poynter, VERA Files tracks the false claims, flip-flops, misleading statements of public officials and figures, and debunks them with factual evidence. Find out more about this initiative and our methodology.)